Fleets' DOT-required Clearinghouse check-ins due soon: Here's a quick how-to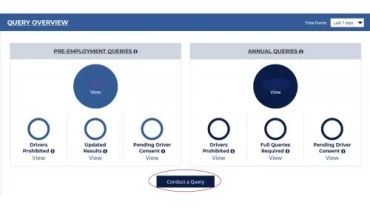 Motor carriers must have performed required annual CDL drug and alcohol Clearinghouse checks on all their drivers by Jan. 5 or face a fine of up to $2,500 per offense, if non-compliance is caught in a compliance review or safety audit.
Fleets must run a so-called limited query on all of their drivers at least once on a rolling 12-month basis. Drivers' information can be run one at a time or in batches throughout the year – or all at once every year, should a fleet so choose. With the Clearinghouse rule having taken effect Jan. 6, 2020, that first rolling 12-month period for fleets to have conducted their queries is drawing near. The required limited-query check is meant to ensure that drivers haven't failed a drug or alcohol test, such as a pre-employment screen when applying for a job at another fleet, for example, and failed, only to remain behind the wheeland employed at another fleet.
CCJ touched base with compliance firm J.J. Keller & Associates, who walked us through the process and provided screenshots of what that process looks like for fleets who haven't yet performed their queries. J.J. Keller and other drug test administrators and compliance firms can run queries for a fleet if carriers choose not to run them in-house. The walk-through below is courtesy of Amber Crawley, service operations manager, and Kathy Close, transport safety editor.
To run a batch of annual queries, as described below, fleets will need written consent from each driver for which they're going to run a query. This must be done prior to conducting Clearinghouse queries. J.J. Keller has a form available to fleets to help obtain consent from drivers, and there's a sample form on the Clearinghouse.dot.gov website for reference. Consent can be obtained once for use on an ongoing basis, said Close. "It doesn't need to be exact," in terms of dates, she said. "It can be worded that says through the duration of employment," or specify a range of years, she said.
First, fleets will need to log in to the Clearinghouse system:
Motor carriers who haven't yet registered need to do so. Likewise, their accounts will need to be connected to FMCSA's carrier portal website. There are guides on how to perform these steps on the Clearinghouse website, said Crawley, which include detailed photos and instructions. Close said the number of questions J.J. Keller has been fielding around registration have dwindled, likely a sign that most carriers have at least registered as employers in the Clearinghouse platform.
Once logged in, click the "Conduct a query" button:
You'll see it circled in red in the photo above. Likewise, this page shows quick stats on a fleets' Clearinghouse activity – queries conducted, queries available for use, number of drivers prohibited and more. Fleets will need to purchase a query bundle, too, to run their drivers' information. Each query costs $1.25. So a fleet running a batch of 40 drivers will need at least 40 purchased queries to do so, which costs $50. Payments can be made by credit card, PayPal or bank draft.
Select the bulk upload option:
This page might look a little different for fleets, as the screenshot here is from J.J. Keller's third-party administrator account within the Clearinghouse. But the bulk upload option will be there for fleets, too, said Crawley. That simplifies the process and allows fleets to upload a file with drivers' information — CDL numbers, birth dates, names, etc. — to run them all at once, rather than running queries separately.
Configure the file for upload:
Circled in the photo above are the relevant action items for fleets running queries. Click the "Bulk Upload Template File" link on the right, circled here, to ensure your file is formatted properly. Standard Excel files are accepted, said Crawley.
Then, choose your file, and choose your queries:
Once the file for the bulk query is formatted properly, upload it. There are two types of annual limited queries that fleets can conduct via the annual check-up, said Crawley. The first is a limited query that simply tells fleets which drivers, if any, came back with hits in the Clearinghouse, but it does not say what information is available on file in the Clearinghouse. The fleet must then manually order a full query for any drivers that have a hit on file in the Clearinghouse.
The other type of annual limited query will automatically send a consent request to pull the full Clearinghouse report on any drivers that come back with hits or info in the Clearinghouse. This is called a limited query with automatic consent request. The types of queries available to order are listed in the bulk upload template file.
Full query consent is separate from limited query consent. The former requires drivers to have a Clearinghouse account and to grant a carrier permission within the Clearinghouse platform to run a full query. Fleets must run a full query on any driver that comes back with hits during the required annual limited query run. Motor carriers have 24 hours to obtain consent for a full query and to run that query.
If a driver does not consent to the query within that allotted time – either on purpose or by missing the email asking for that consent – then the driver is not eligible to drive. Likewise, if a full query is run and the driver has information that prohibits them from operating a commercial motor vehicle, the driver then is also disqualified from driving until he or she completes the proper return-to-duty process.
The return to duty information, if completed, is also available in the Clearinghouse as part of a full query.
Bulk queries process each evening at 8 p.m. Eastern, said Crawley, not immediately like individual queries do. Carriers will receive an email telling them the bulk query is done and the report is available to be viewed on the Clearinghouse website.