An essential equipment's for truck drivers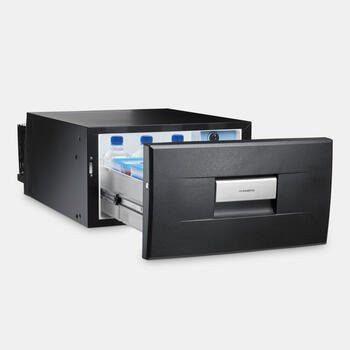 Every driving company should never underestimate the importance of comfortable conditions for its drivers. Long hours at the steering wheel and the tediousness of the work - it is not that easy to cope with these and other negative factors. Having a fridge for truckers will help to make their daily routine less oppressive and hard.
Reasons to implement
There are some circumstances the truckers indeed need a fridge:
Summertime or working in the hottest states (Texas, Nevada, Arizona and some others). Here we can speak not about recommendations but mostly about requirements. Regular access to a cold water in these cases is highly important as even after a short stop for a lunch and even if you will find a shadow for parking all the liquids you have in cabin will be not possible to drink because of their warmth;
Emergency case. Having cold water in the fridge for a truck can one day save a life as it's always an irreplaceable tool in case of unconsciousness or dizziness. Additionally, despite the severe requirements for the employees it also may occur that some of them need to keep some medicine in a cold place.
Even if it is not obligatory, most experienced drivers prefer those driving companies which can provide this type of comfort during long working hours. Luckily a great number of national carriers are equipping their trucks with a refrigerator.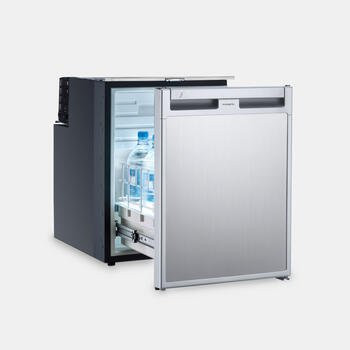 Main features
Choosing a refrigerator for a truck you need to pay special attention to these characteristics:
Size. Definitely most of truck's cabins are not allowed to place a massive box there, that's why most modern truck fridges are quite compact. Despite all the modern models are intended for trucks you need to carefully measure it before buying to make sure it fits your particular cabin;
Easy to use. Normally drivers would not stop to pick up a bottle of cool water and do it while sitting at the steering wheel. Therefore, it is extremely important to have an easy-to open and to close fridge;
Temperature regulation. The temperature and the weather can drastically differ from state to state. That's why you need to have an opportunity to adjust the temperature in the fridge for more comfort;
Holding capacity. There is no big sense to have a refrigerator for trucks that can keep only a few bottles. For example, there is fridge-freezer of Dometic which can keep up to 68 cans inside;
Power. If you want to be sure you will always have a cold products, you must be sure to buy the fridge of 12V;
Quietness. As the driver will always be next to the fridge for trucks it can become extremely annoying to hear its hum. When choosing this kind of equipment, it's always highly recommended to try it before buying. Even slight noise that doesn't look bothering for the first sight can cause a disaster for a truck driver just in a few hours of its work.
Some modern companies are making their products even more competitive. Thus, it can be equipped with Wi-Fi option allowing to adjust the temperature even with the phone. Or the door of the fridge can be made of stainless steel improving its functionality and life time.
It is also preferable to check real feedback of other users about particular refrigerators for trucks. They can provide you with much more accurate and detailed information that sellers and producers. For example, they can mention how much food and drinks they can really put inside (unlikely you will be able to try capacity in the shop), what difficulties in the usage it has (slow process of freezing the drinks or quick melting of already frozen food) or just the whole impression of the purchase.
Among the most popular producers of refrigerators for the truck among American drivers we can mention:
Northern Fridge with its line "TruckFridge",
Dometic, especially famous for its compressor drawer fridge Coolmatic CD,
Norcold, having the wide production of fridges for semi-trucks,
Costway with its spacious and easy to use products,
SMETA and its budget versions of modern refrigerators,
Whynter with a strong home-like compressor and attractive design and many-many others.
Prices for truck fridges vary from a few hundreds to a few thousands of dollars, and you can find great options in both price segments. As expensive does not always mean good.