Owner-op income resilient in cooling market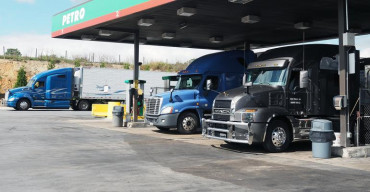 Owner-operators' miles were down 7.3% in the year's first quarter, compared to the same period in 2018, no surprise after freight demand began slipping late last year.
Yet net income averaged among all operators suffered little in that span, according to averages reported by ATBS, the largest financial services provider for owner-operators.
"It will be nearly impossible to beat the benchmarks set in 2018 because it was such an extraordinary year," says Todd Amen, ATBS president and CEO.
Net income for the quarter dropped 1.5%, or $240, year over the year for all operators. Independents saw net income fall less than 1%.
The changes were more pronounced among leased segments. Dry van and flatbed haulers had income drops of about 4%, approximately $650.
Refrigerated, which had plenty of room to play catchup with other segments, saw net income rise 7.6%, or $959. ATBS 2018 data showed leased reefer haulers with average net income of $53,798, trailing leased dry van at $66,655 and leased flatbed at $77,720. Independents averaged $64,219.
Revenue per mile for all owner-operators rose 8 cents from a year earlier, but with fewer miles run, total revenue declined 2.5%, or $967.
"We anticipate lower miles and rates compared to last year. Don't be overly picky on loads," Amen advised. "Take what you are offered if it provides reasonable revenue." That will minimize the drain of fixed costs, such as insurance and truck payments, which need adequate revenue to cover their share of your operation.
In this cooling market, he also recommends concentration on costs overall. "If you generate a dollar of revenue, only a fraction of that dollar makes it to your pocket as profit. If you cut a dollar of cost, 100% of that dollar goes in your pocket."