State DOTs Are Provided Parking Software for Trucks at Rest Stops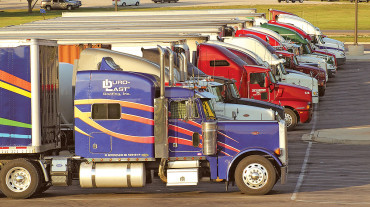 Intelligent Imaging Systems announced it is providing state departments of transportation with its IIS Smart Parking software for trucks at rest stops.
Installations recently were completed in Ohio, as part of the Mid-America Association of State Transportation Officials initiative, which unites eight Midwestern states in the nation's first Regional Truck Parking Information Management System, according to the Dallas-based company.
Through IIS Smart Parking, 18 rest stops along Ohio's interstates 70 and 75 and U.S. Route 33 were fitted with in-ground sensors, which provide information on how many parking spots are open and available for use. That information is then relayed and broadcast in real time on highway signs so truck drivers will know the availability of parking spaces at the upcoming rest stop.
"This service is badly needed in the trucking industry," Brian Heath, president and CEO of IIS, said on March 14. "Parking is a huge concern for drivers. Studies by the Federal Highway Administration show that 83% of drivers routinely take 30 minutes or longer to find parking and that 37 DOTs reported problems with commercial parking."
Earlier this year, the Iowa Department of Transportation, as part of a Mid-America Association of State Transportation Officials initiative, unveiled the "Trucks Park Here" data-driven system to assist truckers in identifying available parking across the Midwest. The online tool is designed to alert commercial drivers of parking availability on I-80, and throughout segments of interstates 380, 35, 235 and 29.
The initiative is backed by a $25 million federal Transportation Investment Generating Economic Recovery, or TIGER, grant. The U.S. Department of Transportation in the Trump administration renamed the TIGER grants BUILD (Better Utilizing Investments to Leverage Development).
"While some states are using more sign-based approaches like placing information on digital message boards on the roadway, in Iowa we decided to take a more technology-based approach," said Phil Mescher of the Iowa DOT's Office of Systems Planning. "We are making information available to those who can use the data in existing in-cab systems or develop apps for drivers."
Last year, an American Transportation Research Institute survey of stakeholders found that parking was a key area of concern for the industry. The scarcity of available parking has the potential to lead to dangerous and costly scenarios for commercial drivers, according to the group.
Ways to remedy the problem include identifying strategic areas for adding new or expanded parking along the national freight network, and launching a public education campaign about the consequences stemming from the closure of public parking facilities. ATRI also proposed that officials evaluate the potential benefits of launching real-time parking information and parking reservation systems for drivers.
"Other options, such as repurposing vacant urban and suburban land parcels for truck parking, are also being explored as potential solutions to this critical industry issue," ATRI said.
In recent years, the U.S. DOT-led National Coalition on Truck Parking has convened meetings with public officials, transportation groups and freight industry executives to evaluate programs meant to provide safe parking for commercial drivers. The coalition's objective is to share data and relevant findings, encourage stakeholders to partner on initiatives and identify areas of opportunities for resolving concerns.
"An inadequate supply of truck parking spaces can result in negative consequences. Tired truck drivers may continue to drive because they have difficulty finding a place to park for rest," according to the Federal Highway Administration. "Truck drivers may choose to park at unsafe locations, such as on the shoulder of the road, exit ramps or vacant lots, if they are unable to locate official, available parking."