The ways to transport a car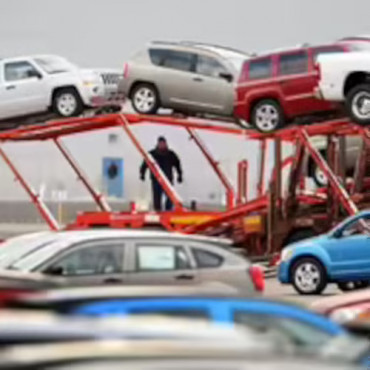 There are several options for transport of a car, including air delivery, sea freight, rail shipment and road carriage.
It is known that the President has official cars transported by the Air Force aircraft during his long trips around the country and on foreign tours. However, for ordinary citizens, air transport of cars does not happen often. Mainly, planes deliver expensive sports cars, rare and old cars, as well as new items for participation in famous auto exhibitions.
For sea freight, some large ships are used, capable of carrying about eight thousand vehicles. Basically, ships can deliver an average of 4,500 vehicles. Many of these ships travel from Japan and other countries to the United States, delivering vehicles of various types. Basically, for such sea carriage of cars, five ports in the United States are used, two of which are on the east coast, and three on the west. Upon arrival there, cars are further transported by rail or by road to the salons of their American dealers. According to statistics, about 70% of vehicles from factories are initially delivered by rail over a long distance, and only then a multi-wheeled car carrier transports cars. Trucks typically transport vehicles up to 250 miles. All long-distance shipment falls on the railway, which increases the competitiveness of the latter. Despite the limited coverage of the railway network, compared to roads, and the use of material handling equipment, railways remain an important means of cars to transport.
Delivery by rail
In America, cars account for a small percentage of all goods delivered by rail. But, nevertheless, it is with its help that many cars made in the USA are transported. The railway has special two and three level carriages, which allow transporting the largest number of cars. Wagons with two tiers are used for the transport of trucks and buses, and three tiers for passenger cars, delivering on average about 12 units. In total, such a train carries about 1000 cars, on average traveling up to 1300 miles. Loading of new cars is carried out at the warehouse of the plant, where they are placed at different levels of rail cars or sometimes are loaded directly at the station. After loading, the cars are fixed inside at their levels to avoid collisions.
Transportation in a truck trailer
Prior to its placement in a car dealership, a new car on one of the routes there is delivered by a truck. An auto transporter on average carries from 8 to 12 cars, when there are up to 4 cars transported on the truck itself, and 8 more units in its trailer on two levels. The trailers are equipped with hydraulic ramps that can be raised and lowered. With their help, you can smoothly load and unload machines. Also, the ramps tilt and increase the space for car placement. Typically, an auto truck driver is responsible for loading and unloading his truck. Often it is necessary to solve several difficult tasks, namely, to determine the size of each machine to be placed in the trailer, to be in time with the loading according to the schedule and to take into account the further order of unloading, so that later, for the sake of one machine, not to unload the entire trailer. Sometimes some cars are placed in reverse, while others are driven in front to provide more space. Larger cars are located at the top. If the driver knows the size of the cars from previous experience, then the loading of identical cars will last no more than one and a half hours. With different sizes of machines, it will take several hours to properly position them in the trailer. Do not be afraid of the car falling off the truck, as it is secured with belts and chains. Many cars have attachment points on the body through which the chain is pulled and fixes them to the trailer. Also, tires are fitted with reliable belts attached to parts of the trailer structure. Therefore, even in the event of an accident, none of the cars will be damaged.
Individual car transport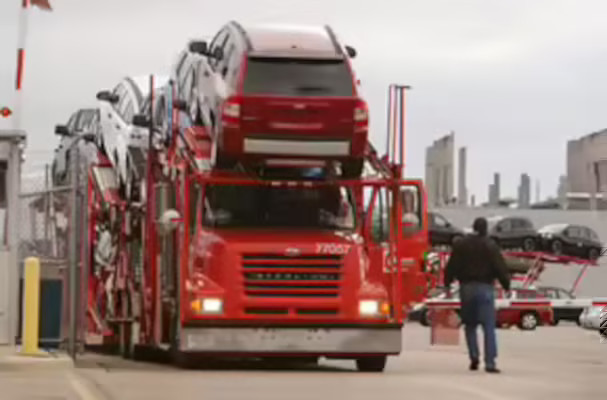 Every year, many families move around their country, students go to study at a remote university, someone goes to winter in sunny Florida, and someone moves to work. In such cases, a trucking company comes to the rescue. It is important to see the difference between a carrier and a broker. The first one does all the work on the most real transportation of cargo, and the second one negotiates with the transporter on the delivery of this cargo, organizing the whole process. Each of these two participants in the transport services market has its own advantages and disadvantages. Carriers are responsible for delivery times as well as possible damage. Brokers have more opportunities to find an optimal carrier for their transport base and hand over a car delivery to such a carrier. Customers have to make their choice, as well as identify fraudsters among the above specialists.
Carrier companies are ready to transport a car without the presence of third-party things in it that are not related to its maintenance. Fuel is filled to a quarter, and the owners of the car need to be present during its loading and unloading process to check for defects.
Some collectible car owners, as well as hobbyist vehicle builders and racing enthusiasts, purchase towing vehicles with trailers to transport cars. Typically, these trailers of various modifications can accommodate one car along with spare parts and tools for its maintenance. For safe transportation, it is necessary that the weight of the trailer matches the towing capacity.
In order to transport your car from place to place, you can do it on your own. On the auto services market, there is a large choice of agencies with experienced drivers who are ready to move a car instead of its owner, who does not have the time and opportunity to do it on his own or use a road carrier. The agency guarantees the selection of the right driver and coordinates the entire process of transportation in terms of time and route with the customer. Usually such drivers do not receive payment and buy fuel for the car themselves so that they can drive for free on it.