Car transport trailer for rent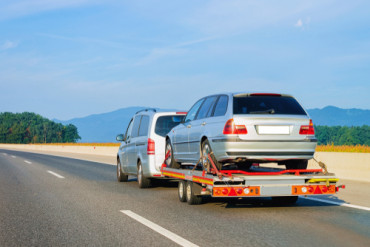 When a person is about to deliver a car to another location, one of the most popular solutions is to hire a professional transport company. But have you ever thought about such an alternative as a car transport rental trailer? If you have never considered this variant, the information below could be useful for you.
How can you deliver a car to a new destination?
If you need to transport your vehicle from point A to point B, you have a choice of several options.
Firstly, you can simply drive your car yourself. But this alternative is good only if the distance between point A and point B isn't too long. Otherwise, you may spend a lot of fuel, time, and effort. And this all can end up with you being totally tired and exhausted.
The second option is to hire a professional driver and have him deliver your vehicle. However, not every person is suitable for being entrusted with your precious car. You may get nervous about the way the person is driving your car as this is your personal vehicle which, undoubtedly, means a lot to you.
One more alternative is to hire a shipping company which specializes in vehicle transportation. This option is rather popular thanks to availability, convenience, and cost-efficiency.
Finally, you can take a car transport trailer for rent and move your vehicle with comfort and safety from point A to point B whenever you like. People often forget about this method of transportation, although it definitely deserves attention.
How much does a trailer rental for car transport cost?
Car transport trailer rentals will cost you less than hiring a shipping company. However, you should have enough time and experience to handle this issue.
You can have a pickup truck with an average price of $20-$40 per day. If you rent a car transport trailer for a round trip vehicle shipping, you will pay about $1 per mile, while one way trips are not charged per mile.
In general, you should take into account the following points:
car transport trailer rental fee;
the distance you need to move your vehicle in miles;
insurance in case of damage;
environmental fee;
road taxes and any possible additional fees.
The third point deserves going into details. As a rule, car transporter trailer rental has two insurance options. One is the standard insurance which has rather limited conditions and terms. The other is additional insurance which is available for extra payment in case you want to ensure 100% protection. The choice depends only on your preferences and the type of coverage you would like to have.
It's necessary to mention that the cost of car transport trailers for rent can also depend on their quality. New trailers are more expensive to rent, but they are more secure at the same time. If you want to find a good ratio of quality and price, you'd better read some customer reviews and analyze testimonials.
Is it easy to deliver a car in a rent car transport trailer?
If you think that it is easy to transport a vehicle in a rent car transporter trailer, then we have to disappoint you, because you are mistaken.
Firstly, whatever company providing car transport trailers for rent you address, they will tell you that it is necessary to have a four-wheel drive truck. You will hardly find a service that will allow hitching or towing in any way.
Another issue about car transport trailers for rent is that you should have experience in order to pull one. If you have never tried before, don't even think about a car transport rental trailer. You should realise that making turns with a trailer isn't the same as when you are driving just an ordinary vehicle. The same is with the braking process. You should have enough experience to analyze the situation adequately and to predict how much space you need to stop the car with a trailer, taking into account the extra weight.
It's no less important to take into consideration the possible bad weather conditions (downpour, snowstorm, hail, etc.). Be ready to make quick decisions in emergency situations, no matter how skillfully you can maneuver on the road while driving your car, car transport trailer rental is a different story.
How to load the car onto a car transporter trailer rental?
And last but not the least, are you sure you know how to drive your car onto the car transport trailer for rent and drive it off?
First of all, bear in mind that you should load your vehicle forwards on the trailer rental for car transport.
Drive it in the central position onto the trailer, when it's in the right place - activate the emergency brake.
Secure the vehicle properly with the help of safety chains.
Don't rush, take your time, and be very attentive during the loading. Don't forget to raise the fender.
It goes without saying that unloading the vehicle requires no less attention and diligence from you.
In conclusion we would like to say that it's not a difficult task to rent a car trailer transport, it's much more difficult to move your car from point A to point B with the help of car transport trailer rentals, especially when the distance is too long. On the one hand, it's a great option to rent a car transport trailer in order to deliver your car, but on the other hand it can be dangerous if you have no experience in driving a trailer.