Across country cars transport services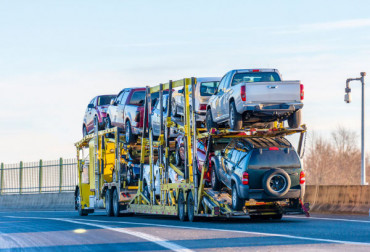 In this article, we should consider what road carriers might be. As a rule, transport companies provide the service of cross country car transport. The vehicle can be various types of cars, SUVs, pickups, as well as boats, motorcycles, tractors and similar machines. Delivery is carried out in the mainland of the United States, as well as in the territories of Alaska, Hawaii and others.
Trucks usually cover 500 miles per day and transport vehicles to remote areas within one to ten days after loading. In the case of delivery to Alaska and Hawaii, the transporting period is extended to three weeks and depends on weather conditions. Fast delivery takes about 4 days and drivers can travel up to 800 miles per day.
Types of trailers used for across country car transport.
The size of the machine determines which trailer will be used with a truck. Let's list the main types of trailers. Open trailers and platforms are often used, but there are also closed ones. At the latter, old and expensive sports cars are usually delivered, as well as motorcycles for greater safety.
Standard vehicles are almost always transported in open trailers, which are easier to maintain and therefore inexpensive. There are three types of different open trailers:
The car hauler mostly delivers cars to car dealers. It is cheap and therefore popular among customers. Such a trailer for transportation can accommodate up to 10-11 vehicles and is mostly used to ship cars, jeeps, small trucks and minibuses;

A platform truck is used for transporting old and non-working vehicles, or larger cars and other vehicles such as vans, boats and yachts that cannot be transported in a conventional truck. However, such a truck can carry a load of not more than 48 thousand pounds. Space in it costs about $100-150 more.

The most expensive for shipment is a low-profile tractor with a Lowboy trailer, as it hauls heavy machinery and equipment of large dimensions and heavy weight.
Preparing for car transport cross country.
Professional car brokers constantly provide services to clients for transporting cars across the country and try, where possible, to deal with the most reliable and dependable carriers in the USA. Therefore, they are responsible for such shipments from car dealers, auctions and private sellers and ask their customers to follow their advice for the safe shipment of vehicles.
Before sending a car, to avoid the risk of damage or for possible insurance payments, the owner of the car must prepare it for the trip. Most old cars have damages to the body like scratches, dents and discoloration. Therefore, the car must be washed before leaving and all existing defects must be carefully photographed. You can make a detailed report of all these defects and show it to both the manager of the shipping company and the insurance agent. You should take out all electronic devices, personal belongings and other car accessories from the vehicle before loading it onto the truck trailer. Also you must remove all items from the cab as they are not covered by insurance and carriers are not responsible for them. While moving, they can be lost and damaged, and at the same time might spoil the car interior.
Before starting transportation, it is important to turn off the car alarms and other electronic devices, as well as close the windows and secure all loose parts of the car. When the auto is carried in a truck open trailer, water and debris can get inside it and stain the inner parts. During the ride, a driver will not be able to monitor parking and road passes lying in a passenger compartment, which can be stolen and therefore must be deactivated.
Types of car transport across the country.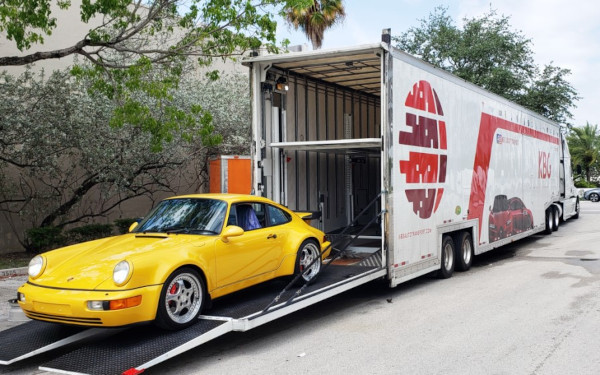 When ordering delivery with the carrier, a transportation broker specifies the method of car delivery. Usually, vehicles can be shipped from loading point to destination in an open or enclosed trailer, taking into account several important features, including a machine's working condition, the wishes of the customer and the amount of all costs.
Carriers prefer working with serviceable vehicles containing no more than one-quarter of the fuel volume in their tanks. Usually it is all necessary for loading and unloading an automobile from a trailer. The machines must also contain the correct level of all process fluids without any leaks. To avoid disputable situations with the driver, it is recommended to take a photo of the odometer with the car mileage.
As mentioned above, all uninsured parts of the vehicle and its registration numbers must be removed. On the road, these numbers can be accidentally taken by speed and toll cameras, and the owner of the car will be fined if he accidentally drives on a high speed or on a toll road. In this case, such incidents are resolved by providing the control authorities with the contract of car carriage in the truck along with the consignment note.
Transport companies in the country.
When it comes to transporting a car across the country from one house to another, or from one military base to another, it is very important to choose the right carrier to make it easier for yourself to get around the task of delivery and calmly handle other issues of relocation. First, the transport company must be experienced in the transport market, have a proven business reputation as a reliable carrier with positive customer reviews. Second, she must resolve all delivery issues quickly and efficiently. Thirdly, the tariff for transportation services of such a company should be optimal, taking into account all possible costs and other prices of competitors. Therefore, when looking properly for a carrier, it is simply necessary to consider all these points to avoid stress and unnecessary costs.