Waves of change: large carriers say industry going in 4 directions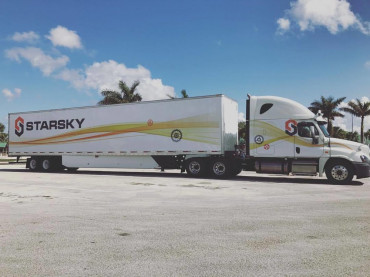 Truckload is a highly fragmented market compared to rail, air, steamship and other modes of freight transportation. Yet some fleets are still able to create waves in the market that smaller competitors find themselves moving with or fighting against.
Discussions that took place among fleet executives of large companies at the Truckload Carriers Association's annual conference, Mar. 10-12 in Las Vegas, converged on four areas where they say the market is headed with the help of technology.
1. All in the app
Many fleets have developed proprietary driver apps or use off-the-shelf products that give drivers added conveniences. Robert Low, president and founder of Prime Inc., touted the company's driver app as an essential tool for building a culture, sense of community and family feeling among its driver workforce.
The app has "taken time out of a driver's day and made him or her more effective, productive and untethered from the truck," said Low. With the technology, drivers can access payroll and settlement information and have all permitting and load documents to breeze through weigh stations, among other features.
2. Scaling up logistics
The transportation industry has become attractive to venture and private equity investors as being ripe for disruption and defragmentation.
Low thinks carriers have no reason to be overly concerned about technology that is fueling the rise of "digital brokers."
"They've got some whiz-bang stuff," he said. "Some of it is very good, but when you talk to them and get through that outer wrapper, they are starved for trucks."
Robert Low, founder of Prime, said asset-based companies have advantages in offering logistics services that cannot be matched by "digital brokers."
Prime, with 6,500 tractors, does not rely on brokers or 3PLs to service the needs of its customers. "Here's the rub," said Low. "We want to own that customer relationship. We want to be as tight with customer as possible. We do not want a broker or 3PL between us."
Low sees an opportunity for motor carriers to deliver both capacity and technology in ways that digital brokers fall short.
"I really think the best providers of that technology are the asset guys, but not exclusively," he said. "Carriers with great technology that is backed up by assets have an advantage."
Low said asset-based logistics companies, like Prime, can offer smaller carriers some advantages that digital brokers cannot. He pointed to the company's robust freight network, trailer pools and discount purchasing programs that help smaller carriers expand their businesses and lower their costs.
Daseke, a publicly held open deck conglomerate, operates a combined fleet of more than 6,000 trucks. For the time being, the Dallas-based company is focused on tightening up its operations to make sure it has the right offerings and opportunities to grow, said Greg Hirsch, senior vice president.
Growing the brokerage side of its business, which is currently about 20 percent of its revenue, is one of those priorities. Hirsch considers Daseke one of the disruptors in the open deck market by using its asset and non-asset logistics to be an "organizer and coordinator."
For Prime, the logistics side of the business is helping the company gain coverage in more difficult regions of the country, such as California, with its regulatory challenges.
The company has proprietary technology for logistics, but Low said he is open to making an acquisition to advance its capabilities. In the meantime, the Springfield, Mo.-based carrier is acquiring motor carriers to expand in certain niches. It recently bought a non-food-grade tanker operation to work in tandem with its food grade business.
Greg Hirsch, senior vice president of Daseke.
"I like those things with not so much competition," said Low. "When you go in there and have a little monopoly going on, freight rates go up, I'm telling you."
3. Embracing technology
A "whole wave" of new technology is coming to trucking, often by way of startup companies who "don't have a clue what trucking is," said Hirsch. "They just know they want to solve a big problem."
Hirsch advised carriers to not dismiss their ideas. A lot of the new talent and resources directed at transportation is giving the industry an "opportunity to accept those new voices, listen to them and evolve," he said.
One area where Hirsch sees practical advancements being made is forward collision, lane departure warning and other semi-autonomous technologies that make trucks more inviting to a new generation of drivers who "don't want to be as rough and rugged as people have been in past."
David Freymiller, president of Freymiller, Inc., an Oklahoma City-based motor carrier that specializes in refrigerated transportation, commented that technology has allowed the company to grow profitability by keeping its expenses flat.
In the last few years, the "biggest help" from new technology is a partnership between Freymiller's truck supplier and telematics provider. Paccar has PeopleNet (Trimble Transportation Mobility) telematics units installed at the factory.
The SmartNav screen in Paccar trucks doubles as a display unit for PeopleNet applications, said Freymiller, which removes installation costs for the company and makes it easier to sell equipment because no hardware needs to be removed and repurposed.
With the connected vehicle platform, fleet managers are notified of fault codes and warned in advance of critical maintenance events that will occur. With this foresight, managers know of upcoming engine de-rates and can make plans for drivers to complete deliveries and stop somewhere to perform an active regen, he said.
4. Meeting customer needs
John Culp, president of Maverick, a transportation and logistics provider with 1,700 trucks, spoke of a very detailed cost analysis system the company has to evaluate customers. The system uses time, location and other data points to measure and assign direct and overhead costs such as loading, unloading and transit times to calculate an operating ratio for each load and customers by lane.
Fleet executives Dale Decker, Pete Hill and John Culp shared insights during the TCA event in Las Vegas.
Recently, Maverick had one of its customers ask the Little Rock, Ark.-based fleet to provide a data feed for the estimated arrival time of shipments that factors in the location and speed of the vehicle and also driver hours-of-service, traffic and scheduled or unscheduled maintenance events to come up with best possible result.
Maverick was able to provide this information to the customer who plans on using it to automatically schedule and build loads, Culp said. On the other hand, Culp said some of the 3PLs and freight visibility providers its shipper customers use are "asking for all our data, but we are not giving it to them," he said. "We still feel that for the relationship we have, to provide service, we need to protect our data and information."
Another area that leading carriers agreed on was transportation not being a commodity that can be easily bought and sold. This appears to be possible with the upcoming launch of a trucking freight futures market through Nodal Exchange, which is being promoted by FreightWaves.
"I don't know if we are going to be excited about an open market," Culp said. "I don't want to be treated like (a commodity)." However, Culp noted that some of the requests that transportation providers are getting to provide data that will feed this futures market, "I think, are going to improve efficiency of the overall system."
Dale Decker, executive vice president of Decker Truck Line, a refrigerated and flatbed hauler based in De Moines, Iowa, echoed this sentiment.
"I don't believe we are a commodity. Trucking is different than a bushel of beans," he said. A freight futures market is "trying to commoditize the industry because shippers want to project their costs. I like our ability to stand on our own service."