Main negative features of the shipping car by rail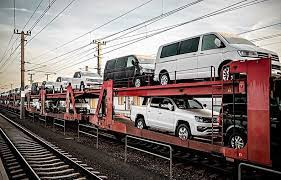 Car's delivery is not a very easy process, especially if you as a car's owner deal with it for the first time. And the first thing you need to consider and decide is how you would like to arrange your vehicle to be delivered. There are actually a lot of options even while people are still preferring to use a more traditional and common auto transportation in or on (in case of the open platform) truck.
Here we will consider a car shipping by rail, moreover, why people are still trying to avoid this type of the cars' delivery.
What a rail car shipping is
Shipping cars by rail is one of the cheapest methods to deliver your vehicle from point A to point B. Normally, at least in the USA, the car's owners can arrange this type of transportation by their own or through a professional transportation company.
The price in this case is truly low, especially in comparison with more common truck's delivery. But why are people still more involved in the less cost-effective scenario? Here are just the main negative features of the shipping car by rail.
Main disadvantages
Uncertain routes. Despite the fact that you as an owner choose the original and the final destinations (at least in regards to the states or the cities), you cannot control the route. As we know, the trains are going through particular directions, and sometimes it involves some unnecessary loops and extra miles. Unfortunately, you cannot affect the distance your car will cover when being placed into the wagon. Despite spending an additional time, you will also may need to go to another state to pick up your car upon delivery as there are no train routes through your particular state. And it will take you even more extra hours while your vehicle will be at your disposal.
Difficulties in making arrangements. As we mentioned, you can book a car shipping rail service via a professional transportation company which will obviously cost you more than if you deal with it on your own. On the other hand, usually it can become a real challenge to reserve the place in the train if you act as an individual. Of course, in the modern world everything is possible and finally you can get an appropriate offer, but it can, again, take some time to figure it out.
Longer estimated waiting time. And here we are talking not only about the route and the stops on the way but also about the drop-off date. Shipping by rail a car considers that there will be other cars or materials that need to be delivered on the same train and in the same direction. Otherwise, you will have to wait until these cars and materials will be requested to be delivered. This means you can expect to wait up to a couple of weeks or even months (in case of remote destinations) which is not always possible and convenient for the car's owners.
The necessity of the additional services. When we are talking about the car shipping rail service, we consider that the car or any other vehicle will be picked up and dropped off at some railway stations. But what about delivering it to and from these stations? Of course, you can apply for an additional service of the truck transportation which will cost you some additional amount of money. If you are willing to make it cheaper, you will need to think how to make it on your own. And again, you will face an additional option of booking a passenger's ticket to make a trip on the same train as your car. Again, extra costs.
No personal belongings. Of course, today everything is possible and you can apply (in some cases) for the delivery of your stuff when shipping a car by rail, but the cost will be much higher. Moreover, there is no guarantee, which means you can't transport some valuable items like this.
There are some specific rules if you are willing to add some belongings to the transportation procedure. For example, according to the law, you cannot place them inside the car and will have to apply for additional space in the wagon. Again, it's not very convenient and cheap for those who are considering a train as a possibility to move to a new house in the cheapest way – in this regard it's more effective to order a professional moving company.

Of course, people are still considering the trains as an opportunity to deliver the car as cheap as possible, and sometimes it makes sense. But you need to carefully consider all the disadvantages you may face during the trip. Imagine, for some reason you are not able to pick up your car from the station when the train arrives, especially if it's just a short stop on the way. You can spend much more money for hiring a driver and will have an indeed stressful and difficult day.
We should also mention here that there is always a possibility to apply for door-to-door service even with the train delivery. It still can be less costly than arranging everything through an auto transport carrier. But it fully depends on the railway stations' location. In some cases, it will be cheaper to transport the car on the truck from door to door than to add extra service for the delivery to and from the stations which can be remote.
For those who are still considering this option we should mention that meanwhile it's the most eco-friendly way of transportation as well as it has a much less chance of the damage on the way. Even if you choose on open transportation, you can be sure that only weather and some insects and birds can affect the condition of your car upon arrival. Moreover, you can be lucky and there will not be too big loops on the route – in this case you will get your car much faster in comparison with a more traditional truck trip.