Capacity uncertainties loom over trucking's COVID recovery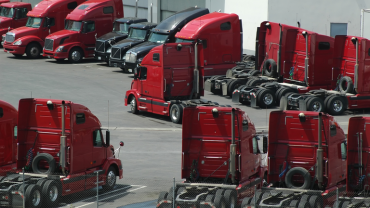 Fleets face uncertainty over demand as the federal government stalls and the potential driver shortage accelerates more than half a year since the pandemic changed the freight and economic landscapes.
Capacity risks loom large as the trucking industry looks at a mid- and post-pandemic outlook mired in uncertainties surrounding the labor pool of current and potential professional drivers.
Carriers are facing uncertainty over demand. The future of federal assistance is up in the air and might not be decided until after the fall election. The federal drug testing clearinghouse for commercial drivers is changing the driver landscape, which is also being hurt by less CDL training during the COVID-19 pandemic. This is adding to a driver shortage amplified by retirements and other labor competition.
"We could very well be seeing a combination of all of these factors coming together to add more friction to the market than we normally would expect, given you had such a short contraction in the market earlier this year," said Avery Vise, vice president of trucking for FTR Transportation Intelligence, during a Sept. 10 webinar on trucking's recovery.
Chart: FTR
While the spot market has heated up recently, a look at the broader picture on freight can explain why capacity has not come back as quickly as expected, Vise said. "In total market volume, we are still significantly below where we were February, so we need fewer drivers to haul that freight. But capacity is starting to change."
Vise said he doesn't expect freight volumes to return to pre-pandemic levels until mid-2021. A lot of that depends on manufacturing, which FTR Chairman and CEO Eric Starks pointed out is the largest part of freight transportation. "And that just hasn't turned the corner yet," he said. "So that could create some issues going forward — but I think the bigger issue right now that I'm most concerned about is getting drivers back. Because if you get all the drivers back that you had before, there's no capacity issues because there's plenty of pieces of equipment."
Chart: FTR
Active truck utilization
The for-hire trucking industry added 10,000 payroll jobs in August, according to the seasonally adjusted numbers from the Department of Labor. Vise said that is the biggest gain in the industry in two years. "Interestingly, that gain in August 2018 was basically a month after the peak of the spot market in that cycle," Vise added.
Despite the spike in for-hire jobs late this summer, Vise noted that trucking payroll jobs are still down by 78,000 as of August, a 5.1% seasonally adjusted decrease.
Active truck utilization — the share of seated trucks actively engaged in hauling freight — is on the rebound since the pandemic contraction. "Our outlook shows utilization in September about where it was in February," Vise said. "Given that there are presumably a sizable number of displaced drivers still available, we would expect capacity to come back more easily than usual for a while."
Chart: FTR
FTR forecasts expect an accelerated utilization during the first quarter of 2021 that would push the rate higher than the 10-year average by the middle of next year for the first time since 2018. Given the size of the pandemic contraction this past spring, Vise warns there is still "a long way to go," which could be why there is a delay in more driver hires and could lead to capacity risks.
Many displaced drivers were working as recently as March, which Vise said could mean a good-sized potential driver pool exists to handle the rising freight demand. "On the other hand," he noted, "the uncertainly part of the equation is much higher today than it normally is."
Among the things creating that uncertainty is assistance from Washington. At the start of the pandemic, the federal government was boosting unemployment assistance across the country by an extra $600 per week for those out of work, the Paycheck Protection Program that was creating incentives for employers to keep workers on the payrolls, and $1,200 stimulus checks were sent out to most Americans this spring. "It could be on the supply-side that there was less pressure to get back to work as things were kind of stable" because of these assistance programs, Vise said.
In July, these programs were injecting about $16 billion a week into the economy. "That was covering the level of unemployment that we had and — we still have. Congress now appears at a standstill to replenish or extend any of these programs with less than two months to go before the election.
Chart: FTR
More labor roadblocks
Another capacity factor is the Federal Motor Carrier Safety Administration's Drug & Alcohol Clearinghouse, which debuted late in 2019 and recently started releasing data on drivers. About 29,000 drivers have either tested positive for a controlled substance or refused to be tested through July, which Vise noted is about 0.8% of all commercial drivers.
Vise warned that number could be higher in the future as not all drivers are tested each year and pre-employment screening has been lower in 2020 because hiring is down. Once fleets start looking to rehire more drivers as capacity increases, more drug screening will be needed.
The truck driver labor market is also facing pandemic-driven "inflow-outflow issues," Vise said. The Commercial Vehicle Training Association estimates that because of social distancing and other testing problems in various states, there could 40% fewer commercial driver's licenses issued this year. "It's also quite likely that given the age of the demographic of the trucking industry that we've seen either temporary or even permanent retirements due to COVID — due to people trying to protect themselves," Vise said.
Adding the labor market uncertainty is job market competition, Vise said. One of the fastest-growing industries in the U.S. is local delivery — formally called couriers and messengers — which is up more than 9% since February. "There's some thinking that there's a diversion of labor to that," Vise explained. "The wages tend not to be as much, but you get more home time, obviously, and also you have a lot less federal regulation to worry about."
This could be all be a significant obstacle for the industry, according to Starks. "As we go forward, those retirements are a big deal," he said. "The ability to get drivers through the schools is a big deal. Those types of things are what I'm going to be looking at to understand if there is going to be undue pressure on capacity because of the availability of labor."