ATA Economist Bob Costello: Recession Remains Uncertain, but Expect More Carrier Closures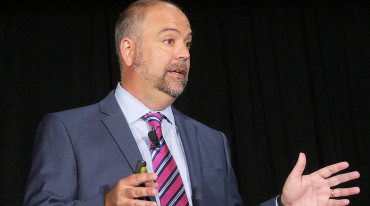 INDIANAPOLIS — Bob Costello isn't sure that a recession — a downturn that could impact freight and trucking companies across North America — is coming, or when, but the economist senses something is amiss.
It isn't the numbers that give him the most concern. It's the trucking officials he talks to, such as the ones he spoke to at the annual conference of American Trucking Associations' National Accounting and Finance Council on June 11.
Costello, ATA's chief economist and senior vice president of international trade policy and cross-border operations, spoke to the council here.
"When I come to meetings like this, everyone is like, "What is going on? Are we headed for a recession?' " Costello said. "When people start asking those questions, you know what that tells me? You go back to your businesses, and you are not going to take risks. And when you don't take risks, that means we are not going to grow at the same pace that we were."
Costello said President Donald Trump's trade wars have created uncertainty, and that is one of many unknowns that could hurt the U.S. economy, which has been in expansion since the third quarter of 2009.
It's a long time for an expansion to go uninterrupted, but Costello also is hesitant to declare a possible recession in 2019 and 2020.
"The risks of a mild recession have increased," Costello told the audience of freight officials and executives. "It's not my forecast. All I am saying is, the risks have increased … The theme is slowing but growing."
Recessions generally are defined as two consecutive quarters of contraction in the economy, but Costello's projections show quarterly growth in what is left of 2019 and all of 2020 of about 2% annualized growth, per quarter.
Breaking down freight statistics, Costello said inventories have gone up in the first quarter of 2019, driven by fear of possible Chinese tariffs, not poor consumer demand.
And the unemployment rate is the lowest it has been since 1969, Costello said. It has created a labor shortage in some areas.
"We now have significantly more job openings than we have unemployed people," he said.
The job growth is solid this late in an economic expansion, Costello said. If the job market slows down, it's not "the end of the world," he said. The job market is testing the boundaries of "full employment," so a slowdown would be understandable, ATA's economist said.
That brings in the next phase of such good employment — pay and wage increases.
"People are making more money," Costello said.
Much of the new household money is spent almost right away, Costello said, as the United States, along with NAFTA partners Mexico and Canada, are not nations of savers.
That spending means more online shopping, a relatively new phenomenon affecting trucking. The new shopping habits have changed how Costello looks at inventory levels, because consumers' orders "need to be nearby" and not five days away in some large distribution center.
The spot market has been hit hard … I think you are going to see more and more fleets going out of business.

ATA Chief Economist Bob Costello
Costello, who monitors trade for ATA, says he was optimistic about passage of the new trade agreement among the United States, Canada and Mexico. All the leaders have signed the treaties, but the nations' three legislatures have not. Costello said the biggest problem that congressional Democrats have with the new agreement, known as USMCA, is the fear Trump, a Republican, will get a win.
But even liberal Democrats should be happy with the labor and environmental changes in USMCA, as the document is "absolutely better" than NAFTA, Costello said. And many congressional Democrats are in districts or states that export many agricultural products to Mexico, making it difficult for them to say no to USMCA.
Costello said Democrats should have Canadian Prime Minister Justin Trudeau, a member of Canada's Liberal Party, call the wobbly Democrats to lobby for USMCA, as Trudeau appears to be popular with the Democratic caucus.
For fleets, the economic uncertainty poses the biggest danger to smaller carriers who are at the mercy of spot markets, which have seen rates drop in recent months. Spot market rates dropping comes at a time when smaller carriers increased pay to attract drivers. The increased pay and lower spot rates are coming together at a bad time, Costello said.
"Contract freight is doing better than the spot market," he said. "The spot market has been hit hard … I think you are going to see more and more fleets going out of business."
The situation could result in potential "carnage" with some fleets, as they seek bankruptcy protection or simply go out of business, Costello said.
On the driver shortage, Costello said pay raises helped alleviate the shortage, but he said pay is but one solution.
"It's more than the pay," Costello said. "It's the lifestyle we're asking these people to do."
Costello ended his presentation saying any recession won't be as deep or nasty as the Great Recession, which lasted from 2007 to 2009 and also previewed a long, sluggish recovery.
"It should be relatively mild," he said.
Costello noted that recessions usually are caused by two things: bubbles, when the private sector overspeculates; or higher interest rates, pushed up when the Federal Reserve wants to curb inflation.
"Economic expansions do not die of old age," Costello said. "They're killed."
But this time, the private sector is not pumping up values in stocks or housing, and the Federal Reserve has been wary of too many interest rate increases, Costello said.