Better ways of shipping a classic car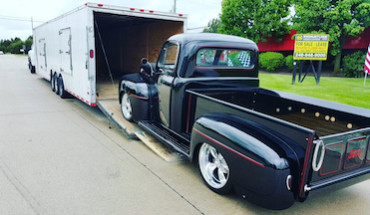 Classic cars as well as expensive sport cars require extra care while being transported. If you need them in other parts of the country, most probably you will not want to drive them all the way and would prefer to arrange a delivery. And that is where classic car transportation takes place.
Ways of transportation
There are normally two types of the classic cars' owners: the collectors and the users. In the first case we are speaking about extremely expensive and well-cared vehicles while the second type's owners just use the car as a tool. Depending on the way you are considering your personal car you can or cannot choose a classic car transport.
In the first case it's highly recommended to use enclosed transportation, where your car will be fully protected from any possible damages caused by birds or weather conditions. The car in this case will be placed inside the truck along with a couple of others and will be attentively cared of. The reason why not every car's owner can afford this type of transportation is its high price. As a common practice, you will need to pay up to 60 percent more for this service. That is the reason why mostly only expensive cars' owners can afford such a tailored service.
If your classic car is your favorite part of your daily life and you even are not afraid to leave it on the street, you can choose an open method of transportation. The main disadvantage here is that your vehicle may be delivered in not that adorable condition because of dirt and strains. Luckily, some companies are providing a wash service upon delivery to the final destination.
Additionally, there are two more options you can choose from:
door-to-door service helps to withdraw any responsibility from you in regard to the whole transportation process. As soon as the classic car haulers load the car onto the truck and until the moment it's delivered to the assigned destination you may be sure that the carrier will take full care of it. Oppositely, using a terminal-to-terminal service while transporting classic cars, it will be your responsibility to drop it off and pick it up at the company's spots.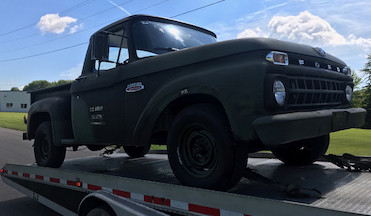 The greatest tips
If you are interested in an expensive and valuable classic car transporting, it's always better to hand over this task to a professional. Nowadays there are some carriers that are specialized in such kind of service. But even using a traditional carrier's service you may be confident following the next steps:
Checking insurance policy. Actually, this point is significantly important regardless what type of car is considered to be delivered. But to transport a classic car you need to be sure that the insurance coverage is enough to support you in case of any accidents and especially small damages that may occur on the way. It's such an unpredictable service that is always better to pay more for an additional insurance than to suffer from unexpected accident;
Clarifying the drop-off and pick-up locations. Sometimes it may be quite difficult and even impossible for the carrier to reach a point you mentioned as a pick-up or drop-off location. It is your responsibility to make sure the trucker will be able to get there. Otherwise, you may face pretty stressful situation not finding your car at a spot;
Checking reviews. It's extremely helpful especially in regards to the classic car shipping. Reading the feedbacks of the same owners like you with all the details in regards to the customer service, carefulness and personalization will give you a better understanding of the carrier itself. There is nothing difficult to make a great advertisement – much more difficult to keep the face;
Additional protection. Most professional carriers will ask you for an additional fee in case they need to transport classic cars. The reason is that it needs additional tools to be fixed and covered in case of any difficulties on the road. From your side you should also ask about any possibilities to get extra protection for your classic car;
Delivery date. This is especially important in regards to the enclosed transportation as it may take much longer in comparison with normal schedule. It's not good for a classic car itself to stay for a long time inside a truck, so you need to be sure you will choose the shorter way possible. It's useful to have an average knowledge about this: a short-distance trip (up to 1,000 miles) normally takes about several days while a delivery to a 2,500 miles destination will take about 1-1,5 weeks.
You always can know more details from the carrier itself – through the website, personal contact or even feedbacks. That is why it's recommended to consider a couple of them. Normally, in regards to the classic cars the quota, or price, is not the paramount feature of the deal. The most important is that your car will be delivered in the safest and most convenient way.