Shipping my vehicle to another state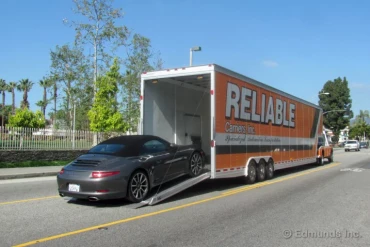 How many questions might you have when just searching in Google for results of "Shipping my vehicle to another state"? Probably, a lot. Here we will help you to understand the most important points in this regard and to arrange the smoothest, easiest and the most effective transportation of your car.
Basic knowledge
In some cases, it's much easier and better to arrange a car's transportation via a professional company which will take car of all the process and just deliver your vehicle from point A to point B. It's especially a common practice for families with small kids when they are arranging a long trip or moving to a new house.
Traditionally, in the USA the most common way is to deliver a car with a transportation company's truck. And when you are making such a decision, you will have to choose some details. For example, if you would like your vehicle to be delivered with an open or enclosed transport. The first way is much cheaper and most probably you will get your car delivered in the shorter period of time while with the enclosed delivery your car will be fully protected from the precipitation and dust but for additional 50 percent to the price.
Another choice you will need to make is a door-to-door or terminal-to-terminal delivery. The door-to-door transportation is much more convenient, indeed, but unfortunately is not always possible. At least in the literal meaning as some of the streets are too narrow for the massive and huge transporter to pass. Terminal-to-terminal delivery is more common for those who are living in remote rural areas and to wait until the truck will go there can take a long time. In some cases, you can choose a kind of "in-between" option when you can drop off and pick up your car somewhere on the way.
Finally, you need to carefully check the insurance. In most cases it's already included with the basic coverage of 75,000-100,000 dollars, so if your car has a higher value, you can always apply for the extra insurance (within the same transportation company or through the third party).
Different routes
To ship my vehicle via international shipping will be a little bit more difficult task than in case of the across-the-country transportation. And in this case, you need to look for a particular carrier who can arrange it as if it's not Canada it will require a boat.
Beside the additional transport, shipping my vehicle overseas will need a lot of specific documentation. Depending on each particular country the requirements can vary, so you as a car's owner have to be sure that the transportation company will make the whole process smooth and effective. That is why it's always recommended to choose an experienced transporter, especially in case of such international trips.
You also need to be ready that international routes will require much more time. Traditionally. The estimated waiting time can reach up to 60 days. And if on this stage you are willing to make your vehicle to be delivered at the shorter basis, you need to apply for the expedited service. Of course, the ship cannot leave only with your single car on the board, but you can move forward in the queue of orders and, therefore, to cut the waiting time at least double.
There are two states in the USA which normally require additional attention and special preparation:
Shipping my vehicle to Alaska can be a popular option both for leisure or business (or military) purposes. This transportation has a significant difference in comparison with other states and starts only at the port. What concerns the final destination, depending on your budget you can choose the delivery to the port only or to the final spot (so-called port-to-door service). There is also an additional option for those who cannot deliver the vehicle to the port – in most cases the same carrier can provide a door-to-port transportation for some extra cost which is especially useful and helpful for those who are living in remote from the port areas;
Shipping my vehicle to Hawaii is pretty similar to the Alaska version with the main difference in vehicles needing to be delivered. Here the most popular type is some motorhomes or motorcycles as they are more convenient for the usage in the hot island. The transportation occurs from such West Coast ports as Oakland, Long Beach and Seattle while the car can be delivered to Oahu, Hawaii, Maui and Kauai.
Puerto Rico is also one of the most popular among the American destinations, and it has a special place in the transportation companies' offers.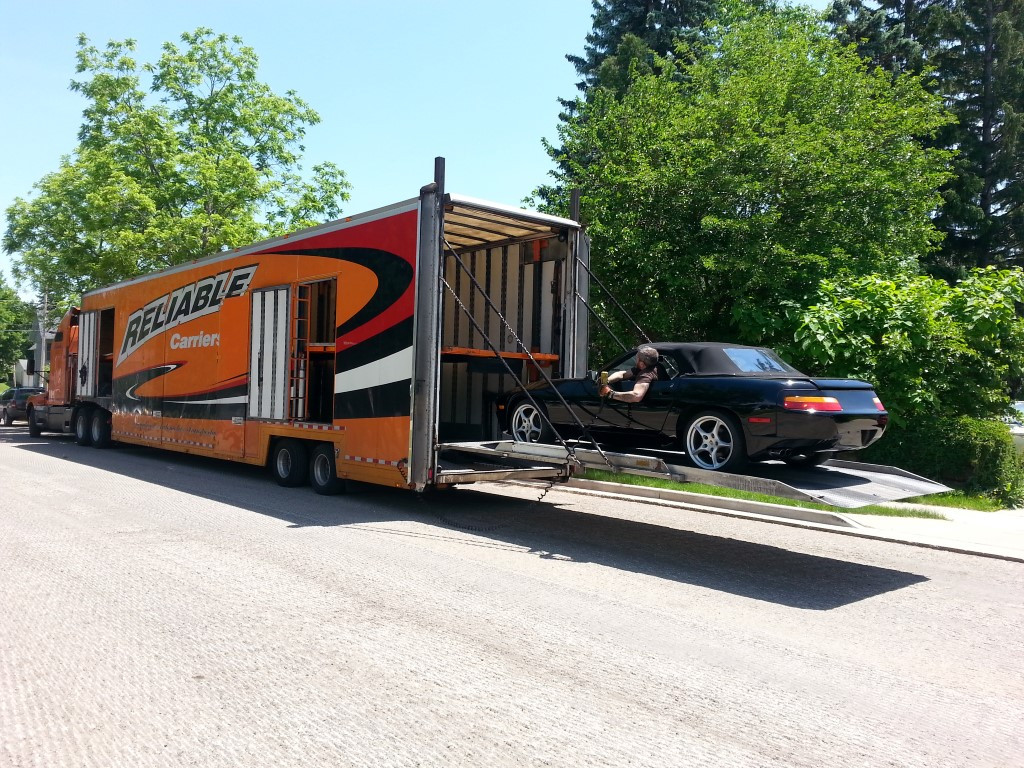 Additional requests
Sometimes people are looking for a car's transportation company for the moving to a new house, and here we should take into consideration a great volume of the personal belongings, furniture and even pets. To make the whole process easier, there are some special moving companies that can arrange everything all together. For example, the car itself can be placed inside the truck aside with other stuff and, therefore, to be delivered the same time. It's a very convenient and effective option as you will not need to wait and you can plan to send and get everything the same time when booking a flight ticket.
If you have other options for sending your parcels and boxes but still have something very fragile to be sent by traditional delivery service, you can discuss the possibility of personal belongings shipping in my vehicle. Of course, there are some restrictions in regards to the overall weight of the car for the transportation, but some small items are allowed in most cases. Finally, there is even an additional service of the vet's transportation inside the car, and it's a pretty popular option. It's not always very safe to take the small cats and dogs inside the plane, that is why their owners usually prefer to pay slightly more but to be sure they will be delivered in the more secure and reliable way.
There can be a lot of other additional requests you may have, and if one transportation company rejects to fulfill them, you should always keep going searching. In the big competition most carriers are at the moment, they usually try to do their best to attract and to keep any potential customer, even if it's not that profitable.