Significant Upward Changes in Trucker Pay Continue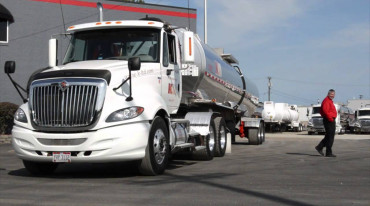 A persistent driver shortage, near full employment and a favorable freight market last year have contributed to a "significant change" in the pace of pay increases in the first quarter of 2019, according to the National Transportation Institute.
Pay moves, as the institute calls them, slowed a bit in the first quarter compared with 2018, but were still substantial, said Leah Shaver, NTI chief operating officer.
Shaver
The Kansas City, Mo.-based institute published the quarterly finding of its National Survey of Driver Wages on June 3. The survey is a quarterly and annual look at carriers and historic mileage pay rates.
While sign-on bonuses continue to be a recruiting tool, NTI officials wrote, some recruiters are moving toward guaranteed pay and transition bonuses for quality drivers.
"Our observation is that in the first quarter, the size of signing bonuses continues to decrease, although the number of carriers offering bonuses continues to remain fairly high," wrote Gordon Klemp, the institute's CEO. "At the same time, carriers that are utilizing some form of guaranteed pay are seeing a positive impact on turnover and hiring."
The majority of U.S. fleets pay by the mile, according to Bob Costello, chief economist for the American Trucking Associations.
The guaranteed-pay trend has already extended into the second quarter of 2019.
While sign-on bonuses continue to be a recruiting tool, some recruiters are moving toward guaranteed pay and transition bonuses for quality drivers. (National Transportation Institute)
In April, K-Limited Carrier of Toledo, Ohio, announced a new wage structure designed to attract and retain experienced drivers. Under the liquid bulk carrier's new structure, independent contractors and company drivers received a 2% increase in take-home pay, with a 4% increase for weekend work. The new pay structure went into effect April 1.
"Professional drivers are our most valuable asset," said Dean Kaplan, CEO of K-Limited Carrier. "It's well known that the industry is experiencing a critical driver shortage that likely isn't going away anytime soon. We are committed to attracting and retaining the best drivers and believe increasing the percentage, which ultimately results in more money in their pocket, is the best way to do that."
Kaplan
Changes in pay structure will continue, said Jane Jazrawy, co-founder and CEO of CarriersEdge, a Markham, Ontario-based online driver training system used by hundreds of fleets throughout Canada and the United States. CarriersEdge compiles a top 20 list known as "Best Fleet to Drive For," and the firm monitors pay practices in the industry.
"A few years ago, we saw one or two fleets using guaranteed pay," Jazrawy said. "Now, at least half of the top 20 have at least some form of minimum pay."
Jazrawy said truck drivers were often frustrated when they were stranded for hours at loading docks, not getting any form of pay for their time. Many drivers also have fluctuating take-home pay, and that has led to some stressful financial situations, Jazrawy said. Additionally, it has led to turnover, another industry headache.
Companies continue to find the best packages to compensate drivers and prevent quitting.
Jazrawy
In May, Hub Group, a supply chain company, announced a new pay package for regional drivers "designed to compensate drivers more than ever."
Hub Group's new regional pay package starts drivers at 60 cents per mile with the ability to receive yearly pay increases. Regional drivers doing 2,200-2,400 miles weekly can expect to earn $75,000 or more annually, Hub Group officials said. Hub Group also offered drivers a $6,000 sign-on bonus, 401(k) plans and benefits packages.
Also in May, Dupré Logistics of Lafayette, La., offered a new incentive plan for drivers in its energy distribution services division. Dupré said it will pay about $1 million in bonus compensation to all drivers for the first eligible period.
"We wanted our drivers to know that they are our most valuable asset, and we are committed to maintaining the ideal place to work for them," said Tony Becnel, Dupré Logistics director of operations. "Our goal is to continually recruit and retain the best drivers within the industry."
NTI said attracting and keeping highly qualified drivers was still a challenge in the first three months of 2019. It is what is driving the pay moves, with mileage pay in "unchartered territory." The report said some solo drivers are receiving rates of up to 65 cents per mile.
"Our subscribers tell us that, while freight has dropped and driver churn [turnover] has increased, the need to monitor driver pay attributes that produce desired outcomes remains especially high," NTI officials said. "Some of these outcomes include referrals, safe, productive driving and fair compensation for down time."
NTI has operated since 1995, and its survey looks at dry van, temperature-controlled, flatbed and tanker fleets to benchmark critical costs and monitor trends. Researchers track more than 70 attributes of regional and over-the-road driver compensation packages.