What type of shipping to choose for exotic car transport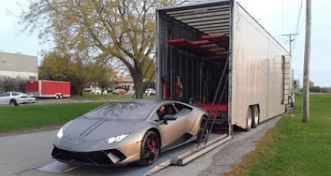 When you need to ship your exotic car, you want it to be handled with maximum care and attention. You want to find a reliable and trustworthy exotic car transporter, which will preserve all the rules for rare and exclusive car transportation and will take all the necessary measures to protect your vehicle during the shipping. You want to receive your car just in the same condition as you left it.
One of the main issues you need to solve is choosing the right type of shipping for your precious car. You need to find a method which will provide total protection regardless of the distance and shipping period. We have prepared a small guideline for you to help you make the right decision and make you feel relaxed when doing intercity exotic car transport.
What makes exotic car transporters stand out
Companies that do exotic car transport business realize that they need to provide their customers with extra safety and additional protection. Whether you need to ship your exclusive car to a unique car show or just relocate to a new destination, you expect to get a higher level of service in comparison with shipping a family sedan.
Most exotic car transporters are reputable companies which have built relationships based on trust and credibility with their customers over the years. Any exotic car transport company knows that timely service and customer-oriented approach are the foundations for a flourishing shipping business. Therefore, people working in this industry are professionals, aware of all the pitfalls of exotic car transport. They are always ahead of the developments and novelties, and they know how to communicate and interact with exclusive clients, as each exotic car owner requires exceptional attention.
Reputation is the key to a successful exotic car transport business. Even a seemingly slight issue can ruin the company's credibility and any dissatisfied client leaving negative exotic car transport reviews is a real threat. Therefore, transporters working with rare cars always do their best to leave you highly satisfied with their service.
What is the average exotic car transport cost?
As shipping an exclusive vehicle requires additional measures to be taken for protection and safety, exotic car transport cost is a bit higher than that of a standard shipping service. The average price for exotic car transport USA is about $1.50 per mile, if you need to move your car for a distance less than 500 miles. As the distance grows, the price tag decreases. For example, exotic car transport cost for a distance more than 1,000 miles is less than $1.20 a mile.
Prices for intercity exotic car transport are under the same influence as shipping ordinary vehicles. This means that not only distance, but also such factors as shipping method, vehicle condition and its specification, seasonality and some other minor factors can affect exotic cars transport quotes.
Why choose enclosed carriers for exotic car transport?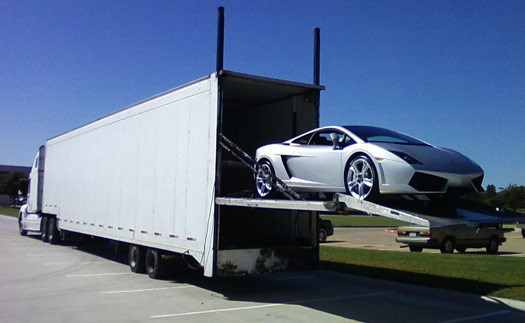 In general, there are two methods of vehicle transportation - open-air shipping and enclosed transport. Although open-air shipping is much cheaper, you will hardly find an exotic car owner who will agree to transport his or her exclusive vehicle on an open carrier, exposed to road debris and weather.
Almost all exotic car transporters offer their clients only enclosed shipping for the transportation of exclusive items. Only when you ship your vehicle in a sealed container which totally shelters the cargo from the outside elements, can you be sure that the vehicle will arrive in perfect condition
Enclosed trailers accommodate fewer cars, thus minimizing the risk of damage. As a rule, these types of carriers transport 2 -6 vehicles simultaneously. There are also enclosed trailers designed for only one car transportation, which are generally used to ship cars for short distances or to hard-to-reach locations, since they are more maneuverable.
There are hard-sided and soft-sided enclosed trailers for exotic car transport USA. The first option provides immovable sides of the carrier, while the other has tent curtains, which are raised to fasten and unfasten the vehicles during loading and unloading.
Drivers of enclosed trailers are specially-skilled people who know how to secure the vehicles inside the container, how to load and unload them safely. By the way, all enclosed carriers are equipped with special hydraulic gates and ramps which ensure safer loading and unloading onto the trailer.
As you can see, enclosed shipping is the best solution for exotic car transport. The question is only which company to choose.
How to choose the right exotic car transporter?
Choosing the right exotic car transport company is one of the most crucial moments when moving your exclusive vehicle to another state or overseas.
Find the list of issues to pay attention to below:
Experience. Check how long the transporter has been in exotic car transport business and how many exotic vehicles it has shipped.

Reputation. Look through exotic car transport reviews on Google Reviews or Better Business Bureau to see what rating the company has.

Pricing policy. Never go for a low price when it comes to exotic cars transport. Look for the best balance between the quality and cost.

Insurance. As a rule, exotic car transport USA involves a more comprehensive insurance coverage than standard shipping. However, it's always a good idea to clear up in advance what exactly the insurance plan offered by the exotic car transport company includes.