Introduce speed limiters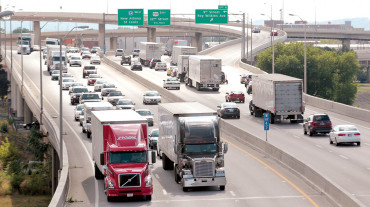 A bill to require speed limiters on heavy commercial trucks was introduced in the U.S. House of Representatives.
The Cullum Owings Large Truck Safe Operating Speed Act, sponsored by Reps. Lucy McBath (D-Ga.), and John Katko (R-N.Y.), would direct the National Highway Traffic Safety Administration to require certain commercial motor vehicles to be equipped with speed-limiting technology. Under the measure, the technology would be set to a maximum speed of 65 mph, or 70 mph with adaptive cruise control systems, as well as automatic emergency braking systems.
The legislation is named for Cullum Owings, who was killed in 2002 when a tractor-trailer on cruise control hit his vehicle.
McBath
"The safety and security of our families, our friends, and our loved ones is always of the utmost priority," McBath said soon after the bill's May 25 introduction. "The Owings family has done so much to protect other children like Cullum and I want to thank them for all they have done. This is an important, bipartisan step to make our roadways safer, protect drivers and stop these heartbreaking crashes from happening."
"Our lives changed forever in the worst of ways after a speeding truck driver using cruise control crashed into our son's car, stopped in an interstate traffic jam, as he headed back to college after Thanksgiving break," said Steve Owings, Cullum's father and co-founder of safety group Road Safe America. "Back then, Susan and I were completely unaware that most large trucks already had speed limiter technology built in, which could have saved our son's life had it been used. We are so thankful to Rep. McBath for understanding the grief of losing a child and for introducing the Cullum Owings Large Truck Safe Operating Speed Act to ensure other families do not suffer the same needless loss we deal with every day because of speeding big rigs."
The legislation was referred to a committee of jurisdiction for consideration. During the previous session of Congress, the legislation gained support from Sen. Johnny Isakson (R-Ga.).
Various freight steakholders have endorsed the measure. Earlier this year, American Trucking Associations and Road Safe America wrote to Transportation Secretary Pete Buttigieg to outline support for speed limiter guidelines.
The letter emphasized recent advances in driver-assist safety technologies, and a 2016 rulemaking proposal calling for a speed limiter rule. That proposal from the Federal Motor Carrier Safety Administration and National Highway Traffic Safety Administration pitched requiring trucks, buses and multipurpose passenger vehicles with a gross vehicle weight rating more than 26,000 pounds to be equipped with speed-limiting devices.
The proposal suggested maximum top speeds of 60, 65 or 68 mph, but backed away from anti-tampering requirements.
"When the Department of Transportation initially published the 2016 notice of proposed rulemaking, ATA and many motor carriers shared several concerns about the efficacy of a one-size-fits-all solution applied to a sector as complex and nuanced as trucking," ATA President Chris Spear and Owings wrote to Buttigieg on March 3. "Foremost among them were the unintended and potentially dangerous consequences of limiting commercial drivers to one universal speed limit despite the varying limits set for passenger vehicles on interstate and secondary roads. Another question was how such a rule would adapt to the rapid evolution taking place in vehicle safety technology."