Transporting cars overseas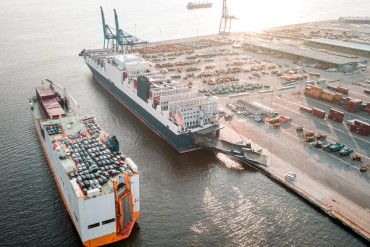 Moving to another country can be a rather stressful experience. You have to think about so many things, and you have to remember so many important issues. It's a good idea to make a to-do list when moving overseas in order not to miss something really significant. If moving your vehicle overseas is one of the points in this to-do list, you may have a certain fuss around it as well.
There are many people who decide to transport car overseas, when they relocate just because it's cheaper than buying a new car, and you won't have to think where to get a car till you buy one.
The only issue is that transporting cars overseas isn't an easy task, since it differs from interstate vehicle shipping. We have prepared a small guideline for you to simplify the process and to make it less stressful and troublesome. Follow our tips, and transporting a car overseas will become a smooth experience, so you will have enough resources and time to concentrate on other issues related to your move.
Overseas car transport - by boat or by air?
When you want to transport a car overseas, you start with thinking about the possible options. Everyone wants to find the one which fits the budget and the needs. Although transporting car overseas isn't cheap at all, it is still more cost-efficient than buying a new auto when you relocate.
If you have no idea about how to transport car overseas, you should start considering the main options, i.e. transporting cars overseas by boat and by air. It should be mentioned that most vehicles are shipped by boat, since air transportation is extremely expensive. This is actually the case when buying a new vehicle will be more reasonable. However, some owners of luxury and rare vehicles prefer to transport cars overseas just because it's faster and safer. In any case, we are going to focus more on how to transport cars overseas by boat.
What is the cost of car transport overseas?
Undoubtedly, one of the most popular questions related to our issue is 'How are cars transported overseas'. Next comes the question of transportation cost.
Generally, there are a few factors that influence the cost of car transport overseas. The major ones are the distance and the company you hire for the transportation.
We have compared multiple international shipping quotes from several companies, and according to the information collected we can tell you that the prices vary from $1,000 to $2,000 on average. This is actually not the final cost of car transport overseas because there are some additional fees that should be taken into consideration. Read on to know more about these extras.
Additional costs associated with transporting car overseas
If you think that the international shipping quote you get from the transport company is actually the final price you will pay for the service, you are strongly mistaken. Shipping quotes are only a starting point for you to have a slight idea of the estimated budget. These quotes are, in fact, the minimal sum you'll have to spend to transport car overseas. In reality, there are some other additional costs to take into account. Find them below:
Insurance. Any shipper will offer you a basic insurance plan for international transportation. However, we strongly recommend you to purchase additional insurance, if possible. Standard coverage may be insufficient, while extra protection is always a good idea. Therefore, purchase supplemental marine insurance from your holder or from the shipping company if they have such an option.

Destination fees. When your vehicle arrives in the destination country, you'll need to have an agent to solve all the customs issues. This service costs additional money. As a rule, the average price is about $400-500.

Customs fees. When you transport car overseas, you should take into account customs duty. This tax differs from country to country, so you'd better clear up in advance with the destination port what the amount of the duty is.

Additional taxes. There may be several other taxes, such as sales tax or some other fees, when you transport a car overseas. Generally, shipping companies are able to provide information on these fees, but it's always a good idea to double-check everything.
How to transport car overseas timely?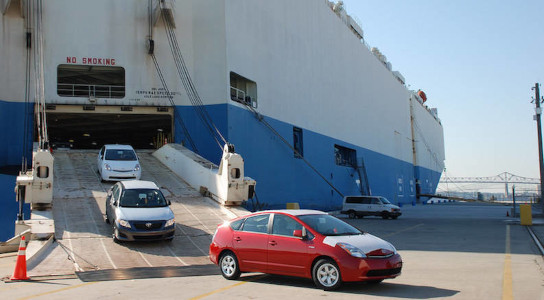 Car transport overseas can take quite a lot of time, if you need to ship your vehicle to a far destination. Thus, the shipping period largely depends on the distance between the departure and arrival points. If you are going to move your vehicle to a nearby country, transporting a car overseas can take about a week. However, if you plan to ship your car to a far country, the whole process can take up to a month. Sometimes, if any issues arise at the customs, transporting a car overseas can take even longer. If you want to know approximately when you will be able to accept your vehicle in the destination country, you'd better ask your shipping company. It's a good idea to find a shipper, which provides online tracking. In this way you will be able to track your shipping process 24/7.
There are several factors that influence the speed of overseas car transport. The shipping method you choose is one of them. If you want to get your car shipped as soon as possible, we recommend you to choose a single car shipping container. This option has a bit higher cost of car transport overseas, but it's the safest method to move a car to another country as well. If you would like to save money, you can choose a consolidated container transport. In this case, you will share shipping space with other vehicles going to the same destination. However, this shipping method can be more time-consuming because the company will have to wait until they have enough transport cars overseas orders for the same country to fill up the container.
Roll-on/roll-off option is, perhaps, the cheapest way of transporting cars overseas. However, this provides less protection to the vehicle, since it is not covered, but it's moved open-air. Roll-on/roll-off option is also less timely, because the vessel has to stop at several ports, which may take a lot of time and may hold up your delivery.
We recommend you to choose the method which suits you best in terms of timing and budget. If you are too concerned about the safety of your vehicle when transporting car overseas, especially when you need to move a classic car or a rare item, it makes sense to transport the precious investment in a sealed container.
How to transport cars overseas without a hitch: step by step guideline
Do research

Look for the companies that specialize in car transport overseas, study their websites, see what extra services they provide.

Check each company

Make sure that the companies you have chosen have all the necessary permissions for international vehicle shipping. Check the registration, licenses, insurance, etc.

Analyze reviews

Narrow down your list by analyzing customer reviews. We recommend you to visit Better Business bureau for this purpose, as there you can find verified customer reviews and ratings.

Request quotes

In order to know how much it costs to transport car overseas, you need to request quotes. It's a good idea to get several quotes from multiple companies so that you will be able to compare them.

Choose the best option

Choose the option which seems the most suitable for you in terms of timing, service quality, and budget. Bear in mind that you shouldn't select the cheapest offer, your aim is to find the best balance between quality and price.