Price of shipping a car across the country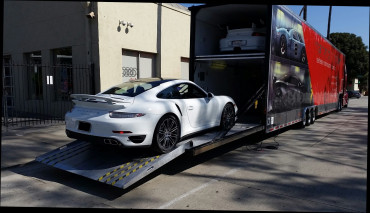 Today it's pretty easy to get an approximate quote for your car shipping cross country online – you just need to visit a website of the transportation company you are interested in and to insert the necessary information into the online-calculator. But how can you be sure that the price you got is adequate? Of course, you can check dozens of the websites of different carriers and brokers in the United States to have a better understanding of the transportation services' value. But you can also save your time and consider the results of our research.
Still, shipping car cross country is a very specific process and there are no two absolutely equal cases. Sometimes even one day difference in the pick-up date can essentially affect the final price. Here we will cover only the basis, but anyway it's highly recommended to check offers of the quote from at least three-five transportation companies as well as their conditions in the contract.
Basic knowledge
Briefly, shipping a car across country will take up to 10 days for you to wait. Sometimes it will be faster. For example, if the original location for the pick-up and the final destination for the drop-off are located on the main routes (like New York City, California, Washington and others). On the other hand, you cannot expect your vehicle to be delivered to Hawaii or Alaska in a week. Actually, this type of the location is being serviced not by every transportation company and you will need to make sure you check it in advance (sometimes it will take a while unless you will succeed in finding a way for shipping a car across country to these particular remote states).
The drivers normally can make up to 700 miles per day because of the strict governmental regulations in regards to the driving hours. And if there are a lot of other vehicles on the board, it's easy to imagine that it will take some time while the driver will finally reach your point. But if you need to get your car earlier, many carriers provide a so-called expedited delivery service, even if they will need to send a truck only with your vehicle. Of course, such an exclusive service will cost you more, but it's a good option for those who need their car to be delivered as soon as possible.
The process of the arrangement of shipping car across the country can be described by the following steps:
You need to figure out which locations are more convenient for you and still are available for the carrier's truck. Especially when you are choosing a door-to-door transportation service as in many big cities there are some strict regulations in regards to the size of the truck to pass. On the other hand, it does not mean that you will need to choose less convenient terminal-to-terminal delivery – you just need to choose the nearest possible spots where the truck can load and unload your car. In case of any doubts, you can also discuss the opportunities directly with a shipping car across country company;
Choose the most convenient date of the pick-up service and estimated waiting time. Of course, you cannot fully control these parameters when shipping a car cross country, but in case you are in a hurry, it will be important to know in advance how much more you will need to pay for an expedited service. By the way, the possibility of the advance booking can essentially affect the price as many transporters try to attract potential "early birds" clients with lower rates. So, if you can plan at least a couple of weeks (better months) in advance, you definitely should use this opportunity. The reason of such a profitable for the clients offer is that when arranging shipping of cars across country, the transporter can much better plan the routes and perform the delivery of various vehicles if it has a lot of advance reservations;
Choose the company. Obviously, it's a very important step and most probably you will spend most of your time doing the appropriate research. Of course, you can easily find a list of the best transportation companies in the United States, but even while having 5-8 of them you will need to check and compare the quotes of the shipping a car across the country service as well as some distinguishing features of the deal. In some cases, a higher price will mean a greater insurance coverage or a more professional customer service. That is why, beside checking the ratings of the brokers and carriers, you should also carefully check various reviews from the recent clients. That is how you can get the most fair and trustworthy information about the advantages and disadvantages of the transporter. This is very important in case of car shipping across the country as this complex process requires the carrier with enough experience, knowledge and skills. One more essential detail is that you should try to work directly with the carrier and not with a broker. Of course, today you can find a lot of truly reliable transport brokers for the car shipping across country (like Montway Auto Transport, Ship a Car Direct, Easy Auto Ship, Bargain Auto Transport, AmeriFreight and many others) but in this case you need to be ready for some delays in getting the reply as all the time you will deal with the middleman. But if you do not have enough time for making your own research in regards to the carrier who will agree to transport your vehicle within an appropriate route and estimated waiting time, you should choose only the brokers with good reputation as they are carefully check every carrier before adding it to their network;
Quotes. Even if you think that you have found a perfect transporter for your car, it's still recommended to check the offers from at least 2-3 more transportation companies. This will help you to make sure that the service is worth the money you are going to pay. But you should never make a final decision only on the basis of the quote. The cheapest service is not always a good service, and saving some hundreds of dollars can lead to additional and much more essential expenses you may have upon the delivery;
Booking process. This part is very different from company to company. Sometimes you may be requested for the advance payment (at least partly), sometimes you will need to pay exactly upon the delivery of the car. In any case, if you want to make a better deal, you should better choose the payment in cash. Truck drivers prefer to receive money in this way, and if you do so you can expect to get some discount;
Preparation of the car. Normally, every transporter will provide you with an appropriate list of the requirements but there are some basic ones. Thus, you will need to make sure the fuel level in the car is not more than a quarter – this is an official requirement in regards to the safety reason while shipping cars across country. Also, you will need to make sure there are no valuable items left in the salon, even if the carrier agreed to transport your car with some packages. This service will cost you more but it's very convenient for those who are moving and cannot send all the belongings together by plane or post.

Price details
In regards to the quote of the car's delivery, there are some points you can slightly influence to make the final price more attractive.
The main rule here is that the more flexible you are in your plans, the cheaper price you can get. For example, the carrier may have the same route you are interested in a couple of weeks later so the driver will not need to make a special loop only for your car to be delivered. In this case the price can be essentially lower.
Seasonality is one more aspect. Winter time will give you slower shipping car's service but you can save like this up to 300-400 dollars in comparison with a busier summertime. You can discuss with the transportation company' representatives all possible ways to make the original quote lower. For example, many of them have some groups of discounts you can apply for.
Finally, insurance. This part of the price should not be ignored even if you have a limited budget. When signing the contract, you need to make sure that the coverage will be enough in comparison with the overall value of your car. Of course, accidents with trucks on the roads are not so often, but not paying an appropriate attention to this point can lead to many problems and potential expenses. If you see that the insurance provided by the carrier is not enough (especially in case of expensive and exotic cars) you should better add an extra coverage within the same transporter or by using a professional insurance company.