Car shipment costs across the U.S.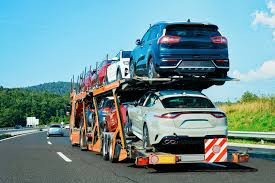 If you are getting to know that in the near future you will need to arrange a delivery of your vehicle to another state or even another coast of the country, you need to make a research in regards to the potential costs to ship a car. It will help you to plan a budget and also to find an appropriate company which will not be too costly.
On the average
On the website of almost every professional carrier you can find a section with a car ship cost calculation. There you just insert the specific data in regards to your particular vehicle as well as destinations and as a result you will get an initial price. It's not yet considered as a final price as you need to discuss with a service provider all the details and special requests (for example, desirable time of delivery) which may affect the cost.
But to know if the price is good or too high you need to know what is the average cost to ship a car.
Firstly, it directly depends on the whole distance you need to cover. Despite the whole cost rising with longer trips, the cost per mile is getting lower. For example, it will cost you about 1 USD per mile within a 500-mile trip in comparison to 0,50 USD per mile for a 2,000-mile transportation. Thus, to go from Kansas City to Chicago you will pay around 500 USD while a 4 times longer distance between Phoenix and Pittsburgh will cost you about 1,000 USD.
The reason for such an interesting difference in a ship car cost is that for a carrier it is much more convenient and efficient to perform one car transportation from coast to coast than to make a schedule for a few drivers to deal with short-distance trips.

Details to be considered
There are still a couple of factors which may affect the final cost to ship your car, and you need to think about them in advance.
The way of transportation. There are two options you may choose from:

Door-to-door service. It's very convenient as you don't need to worry about anything. Your car will be picked up and dropped off from the spots you are agreed on. The only restriction here is that some destinations (like residential addresses in a small town or, vice versa, in the center of megapolis) are not easy (and sometimes even not possible) to reach with a massive carrier's transportation. In this case you may use the option 2;
Terminal-to-terminal. Here you will need to take care of delivering your vehicle to and from the company's terminal in advance as there is a limited time it can be kept there. Despite some inconvenience this way to ship a car will cost you much less, especially if the destinations are remote from the highways and the main routes. In some cases, you may save about a few hundreds of dollars.

Type of the carrier's transport. This choice normally fully depends on the value of your own car:

Open transport. Probably you have met a few-tier trucks loaded with dozens of the cars. This method of transportation is much more famous as it provides cheap prices and quite a flexible schedule. The only thing you need to be ready for is that your car can be affected by different natural elements upon arrival;
Enclosed transport. Your car will be placed inside the truck which will protect it from anything on the road. This method is normally chosen by expensive cars' owners as will add to the cost to ship a car about 50 percent.

Schedule arrangements. You need to think of it in advance as normally the whole transportation will take up to a few weeks. Even if the distance itself looks pretty short and straight, you should always remember that there will be more cars on the truck (even enclosed one has a capacity of 7 cars to place) and their destinations may significantly affect the route.

It's also much more convenient for the carrier to schedule his routes in advance so you may even get a discount if you apply for the service a couple of months before the desirable time of transportation.

Seasonal tips. A cost to ship cars can essentially vary throughout a year. Usually, summertime is in more demand which changes the price 200-300 USD up. Holidays can also not only raise the cost but also cause significant delays in delivery dates. To avoid such unwanted expenses if you are not in a hurry, you may just ask the carrier about the cheapest period to transport your vehicle.
Your car's preparation. When you consider all the details of the upcoming shipment, you need to make some latest arrangements in regards to your vehicle. Any special documentation is not really necessary (except insurance and other papers involved in the service itself). But you need to be sure there is no personal belongings and any unnecessary equipment inside the car as there is quite a strict limitation in regards to the weight. Even the fuel needs to be kept at minimum (normally, a quarter is enough).
Finally, you should not forget to inspect your car for any scratches and dents both before and after transportation. In your best interest is to make an appropriate photo to avoid any troubles with the insurance coverage in case of any issues.