Celadon to pay $42M to end criminal probe over inflated financial statements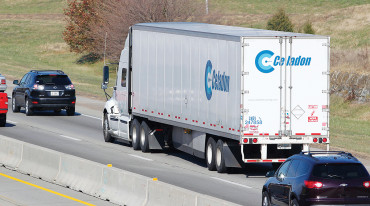 Celadon Group, one of the country's largest trucking companies, has agreed to pay more than $42 million in restitution to end a criminal investigation into allegations that the company misled shareholders by inflating its earnings in publicly issued financial statements.
The company announced the settlement agreement in a notice to shareholders Thursday, April 25.
The Indianapolis, Indiana-based company, which operates upwards of 5,500 trucks, faced probes by the Securities and Exchange Commission and the Department of Justice over misreported income. Celadon issued a notice to shareholders last April saying it had over-reported income by $200-$250 million for 2014, 2015 and 2016.
The New York Stock Exchange halted trading of Celadon stock in spring of 2017 and delisted the company after Celadon failed to submit quarterly and annual filings that are required by the SEC. The company's stock has since be re-listed and trading of Celadon shares has resumed. Shares closed at $2.30 on Thursday, April 25.
"The settlements with DOJ and SEC mark an important milestone," says Celadon CEO Paul Svindland. "We have now settled the governmental investigations and other legal proceedings related to the events that arose under prior management. We appreciate the government's recognition of the significant changes we have made, our ongoing commitment to legal and regulatory compliance, and our significant cooperation in the investigations. With these legal issues resolved, we will focus on continuing to strengthen our corporate controls and procedures and pursuing a long-term capital structure and the operational turnaround of our core, asset-based truckload transportation business."
The company also entered into a $5.5 million civil settlement over the reporting errors.
The discrepancies in Celadon's financial filings were due to the sale of used equipment by a Celadon subsidiary, Quality Companies. "Undisclosed arrangements…overstated the values of equipment traded" in those sales, Celadon said then. The sales reported by the company were actually equipment leases.
The company restructured its leadership following a $10 million loss posted in the second quarter of 2017. It also said it was restructuring its debt and ending its independent contractor program. It also discontinued the Quality Companies business unit.
An independent auditor, BKD, discovered the accounting discrepancies in early 2017, prompting Celadon to withdraw its previously filed SEC forms, leading to its de-listing on the NYSE.