FMCSA asks for comment on plan to fast-track driverless trucks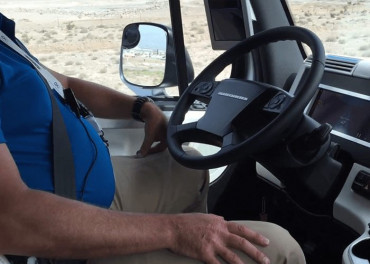 Federal agencies want to know which regulations need to be "amended, revised, or eliminated" so that they can safely deploy self-driving trucks on American highways.
May 23, 2019
This week, federal agencies have announced plans to remove "unnecessary regulatory barriers" that would slow down the deployment of driverless truck technology.
On Wednesday, May 22 the Federal Motor Carrier Safety Administration (FMCSA) and the National Highway Traffic Safety Administration (NHTSA) filed advanced notices of proposed rulemaking "on the removal of unnecessary regulatory barriers to the safe introduction of automated driving systems (ADS) vehicles in the United States."
Both the FMCSA and the NHTSA have asked the public for comment on how they should move forward with regulating automated driving technology.
The FMCSA has asked for comments on which "Federal Motor Carrier Safety Regulations (FMCSRs) that may need to be amended, revised, or eliminated to facilitate the safe introduction of automated driving systems (ADS) equipped commercial motor vehicles (CMVs) onto our Nation's roadways. In approaching the task of adapting its regulations to accommodate automated vehicle technologies, FMCSA is considering changes to its rules to account for significant differences between human operators and ADS."
"FMCSA is hoping to receive feedback from commercial motor vehicle stakeholders and the motoring public on how the agency should adapt its regulations for the development of increased automated driving systems in large trucks and buses. We know that while many of these technologies are still in development, it is critical that we carefully examine how to make federal rules keep up with this advancing technology," said FMCSA Administrator Raymond P. Martinez.
You can click here to learn how to provide your comments to the FMCSA.
Similarly, the NHTSA is seeking comment on how they should go about "identifying and addressing regulatory barriers to the deployment of ADS vehicles posed by certain existing Federal Motor Vehicle Safety Standards (FMVSS). The agency is also interested in hearing from the public on various approaches that could be used to measure compliance with the FMVSS for vehicles without conventional controls, including steering wheels and brake pedals. Public comments received during this stage will help inform NHTSA's path forward."
You can click here for more information on how to provide your comments to the NHTSA.
Both agencies will accept comments on the proposed rulemaking for 60 days following formal publication to the Federal Register.