Shipping car by train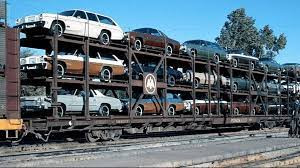 Probably, the USA is one of the most popular for the car's shipping services country in the world. The moving among the people is pretty common what can be caused both by buying a new house in another state or a work relocation. That is the reason why more and more companies are specializing in providing a car's delivery service. And if before you have heard and considered only traditional transportation via truck delivery, today you can pay attention to other possible ways. For example, shipping car by train.
Important details
When hearing about shipping cars on trains for the first time, you may expect that you can apply for every possible route where the lines are covering. But in practice it's not that easy. And the main reason for that is that railroad lines are dealing with professional transportation companies so for the individuals it can become quite challenging to find a spot, especially for the last-minute booking. And even if you are applying for this service via an auto transport company, there is no guarantee that the particular line you are interested in will be available for the shipping a car on a train. This is especially applicable in regards to such train companies as CSX, Burlington Northern Santa Fe, Union Pacific, Amtrak and some others.
One more significant detail in regards to the train shipping a car is that you need to make some other arrangements in advance. For example, if you are interested in saving more money, you need to find a person who will deliver and pick up the car at the railway station. Despite the fact that it's pretty obvious, some cars' owners don't consider this in advance which can cause some problems upon delivery. For example, the car should have enough fuel to be delivered as well as to be operable.
Features of the delivery
If you are truly interested in the car shipping on train, you need to take into consideration different types of services you may apply.
First of all, there are different types of the wagons, and if you have a choice, you should pay attention to their differences. A more common and much cheaper option is an open transportation when your car will be simply placed in the open-air platform. If we are talking about long-distance trips across the whole country, you should expect that your car will be affected by all the environmental and weather changes. Birds, insects, dust as well as snow and rain can lead to the not that attractive appearance of your car upon delivery, especially if you will get it directly from the auto salon. On the other hand, if you are just moving to a new house and would like to save some extra hundreds of dollars, you should not turn away from the open shipping car on train as the transportation company is still doing everything possible to make sure there will not be any significant physical damage for the vehicles. And even in the case there are some, your car will be protected by insurance.
If you are not interested in taking such a risk, especially in case you are willing to deliver a really expensive and rare car, an enclosed shipping cars train is the best option for you. Your vehicle will be carefully loaded inside the wagon and, therefore, protected from all the sides. To get such an exclusive service you will need to pay 200-400 dollars more. Moreover, the availability for this type of the transportation is more restricted.
It's interesting that railway companies are providing slightly better quotas in case the clients also purchase a passenger ticket. Frankly speaking, it can become a pretty convenient way of car shipping by train as the car's owner can definitely drive it to and from the railway station. In case of the moving to a new house it can become even more practical, and even if you will decide to ship your personal belongings via plane, this option will save you a significant sum. An average total cost for this option is less than 500 USD (including the passenger's ticket).
To compare, we will consider an 855-miles trip when you need to arrange the transportation of your car (let's use in this example a standard sedan). If you would like to use the service of the common and well-known auto transportation company with open delivery and average for the industry rates, you should expect to pay about 825 USD for this distance. The same time, choosing a railway transportation you can expect to pay as less as 300 USD. And even if you decide to get a passenger's ticket to be able to drive your car upon delivery by yourself, you still will have up to 70 USD cheaper quota.
The next point of the high interest of the car's owners is the estimated delivery time. Here we should distinguish the delivery time and the pick-up date. The first one in regards to the railway transportation is pretty much faster and therefore more attractive – normally you can expect the vehicle to be delivered across the country in a couple of days while the truck's transportation will cover the same distance in at least a week. On the other hand, you need to be ready to wait until the train will start the delivery for a couple of weeks while an auto transportation company can provide you with almost immediate pick-up service. Especially if you are interested in an urgent transportation, the train will hardly be an option.
Who should use the train's transportation?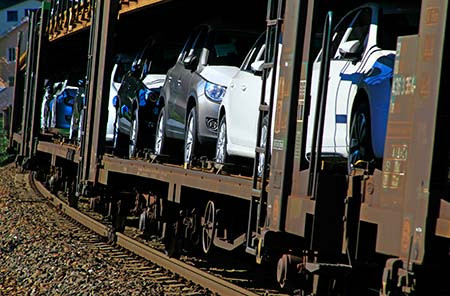 If you are still wondering if the train shipment is a good opportunity for you, you should take into consideration the following details:
The location of the rail stations. Despite the fact that nowadays you can find the rail stations almost in every state and every big city, it can be not very convenient for you to get there to drop off and pick up your car. And in case you are going to apply for the door-to-door delivery (meaning you are willing to pay extra for your car to be delivered to the desirable destinations by the transportation company), you should check if the cost will not be doubled (otherwise it can make sense to apply for the auto transportation delivery from the very beginning);
If you are interested in making the trip "together" with a car. As was mentioned above, the train transportation is much more attractive (both in regards to the cost and to the convenience) for those who are planning to take a passenger's ticket. If it's the case, you should definitely consider this type of the delivery as the most comfortable and practical one;
Limited budget is also one of the main reasons why people are applying for the car's shipment by train. If you can afford to wait, it can save you a pretty significant amount of money, which is especially important for those who are moving to a new house as it already involves great expenses.
When making a final decision, it's always recommended to check at least a couple of offers from different suppliers, so you can be sure of making the best deal.