Messy weather to slow down truckers and disrupt holiday travel this week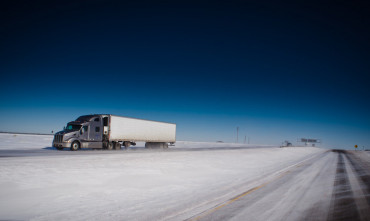 Lots of snow, rain, and wind could slow down freight movement in some parts of the U.S. this week before many drivers head home for Christmas. People catching flights later in the week to be with their friends and families should be prepared for possible delays.
Snow and Wind
Plenty more snow will fall tonight through Tuesday night in the usual trouble spots in the Mountain Prairie and Northwest regions, prompting Winter Weather Advisories, Winter Storm Watches, and Winter Storm Warnings from the National Weather Service.
The northern Cascade Range in Washington state will get hit hard again, with 12 to 36 inches of snow in the forecast for the eastern slopes above 3,000 feet. Besides the heavy snow, wind gusts could reach 45 mph at times, making travel difficult on US-97 through Blewett Pass, as well as on SR-20 through Loup Loup and Sherman Passes.
Drivers will face similar issues trying to get through the northern Rocky Mountains during the same time frame. Portions of northern Idaho and western Montana will see 12 to 24 inches of new snow with pockets of freezing rain, leading to some icy conditions. Strong crosswinds of 65 to 75 mph will accompany the snow at from time to time, blowing it around and making it very hard for drivers to see the road and other vehicles in front of them. Hauling full loads will be a struggle. Deadheading or moving light loads will be nearly impossible, if not risky.
Areas to be avoided, if possible, include the following:
I-90 over Lookout Pass (Idaho-Montana border)
US-12 over Lolo Pass (Idaho)
US-2 over Marias Pass (Montana)
US-93 over Lost Trail Pass (Montana)
I-90 through Livingston and rural roads near Nye (Montana)
US-191 from Big Timber to Judith Gap (Montana)
These regions could get slammed with another snowstorm later in the week, possibly on Thursday and/or Friday.
Winds will also be tough on truckers Tuesday night and Wednesday in southeastern Wyoming. Watch out for strong crosswinds of 40 to 50 mph and gusts reaching 70 mph. The most dangerous conditions are expected along I-25 between Chugwater and Wheatland. Strong headwinds will slow down drivers heading westbound on I-80 from Cheyenne to Rawlins.
Rain and Wind
While the early-week storm previously described dumps snow in portions of the Northwest region, it could cause river flooding in other parts of the region, namely northwestern Oregon and southwestern Washington. The system will probably stall for a time, and three to six inches of rain are possible across the coastal areas, valleys, and mountains, and the snow level will rise to around 5,000 feet. This amount of rain will increase the chance of some rivers to reach flood stage, mainly in southwest Washington and in the Olympic Mountains.
Strong winds also will become an issue later today through Tuesday in coastal areas of Oregon and Washington, with gusts of 60 to 80 mph possible. This will affect travel mostly west of I-5, and drivers heading south on US-101 will run into headwinds that will slow them down drastically. The wind could also cause power outages and beach erosion, as well as dangerously high waves.
A late-week storm could cause problems for truckers and air travelers in the Northeast region as we get closer to Christmas weekend. Steady rain Thursday night and Friday, with heavy downpours at times, could drench the region from the Mid-Atlantic states all the way through New England. Rain is much better than a snow or ice storm, but expect delays on the roads, including the I-95 corridor, and delays getting into the air.
This storm will affect major airports like JFK and LaGuardia in New York, Baltimore-Washington International, Philadelphia International, Boston's Logan International, and Ronald Reagan International. Even after most of the rain is gone, strong winds on Saturday could make takeoffs and landings a little shaky.