Fleets preparing to face a driver shortage 'like it's 2018 all over again'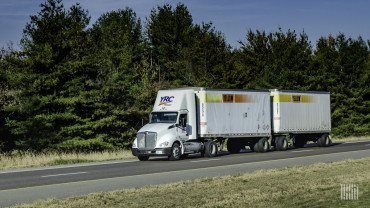 A lot has happened in the trucking industry since a surge in freight volumes outpaced the supply of drivers in 2018. A different group of factors have now combined to create a repeat scenario.
The American Trucking Associations (ATA) two years ago estimated the driver shortage at 60,000 in the over-the-road truckload market – a segment that has a total driver population of between 550,000 and 600,000, according to Bob Costello, ATA chief economist and senior vice president, who presented an economic update at the McLeod Software user conference last month. In early 2019, ATA forecasted a small growth in the driver shortage as the economy began to slow due to a decrease in manufacturing.
The agency did not make projections for the driver shortage this year because it seemed obvious it disappeared when the United States economy slid into a COVID pandemic-fueled recession.
As the driver shortage evaporated the turnover rate tracked by ATA showed a decline from January to June, reaching 82% for large carriers and 60% for small carriers – the lowest it had been in several years, Costello said, adding he expects the rate in the third quarter will reverse the trend.
Data tracked by Stay Metrics, a firm that provides driver surveys and loyalty programs to carriers, shows the turnover rate went up in June, returning to December 2019 levels.
In addition to ongoing economic recovery in the third quarter, the industry saw thousands of drivers exit the labor pool after the Drug and Alcohol Clearinghouse went live in January. As of Aug. 1, the number of drivers who tested positive for drug use and placed in a prohibited "do not hire" status was 26,433. Of this group, 21,053 have not yet started the return-to-duty process.
"They just left and are gone," Costello said.
Another contributing factor to the present shortage is that fewer drivers have been going through training schools due to limited seating capacity from social distancing. Driver schools are graduating 30% to 40% fewer drivers, and Costello expects this will result in "tens of thousands of drivers" not entering the labor pool this year.
"The driver shortage is going to remain for a while," Costello said. "It's like 2018 all over again."
Ready for the future
Paper Transport (CCJ Top 250, No. 112), U.S. Xpress and CalArk are managing the resurgent driver shortage differently than 2018. Executives from each fleet will discuss their strategies for recruiting and retaining more drivers in 2020 during a free webinar event, CCJ Virtual Solutions, Oct. 22 at 2 p.m.
During the past year, Paper Transport has reduced the driver turnover rate for new driver hires in the first 90 days by 35 percent.
In 2018, Paper Transport, Inc. (PTI), a dry van carrier based in De Pere, Wisconsin, that operates 850 trucks, established a number of changes that continue to pay dividends in the current environment.
One major change was to use a predictive job behaviors assessment tool in the recruiting process. Starting two years ago this month, PTI began hiring only drivers that scored in the top 50% on the assessment.
The extra step in the hiring process identifies professional drivers that care about the company and not just themselves, said Ben Schill, vice president.
"We know that we are leaving some possible employees out based on this," he explained. "However, I can tell you that the ones we are getting are what we want. We are willing to make that tradeoff."
To date, 52% of fleet has gone through the hiring process and turnover has decreased from 72% in 2018 to nearly 50% this year. The company has also seen an improvement in fuel efficiency and safety, with 2019 being its safest year on record. The carrier is on a pace this year to again outperform.
The assessment tool "allowed us to really be focused on who we are letting into this company to make sure it is a great place to work," he said.
Cameron Ramsdell, president of Variant, an Atlanta-based subsidiary of U.S. Xpress (CCJ Top 250, No. 15), said the fleet has enjoyed a reduction in driver turnover and an uptick in freight efficiency thanks to a route planning program it developed called Optimizer.
The premise for launching Variant in 2019, which now operates about 525 trucks, was to take advantage of the latest technology.
"Given where technology has advanced to today, there is a better way to engage and support truck drivers and a more effective way to run, manage and operate a trucking company," he said.
Ramsdell credits Optimizer for more effectively scheduling loads while providing drivers with more miles on the road and more on-time arrivals at home. Variant also has "operations specialists" whose job is to provide drivers with more personalized one-on-one contact while Optimizer bears the brunt of route planning.
Malea McElyea, vice president of business development for CalArk (CCJ Top 250, No. 145), a 600-truck carrier based in Little Rock, Arkansas, said the company has expanded the number of driving opportunities that have helped it attract a younger generation of drivers since it purchased a warehouse six years ago.
In addition to having an over-the-road division, it has regional linehaul and local delivery jobs stationed at 16 locations across the Southeast. Of these jobs, 70% are non-CDL drivers and 30% are Class A linehaul.
Dock workers interested in driving can go through an internal training program to operate a box truck.
"Now, more than ever, I think we do have a pretty strong driver shortage," she said. "We always want to offer those stepping stones."