Prime, Inc. slaps Amazon with lawsuit over 'Prime' trailer logos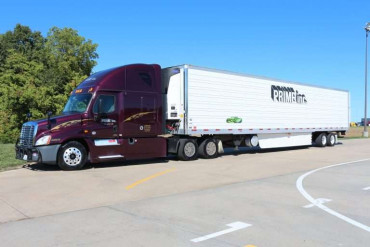 Prime, Inc., No. 14 in the CCJTop 250, has filed a lawsuit in federal court against mega-retailer Amazon, alleging the company infringed Prime's trademarked use of the word "prime" on trucks and trailers.
Prime is seeking to recoup what it claims are monetary damages over Amazon's "prime"-marked trailers and an injunction against Amazon continuing to run trailers with its Amazon Prime logo.
The Springfield, Missouri-based carrier, which operations about 7,500 trucks, said in a lawsuit filed July 3 that it has used its own name and logo on trucks and trailers for more than 40 years, and that "Amazon has used and continues to use confusingly similar marks in connection" with its trucking services, causing "irreparable injury to [Prime, Inc.'s] business, reputation and goodwill," the lawsuit states.
Amazon's use of its own Prime logo on a trailer, which Prime, Inc. is challenging in court.
Amazon did not return a request for comment by CCJregarding the lawsuit.
The company launched its Amazon Prime membership service, in which users pay a monthly or annual subscription fee for faster delivery services, in 2005.
In 2015, according to Prime's lawsuit against Amazon, the company began using the Amazon Prime logo on its trailers, using solely the word "prime." In more recent years, Amazon has forayed into larger transportation services, both for its own freight and by acting as a broker with access to other shipper freight and its network of carriers.
Prime, Inc., however, claims it owns all uses of the word "covering 'transportation services by truck,'" in patents and trademarks filed with the U.S. Patent and Trademark Office.