Trucking Law: Can you refuse to drive in poor weather?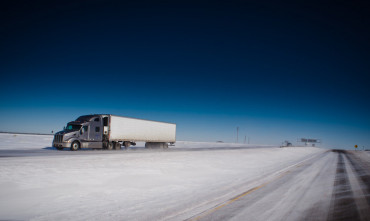 The Trucking Law segment is a new monthly feature on Overdrive, in which we pose commonly asked questions from truckers and owner-operators to legal experts. In this installment, attorney Paul Taylor addresses drivers' right to refuse to drive in severe winter conditions.
Every year I get calls from drivers who encounter bad weather on the road, refuse to drive until conditions improve and are fired as a result. Here are common questions I get.
Do I have the right to refuse to drive in dangerous road conditions?
Under the employee protection provision of the Surface Transportation Assistance Act, you have the right to refuse to operate a commercial vehicle if it would be unsafe to drive. U.S. Department of Transportation regulations state that "if conditions become sufficiently dangerous, the operation of the commercial motor vehicle shall be discontinued and shall not be resumed" until it's safe to drive.
Paul O. Taylor is managing partner of Truckers Justice Center and has represented truck drivers for over 25 years. He can be reached at (855) 943-3518 or at TruckersJusticeCenter.com.
This does not mean that you have the right to refuse a load just because snow is forecast or because you think the weather could turn bad. Conditions must be bad enough at the time you refuse, whether at the start of the haul or at some point along your route, that it would be unsafe to operate a commercial vehicle.
Unlike the depth of your tire tread or the thickness of a brake shoe, both of which can be measured easily with the right tools, gauging whether driving conditions are unsafe is somewhat subjective. Are you driving in the mountains or over a steep grade? Have you observed other vehicles having difficulty with traction and control? What are other drivers saying about the road conditions ahead? What kind of freight are you hauling, and how is the weight distributed? You must take all such factors into consideration and make a judgment call as to whether conditions are too dangerous.
How do I go about refusing to drive in bad weather?
Once it becomes clear that road conditions are too hazardous for driving, you must inform your dispatcher that you are refusing to drive and why. The best way to do this is usually in writing, since it creates a record. If you communicate with your dispatcher using an in-cab device, e-mail or text, send a message clearly stating that you are refusing to drive because the weather is bad and the road conditions are unsafe.
Be sure to provide some details about why you believe the conditions are unsafe. It could be snowing heavily and impairing visibility on the road, or perhaps you heard a forecast on the radio predicting imminent freezing rain or advising against any driving. It is your responsibility to communicate to your supervisor why you are refusing to operate the vehicle.
What type of documentation should I have in order to protect myself?
Whenever you think you might be fired for refusing to violate any commercial vehicle safety regulation, keeping documentation is a good idea.
In the case of refusing to drive in hazardous weather, obtain weather forecasts from local news and information from the National Weather Service. If you have a smartphone, take photographs of your Qualcomm and text messages documenting your refusal to drive and your clearly stated reasons for the refusal. Obtain names and telephone numbers of other drivers who also were facing these same adverse conditions.
A claim under STAA has a statute of limitations. This means you must file your claim with the Occupational Safety and Health Administration within 180 days of your termination. You can consult with an attorney to determine whether you have a claim and how best to proceed. Drive safely and know your rights!