Uber Freight Gives Shippers Forward-Looking Rate Info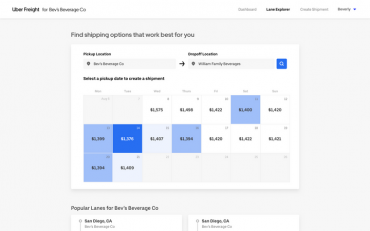 Uber Freight claims it's "setting a new standard" for freight rate transparency with its new Lane Explorer tool.
Lane Explorer, a tool within the Uber Freight platform, allows shippers to view real-time market-based rates on their lanes up to two weeks in advance and quickly build loads that lock in those rates.
Narragansett Beer, a small Uber Freight shipper using the new Lane Explorer feature, has seen immediate improvements to efficiency and operations, according to Uber Freight.
Until now, the best way to get an accurate quote on a shipment was to call or email a truck and negotiate a load price. Most shippers don't have time to do that, so they rely on their knowledge of past rates to know whether they're getting a good price for their freight. Lane Explorer is like calling up thousands of trucks for every day and every lane simultaneously, and seeing the best rate for each lane.
"It's great to be able to look at a two-week window and decide whether or not it makes sense to ship it on a Monday, Wednesday, or the following Monday," said Bill Heslam, VP of sales for Narragansett Beer. "That visibility is something I haven't seen anybody else do."
When we asked what this means for the owner-operators and small carriers on the other side of the equation, an company representative explained that since the beginning, Uber Freight has delivered transparent pricing to both sides of the marketplace. When carriers use the Uber Freight app, they are able to see prices for all available loads and book them with the touch of a button. Uber Freight has delivered the same level of transparency to shippers. The Lane Explorer tool now lets them see prices across a two-week window and select when they want to move their freight. These prices are based on a number of supply and demand factors, including when drivers are available.
When there are less trucks predicted available on a given day, the price for carriers goes up. When there are fewer trucks relative to loads, the reverse happens. This feature makes that market dynamic transparent to both sides of the marketplace for the first time, according to Uber Freight.
This tool won't change the experience for truckers in the Uber Freight network. They will continue to see load pricing upfront and have the option to choose the best load for them.
Lane Explorer is available to any Uber Freight shipper.