How to transport a vehicle to another state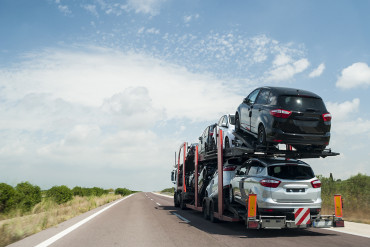 Probably, almost every car's owner has asked himself how to transport a vehicle to another state. There are so many reasons for this. For example, it can be caused by moving to a new house. Or just sending a car to some relative as a gift.
In this regard nowadays there are different variants of how to transport a vehicle from one state to another, and here we will consider the most common ones.
Towing
It can be one of the cheapest variants, plus it's very easy to arrange. Even if you do not have the appropriate equipment, there are a lot of transportation companies that can rent it to you so you don't even need to buy it. On the other hand, if you are planning to transport your vehicle on a more regular basis, it's recommended to invest in such equipment.
This option sounds perfect but there are some very essential restrictions you may face. Thus, you cannot tow your car if it has a low front end or if there is a front air dam.
The main equipment you will need to tow your car is a hitch, but also you will need to find an appropriate truck that will be able and allowed to transport your car in this way. Moreover, you need to carefully check the requirements for the driver – it may occur that you with your standard driving license will not be eligible to drive a truck. Therefore, there will be extra expenses for hiring a professional driver.
Briefly, before choosing this particular method of how to transport vehicles interstate, you need to prepare and to ask a lot of questions to the specialist of the car's delivery in the United States.
Auto transportation company
This is the most convenient and effective auto logistics interstate vehicle transport. You will not need to worry about the details – everything will be a direct responsibility of the carrier.
Nowadays there is a great number of transportation companies that know how to transport vehicle from one state to another easily and in time. You can even get an approximate quote of the delivery online – you just need to visit the website of the carrier or a broker and to insert the necessary information. Normally, it includes the original and the final destinations (on this stage you can just type the city or the zip code), main parameters of your car to be delivered (make, model and year), if it's operable or not and also to choose the appropriate method of transportation. There are two of them:
an open transport is a much cheaper and faster opportunity. Your car will be placed onto the open-air platform together with many others. Most probably, you have already met such trucks on the highways. The main disadvantage in this case is that your car will be affected by the changeable weather conditions and there is always a small chance that some random stone from under the truck's wheels will reach your vehicle;
for those cars that have a pretty much higher value and price it's recommended to choose a more expensive enclosed method of the delivery, when the car is placed inside the special container or trailer. Therefore, you should not worry about its condition upon the delivery.
Choosing a professional transportation company, you need to expect to pay for the delivery service 600-1,000 dollars. Of course, it's not very cheap but this is the most efficient way to answer the question of how to transport a vehicle from state to state safely and fast.
Considering a great variety of carriers and brokers in the modern reality, you need to check the auto logistics interstate vehicle transport reviews before making a deal. You can easily find the rating of the company in comparison with others online. Also, visiting an official website of the Federal Motor Carrier Safety Administration is a good option to get more information about the company's legality.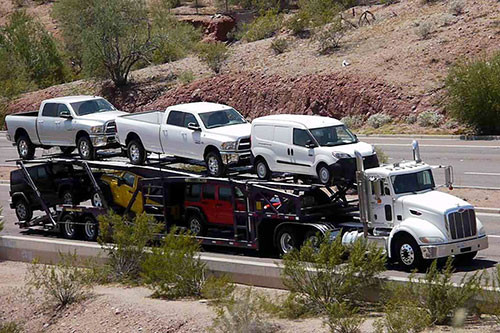 Hiring a driver
The main disadvantage of this method is that all the miles the vehicle needs to cover to get from point A to point B will be put onto your car directly. Normally, this is not a problem if we are talking about the used cars, but of course many owners of expensive or brand-new vehicles prefer to avoid this type of transportation.
There are two main companies which can provide you with a driver to hire.
Firstly, it's a concierge transportation company. Here you can expect to receive a most personalized service. For example, there is a chance to transport your pet inside the car while the driver will take care of it during the whole trip. He can even make special stops to walk with your dog or cat to make the journey more convenient for them. Of course, such a service will cost you some extra fee, but it's the best choice in comparison with taking your pets onto the plane.
Additionally, many professional transportation companies that usually are dealing with the car's delivery. Cam also provides you only with the driver to pick up your car at the original spot and to deliver it to the final destination.
In both cases there are two main points to check before letting a stranger drive your car. Firstly, the driver should have appropriate insurance to perform the transportation service. Secondly, he or she needs to be pre-screened – this will allow you to avoid any fraud or just illegal drivers. Unfortunately, a high demand for the drivers led to many unfair people to act as "drivers to hire".
Being a driver
Driving a car on your own is probably the cheapest method, but definitely requires extra time and effort from your side. It can be very convenient if you are going to the same destination as your car to be delivered and there are no circumstances that do not allow you to travel there at the same time.
Additional expenses you should expect besides the fuel consumption is a necessity to pay for meals in the road cafes (which are not too cheap at all) and probably to arrange a lodgment for the night if the trip is too long.
In case you need to take your belongings with you the car will not allow you to take everything at the same time but even in this case there is an opportunity to rent a trailer you can adjust to the back of your car.
Preparation
Whatever method of the car's transportation you will choose, you need to prepare your vehicle for the trip. Among the main steps we can name the following:
Evidence. You need to take pictures of all the surfaces of your car. That is how you can get an insurance coverage incase of any damage taking place upon the delivery;
Fuel. According to the governmental regulations, the fuel level in the car to be delivered should not exceed a quarter. Of course, this rule is not applicable if you are going to drive the car or to hire a professional driver – in this case you, vice versa, will need to make sure the fuel level is enough for the trip (or at least till the gasoline station on the way);
Take out the personal belongings. Even if you made an agreement with the transportation company to load your vehicle with some parcels within the weight limitation, you need to make sure there are no valuable things and documents as the carrier cannot guarantee their safety;
Battery. It should be fully charged even if you are going to tow your car or to arrange the professional delivery with the truck. There can be some unexpected circumstances when your car will need to be driven, and you don't want it to be stuck onto the truck.
Preparation is important. Also, you will need to make sure you check your vehicle upon the delivery. The later you will find some scratches or dents, the more difficult it will be to prove that they were caused during the transportation service. It's always better to take pictures on this stage, so even if you will not notice something, there will be evidence.