Trucks' accidents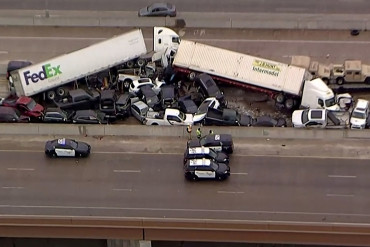 When you look at the huge and massive truck, it's causing awe. Especially if you imagine this monster on the highway with 60 mph speed. Despite the fact that every truck driver has to provide a commercial driver's certificate (CDL) to be allowed to work in this sphere, accidents with trucks still can take place. Here we will consider the most basic information you as a future professional driver needs to keep in mind.
Reasons for truck accidents
Of course, every case is individual and it's not possible to cover each particular reason when truckers are involved in accidents. Here we will cover only the most common ones.
Speeding. Patience is one of the most important characteristics the truck driver must have. It's always difficult to drive long hours, and of course everybody would love to finish work as soon as possible. But you should not put your safety under the risk, especially considering that an overwhelming majority of the accidents while trucking cause serious injuries and even deaths. Following the traffic rules and the estimated speed signs will help you to keep your impatience under control.
Distraction. Nowadays almost every particular person has a mobile phone and uses it on a regular basis. But when driving you should not allow anything distract you, especially a phone call or a message. Just a few seconds is more than enough for losing your attention and can lead to a tremendous aftermath. The same we can say in regards to drinking coffee on the way – a few drops down and your eyes are not looking on the road anymore.
Wrong behavior. We all are human beings and some days can occur worse than others. But you as a professional should not allow your feelings and emotions to overwhelm rationality. It's always better to yield right of way than to become a reason for an accident with your truck. It works on both sides – if you see that some driver is willing to break the rule of the priority on the road, you should better let him do so. This is not the case when you will win of being right.
Different types of impairment. Here we are talking not only about obvious drug and alcohol abuse but also about fatigue. Today a lot is done to avoid the drivers from experiencing fatigue during long-distance trips. In different states there are some limitations in regards to how many restless hours the truck drivers are allowed to work, and there should not be any exceptions for that. According to recent research, 18 hours of being awake is similar as having 0,05 alcohol content in blood. It's also confirmed that more than a half of trucking accidents are caused by this type of impairment while the level of the drug and alcohol abuse slightly decreases (mostly thanks to the strict policies of the transportation companies).
Careless driving. In regards to the truck drivers this reason is not that common as they normally love their job. But careless driving from the other drivers' side can significantly raise the chance of the trucks' accident.
Types of the trucker accidents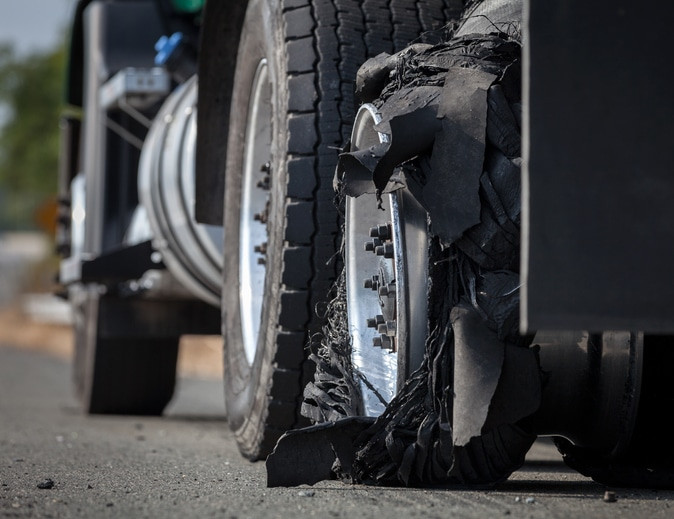 Here we will consider the particular variants of the crashes and their possible consequences:
Head-on / Rear-end. This is the most common and, unfortunately, the most dangerous cases when we consider trucks in accidents. Especially for those drivers who are sitting in smaller cars as with a high speed the huge truck can just "swallow" a tiny sedan;
Jackknife. The title reflects the shape of the truck when the driver brakes too suddenly. Whichever the reason made him do so, the trailer will have a 90-degrees angle and, therefore, will block the whole carriageway;
Blind spot. Considering the huge size and a high location of the driver's cabin in comparison with ordinary cars' drivers, it's pretty common that an accident of a truck occurred because the trucker just didn't (and couldn't) see the potential threat. It's a cars' drivers' responsibility to avoid unexpected maneuvers when there is a massive truck nearby;
Roll-over. Roll-over accidents can happen with every type of the cars, but when we are talking about trucks there is a much higher risk of explosion, especially if it's delivering some hazardous materials. There are some historical evidentiary proving how crushing the effect of such accidents;
Underride. This is probably the deadliest type of road accidents with trucks when the smaller cars can be ripped off when appearing under the tractor-trailer. Obviously, all the passengers in this case will have very serious injuries;
Tire blowouts. The issue here is the big trucks have a much higher risk of getting its tires blowout. This is one of the reasons why the higher the speed, the more distance should be between the truck and other vehicles on the road, especially in regards to the more dangerous highways. Thus, you will have at least a chance to maneuver.