How to find reliable enclosed car transporting services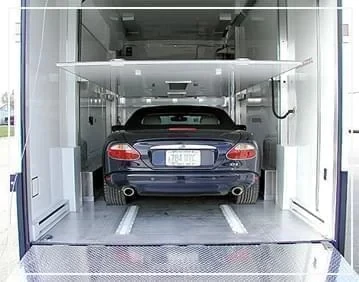 Enclosed transport car shipping is an issue which you may come across when you need to move your luxury or antique vehicle from state to state. If your automobile is a high-value investment for you, there will hardly be other options except enclosed car transport rental.
However, with the rapidly growing industry of vehicle transportation finding a reliable enclosed car transport isn't an easy task. We have prepared a small guideline for you to help you choose the right company for moving your precious vehicle.
What is the difference between open and enclosed car transport service?
Open shipping service is more widespread and demanded than car shipping enclosed transport. The reason for this popularity is cost-efficiency and availability. Open carriers are able to accommodate more vehicles than enclosed ones. The maximum number of cars transported on an open trailer can reach 9-10 items, while the same index for enclosed classic car transporters is usually 5-6 items.
However, open shipping has a great downside in comparison with classic car enclosed transport, i.e. it cannot guarantee you 100% protection, since the vehicle is disclosed to outer elements, road debris, poor weather, natural disasters, etc.
When you choose enclosed classic car transport, you can be sure that nothing will happen to your car, no unintended damage will be caused to it during the loading and unloading, as well as during the delivery. What is more, you will get your car clean, exactly the way you have handed it to the driver.
One thing you should always remember when choosing enclosed exotic car transport is the limited carrier availability of this shipping method. Therefore, if you prefer an enclosed car transporter hire it in advance if possible.
Benefits of enclosed car transport services
It goes without saying that enclosed transport car shipping has a number of benefits in comparison with open carriers. Let's have a look at the main ones.
Total protection of your vehicle. The vehicle is 100% covered from the outside elements. No road debris or extreme weather conditions can do harm to it. With this method of shipping you won't be afraid of hail, stones, snowstorms, etc.

Safer loading and unloading thanks to the hydraulic gates and special onramps. Classic car enclosed transport is the best choice for automobiles with low ground clearance.

Your automobile will be better secured inside the container trailer than on an open carrier. You can choose either a soft-sided or a hard-sided trailer, but they both are reliable enough to carry cars sealed inside them.

More comprehensive insurance coverage. Almost all enclosed classic car transporters offer all-inclusive insurance, since they work with valuable cars. If you find the existing insurance insufficient, you can purchase additional coverage at an extra cost.
What to look for when searching for the best enclosed car transport?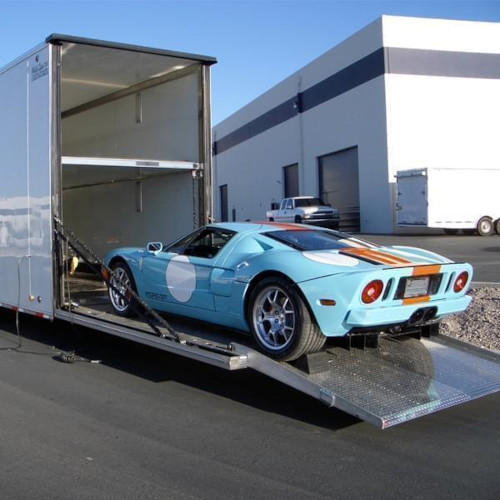 The first thing that comes to your mind when searching for the best enclosed classic car transport is analyzing enclosed car transport reviews. Undoubtedly, you should check the ratings on Google Reviews, Better Business Bureau, and Transport Reviews, but this is not the only important point to pay attention to.
Try to find a company with a large network of carriers. The larger the car shipping enclosed transport company is, the wider range of services it will be able to offer you and the more locations it will cover, both rural and urban.

As we have already mentioned, enclosed car transport rental has wider insurance conditions in comparison with open shipping. For your peace of mind, you can even choose additional insurance at extra cost. However, it's important to clear up in advance what type of insurance the initial shipping quote includes. Choose the company with the most comprehensive insurance plan, providing complete vehicle coverage.

Look for reasonable pricing. When choosing an enclosed car transporter hire the one which combines high quality with affordable prices. Don't try to pursue the lowest cost because what is cheap isn't always good.

NB! Never leave any deposits, until you are assigned a carrier and until you completely schedule your pickup.

It's better to work with an enclosed exotic car transport which provides online tracking for your shipping. You will feel calm and relaxed when you are updated around the clock on your shipment status. If the company doesn't provide online tracking, ask for the driver's contact number in order to be in touch 24/7.
What to pay attention to after the vehicle is delivered?
It's important to ask the classic car enclosed transport company about the preparations you should make before the shipping. Don't forget to clear up what paperwork you should do. If you have booked a door-to-door delivery, you should be present when the vehicle is picked up in order to check its condition and to take photos of any existing damage to the automobile.
The same is about the drop off - your presence is obligatory if you want to make sure that the vehicle was delivered safe and sound. If you think that the drop off is the final milestone in the whole process of enclosed transport car shipping, you are mistaken. There are still some things left to take into account. Inspect the vehicle for any signs of damage. If everything is okay, you should sign all the documents including Bill of Lading. If you detect any damage signs, take photos, indicate it in the condition report, and get in touch with the company, which rendered you enclosed car transport services.
Is it a good idea to save on enclosed exotic car transport?
Undoubtedly, you will want to save money on enclosed car transport rental. However, don't try to find the cheapest option, this is a bad idea. Request multiple quotes from several companies. You can do that even online with an instant quote calculator.
Never try to save on the safety of your vehicle! This is a valuable investment, which you will hardly want to sacrifice.
Our partners from the SEO agency have helped us to create this article for you.
Bear in mind that the most important milestones in enclosed classic car transport are safety, rapidity, and reasonable cost.