Flatbed car transporter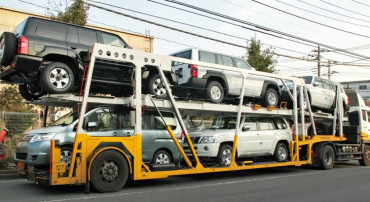 People may have different reasons for relocating - some go for promotion, others just want to change their permanent residence. The majority of those who relocate decide to take their vehicle with them to the new destination. As a rule, they start looking for methods to move the vehicle from one state to another. The most widespread options include shipping a car on open and enclosed trailers. However, there is one more variant - using a flatbed car transporter. It is less popular, but it undoubtedly deserves your attention.
We have done a bit of research and are ready to present its results to you. Keep on reading to discover whether a car transport flatbed is okay for you.
What shipping options do I have?
Generally, you are free to choose one of the three options: shipping a vehicle on an open carrier, enclosed shipping or a flatbed car transporter trailer.
Open carriers
Shipping a vehicle on an open carrier is the most cost-efficient option when it comes to interstate auto transportation. You've probably seen large trailers that transport new cars on the highway to their destination. They can be single-level or have multiple levels. It is about this type of transportation that we are talking about.
The main advantages of open trailers are their affordability and availability. This is one of the most widespread shipping methods - more than 90% of all vehicles are transported this way across the USA. Thanks to reasonable pricing, open carriers gain in more and more popularity.
However, this shipping option has downsides as well. The carrier doesn't provide 100% protection to the vehicle during the transportation, since the cargo is exposed to road debris and extreme weather conditions. Just imagine what can happen to your precious car in case of heavy hail or falling rocks. And one more thing - in most of the cases you'll have to wash your car after the transportation. Therefore, people who are too concerned about the safety of their vehicles prefer enclosed shipping.
Enclosed carriers
If you own a rare car, which means much to you and you don't want to risk it, you'd better choose enclosed shipping. This option is less popular than open carriers because of high cost. Prices for enclosed trailer shipping are about 40-60% higher than those for open-air shipping. Nevertheless, relatively high prices in this case fully justify themselves. Enclosed shipping is when you can be 99% sure that you will get the vehicle exactly in the same condition as you have left it.
This option provides for additional protection measures not only during the transportation itself, but during the loading/unloading thanks to hydraulic gates and special ramps. Enclosed transporters use special equipment to put the cargo onto the carrier and to secure it safely. Then your car is sealed inside the container until the moment you accept it at the new destination. You won't even have to wash it, since the vehicle is totally sheltered from the outside elements.
Enclosed shipping is, undoubtedly, the best option for the transportation of classic and luxury vehicles in comparison with open carriers and flatbed car transport rental.
Flatbed car transporters
Car transport flatbed is the least demanded shipping method. It may be more time-consuming and even more resource-consuming. As for the cost of transport a car on flatbed, it can vary a lot, depending on several factors. In some cases in order to rent flatbed for car transport, you will even have to pay more than for other options.
If you are looking for a flatbed car transporter hire only a reliable company. Otherwise, you risk losing the quality of the service.
Despite all the downsides, flatbed car transport is still worth your attention as one of the possible methods of vehicle transportation across the country. Read on to know more about this option.
When do I need a flatbed car transporter?
So in what cases do you need to transport car on flatbed? The answer is simple - if your vehicle does not require enclosed transportation, cannot be loaded/unloaded on an open trailer or simply does not fit the size of a standard open-air trailer. When you transport car on flatbed, you have the possibility to move almost any type of vehicle, of any size and make and model.
If you own an oversized vehicle, or a large pickup, you may need flatbed car transport rental. There are a lot of heavy trucks and vans, which are hard to load and fit on a standard open-air carrier. Moreover, there are large trucks and lifted vehicles which are too high to be accommodated on the lower row of an open carrier. These types of vehicles cannot be transported on the upper row of open trailers either, since they are too tall and can be damaged in case of a low overpass.
If you own an extremely heavy car, you may have difficulties trying to find a shipping company ready to transport your auto. The thing is that if the shipper takes your heavy car, it won't be able to take more other vehicles because of the weight restrictions. What is more, heavy vehicles raise the carrier's fuel consumption.
It should be mentioned that people also prefer to rent flatbed for car transport when they need to move inoperable or strongly damaged vehicles.
What are flatbed car transporter hire costs?
In fact, higher cost of transport a car on flatbed is due to the unique character of the service.
The number of flatbed car transporters is rather limited in comparison with open-air carriers and enclosed trailers. This limited supply leads to higher prices. A flatbed car transporter is usually able to accommodate only one or two, rarely three vehicles. Thus, the cost of transportation is shared by two-three customers and not by eight-ten as in case with open carriers.
As in case with open and enclosed shipping, cost of transport a car on flatbed varies depending on several factors. Distance is one of the main determiners. If you plan to move your vehicle for a short distance, the cost per mile will be about $1.50-2.00. Longer routes can take from $.50 to $1.50 per mile.
Other factors that may have impact on cost of transport a car on flatbed include the vehicle's size and weight, its condition, and shipping period. As a rule, flatbed car transporters offer free online forms for getting an instant quote on the transportation. In any case, the price they provide is not yet the final cost of shipping, this is only kind of starting point. If you want to get a more accurate estimate, we recommend you to get in touch with the flatbed car transporter directly. They will ask for the same information that should be filled out in the online form and will provide you with a more accurate quote taking into account all the specifics and peculiarities of your situation.
One thing you should always remember is that expedited shipping always costs more. Therefore, try to plan flatbed car transport rental as much in advance as possible. The earlier you find a suitable flatbed car transporter trailer, the more money you will save.