Vehicle shipping international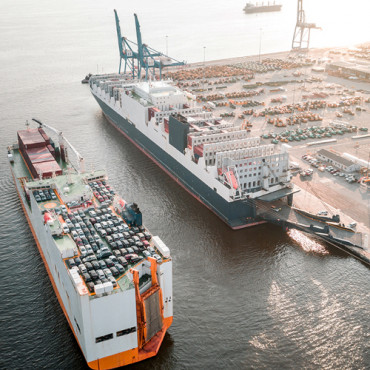 Are you planning to move and ship your vehicle abroad? Then you should deal with the question of how to transport it in such a way that it does not hit your pocket, and is the most expedient. Still, delivering your vehicle to another place in the world is a rather expensive undertaking, but nevertheless it is more profitable than acquiring a new "iron friend'' upon arrival in a new environment.
Mainly the main vehicles for transportation are cars. International shipping vehicles across the ocean is a fairly straightforward procedure. Let's consider everything you need for doing it, so that this transportation goes without problems, and you would better pay more attention to your main matters regarding the move, such as purchasing international insurance and transporting your beloved pets. It should be noted that we are considering shipping a vehicle internationally by sea, since air delivery for cars is extremely costly and is not very suitable for ordinary transfers. However, for the delivery of some valuable vintage cars, air shipment is also quite suitable.
Begin your search for a shipping company
Quite a few companies provide international vehicle shipping services for the transportation of cars and other vehicles, and for the best choice, it will be necessary to conduct a serious study of the international transportation market. First, you should start by searching the Internet using search machines. Type in the search bar "international vehicle shipping" or "international vehicle shipping rates" and it will show you many companies working in this area. Each carrier company is obliged to meet the following conditions:
Provides vehicle international shipping from the current location to the new destination;

The company has an appropriate license for such transportation, it is financially responsible for the goods and is insured;

The company deals exclusively with third parties, i.e. freight carriers who work in the same way with licenses, liability and insurance.
Avoid companies that do not meet at least one of the above conditions. If you have any doubts about licensing and insurance with a third party shipping company, ask your service company right away. You should not agree with just a positive reply, but it is better to check the license numbers and other documents of such third partner companies by yourself. As a result, you will receive a list of reliable and responsible contractors that can now be compared with each other. For example, take a look at the Better Business Bureau and check out online reviews. By requesting some international vehicle shipping rates for the international carriage of a car, you will assess the situation as correctly as possible and will be able to make your reasonable choice.
Preparation of documents
In the process of vehicle shipping internationally, it is always necessary to prepare the appropriate documents. No later than 72 hours before the shipment begins, you will need to apply for export accompanying documents at the port of entry in the United States from which your vehicle will be shipped out. The list of documents includes:
Completed Vehicle Export Declaration for US Customs and Border Protection;
original certificate of the vehicle ownership or a notarized copy of this certificate, including two more copies;
if your car is pledged, then you will need a written permission from the pledge holder to take the car out of the country. The authorization in the form of a letter must contain information about the model of the car, its marking and age, in addition to this, also its identification number.
a clear statement with the right to export the car abroad.
In terms of the necessary documents, you can never be completely sure of having all of them and therefore it is better to ask the customs about possible additional requirements on the eve of transportation in order to be ready for any situation.
Preparing the car for transportation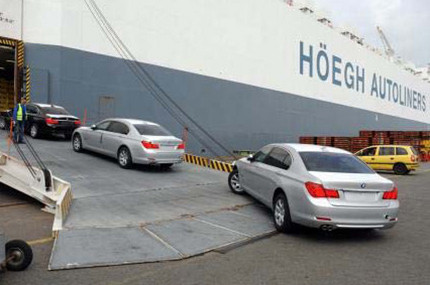 You may want to put some personal belongings inside your car, in boxes and without them, but this cannot be done. Only items that are relevant to the vehicle, such as a spare tire, tools or contact wires, may be left in the vehicle. Important documents, such as those containing personal and insurance data, must not be left in the transported car. Your forwarding company arranging a car shipment will always inform you about what can and cannot be put into the transported vehicle during delivery. There may also be a limitation on the amount of fuel in the car tank. Many shipping companies demand the fuel level should not exceed a quarter of the gas tank. Customs officers at the border will inspect the car for agricultural pests and waste, so we advise you to clean it before sending it to the collection point.
International vehicle shipping quote
Depending on the distance of your car delivery, the terms of the forwarding agent and the shipping carrier providing you with some shipping services, the cost of transportation will be formed. On average, such an international shipping of one vehicle will be about $1,500. And this will not be the entire international vehicle shipping quote, presented for payment, but only the main part of it for placing the car, for example, in a container during transportation.
Additional shipping costs
Be sure to take into account all possible additional costs for international shipment as follows:
Marine insurance is an important cost item when your car is on the high seas during delivery, even if your transport agent and shipping carrier do not necessarily require it. Check with your insurance agent if they offer extra marine insurance. Your shipping company may also offer this type of insurance, or it can be purchased from a shipping partner;
Upon your car's arrival at its destination, for example, at a port of another country, you will need to discharge the cargo from the ship and pass the customs' clearance. For making that, a special agent is hired to provide you with such services, instead of you doing it yourself. The owner of the cargo has no right to do this. Many shipping companies use agents at the port of arrival, or can recommend one on occasion. Such agent services will cost you about $500 more;
All goods arriving from abroad are subject to customs taxation in the form of duties. To do this, you should find out about all customs duties at the place of the goods arrival. Usually the duty is calculated as a percentage of the cargo value, in this case the car;
There are additional taxes and fees such as sales tax, handling fees, etc. when transporting a car overseas. The carrier company will help you find out what expenses may happen and therefore it is important to provide for such an option in your finances.
Vehicle shipping time abroad
Shipping time mainly depends on the destination. With relatively short distances, delivery times will not exceed a week or two, while with long-distance routes, the wait can last a month or even two. The transport company delivering your vehicle will provide you with a fairly accurate forecast for the date of its arrival at the destination, not taking into account the passage of customs. Also, one of the reasons for the shorter shipping time is the delivery method of your choice. The most convenient and fastest option will be in a separate container. If you want to save money, there is the possibility of a consolidated shipment of your cargo along with other cargoes, usually cars, in a single container transported in the same direction. However, there is a risk that the time spent on delivery will increase significantly, since it will take a longer time for the shipping company to fill up the container before sending it.
There is a way of shipment like Roll-on/roll-off (RO/RO), when your car is "rolled" onto the ship at the port of departure, firmly fixed there, and upon arrival at the port of destination, it is already "rolled out" of the ship. Thus, the vehicle is outside the protection of the container. This method has its own drawbacks. Firstly, ships carrying vehicles using RO/RO often call on their way to many ports, which increases the delivery time. They may also dock and unload at a port other than your final destination. Secondly, during delivery, your vehicle is exposed to the environment, as it is often transported on an open deck. In this case, there is a risk of cargo loss in a severe storm.
And yet, it is up to you to decide which method is best for you, taking into account your desired time frame and available financial capabilities. In our opinion, the best way is still transportation in a separate container, but it also costs more. In this case, your vehicle will be in a safe place and will reach the final point of the route much faster.