How to transport car interstate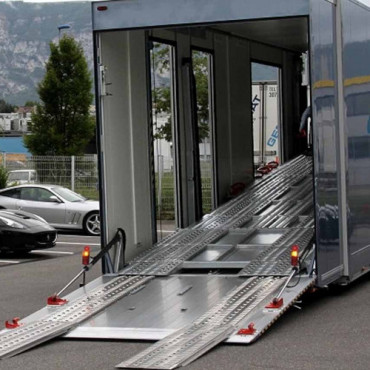 Car transport interstate can sometimes turn into a troublesome and painful experience if you are not aware of how it works, and what pitfalls it may have. We decided to give you a hand and prepared some useful information about transporting cars interstate.
Is it better to drive your vehicle or to transport a car interstate with a company?
Undoubtedly, you may decide to drive your car on your own when relocating. But think twice before doing that.
As a rule, car interstate transport is less resource-consuming and more time-efficient.
Driving a car adds more car mileage, and you may get exhausted from long trips.
Moreover, if you need to sell your car or buy one in another place, it's more logical to look for car transporters interstate. The same is when you need to take your precious car to or from a show.
As you can see, there are numerous reasons to choose to transport a car interstate with a professional shipping company instead of driving it on your own.
How to choose the best car transporters interstate?
This is perhaps one of the most urgent questions when it comes to transporting a car interstate. Find the list of things you should pay attention to when selecting the shipping company below.
Check the registration number. All carriers in the USA must be registered with the Department of Transport and the Federal Motor Carrier Safety Administration. If the shipper is registered, it should provide you with the corresponding number to prove that it has all the necessary permits to transport the car interstate.

Look through the company's website, and talk with the staff. There is no better way to get an image of the shipper than to get into direct contact with it. Ask questions, and talk about your preferences.

Analyze reviews by other customers. You will hardly find a company in the sphere of car transport interstate that has no negative reviews. However, try to choose the one which has minimum dissatisfied testimonials. The best resources for checking customers' feedback are Google Reviews and Better Business Bureau.

Learn more about the pricing policy. Transporting cars interstate can be very pricey if you are not aware of the main factors that affect cost formation. So read in advance about how you can influence the final cost of transporting a car interstate and request quotes from several companies. The more quotes you will have, the better. In this way, you will be able to carry out a comparative analysis and choose the most profitable deal. Don't forget to clear up exactly what services the quotes include.
Does it cost much to transport a car interstate?
Prices for car interstate transport vary a lot from company to company depending on a wide range of factors. Find some of them below:
How large and heavy is your vehicle? Small vehicles are cheaper to transport. For example, the average cost of transporting a family sedan varies from $700 to $1,600 depending on the distance, while shipping an SUV or a minivan will cost you from $800 to 2,000 or even more.

How far do you need to transport the vehicle? As you can guess, shipping a vehicle farther will cost you more. However, the cost of transporting a car interstate per mile is lower for longer distances.

What are the specifics of your vehicle? If you need to transport a rare vehicle or a car of a specific make and model, be ready to pay extra money for car transport interstate, as these types of vehicles require special attention and care during the loading/unloading and delivery.

When do you need to ship your vehicle? Summer is the peak season for transporting cars interstate. Therefore, prices go uphill from May to September. So if you want to save money, try to plan your vehicle shipping in the late autumn-winter. By the way, the more in advance you schedule car interstate transport, the less you will pay for it.

What type of shipping do you prefer? If you choose to transport a car interstate on an enclosed trailer, you will have to pay extra for additional protection of the vehicle. Open-air shipping is more cost-efficient.
What about insurance?
The good news is that all car transporters interstate have standard insurance. However, if this kind of insurance is insufficient for you, consider taking supplemental insurance for additional costs. This is more applicable to shipping luxury and antique vehicles, which need extra protection.
We also want to recommend our friends and partners from Extraordinary. Also, we hope the information provided above will help you solve any issues related to transporting a car interstate.