A 20% more efficient diesel?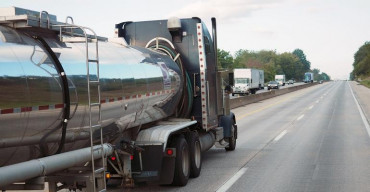 Canadian startup energy firm Enezol has developed an alternative diesel fuel it says is over 20% more efficient than traditional diesel. The key to the new fuel is a different refining process, according to the company.
This process, which Enezol calls Energizing Particle Stack, involves bombarding the fuel with specialized catalyst particles as it's refined to improve combustion properties of the fuel as well as prevent fuel deterioration.
To test the new fuel's efficiency, two long-haul trucking companies took part in on-road case studies. In one of those, long haul trucking company ART Corp. used three 2012-2013 Hino trucks with 12L engines to measure regular diesel mpg. Over four months, the three trucks traveled about 78,000 miles and used nearly 9,600 gal. of fuel, landing at 8.16 mpg for fuel efficiency.
After establishing that baseline, ART Corp. tried Enezol Energy Diesel with the same trucks for 90 days. The trucks covered a total of about 41,600 miles and used just over 4,200 gal. of fuel, ultimately turning in 9.85 mpg scores. The company saw a 20.75% fuel efficiency increase compared to regular diesel.
Kakui Freight Express Co. created its own baseline over a one-month period with a 2012 Hino truck with 13L engine. In that time, the truck traveled some 8,950 miles in long-haul operations and used just over 1,450 gal. of diesel, yielding an average fuel economy of 6.16 mpg.
Switching to Enezol Energy Diesel, Kakui Freight's truck traveled nearly 9,175 miles using about 1,175 gal. of fuel for an average of 7.8 mpg. That's almost a 27% increase in fuel efficiency.
The case studies suggest Enezol Energy Diesel could help trucking companies reduce fuel consumption while lowering their carbon footprint—and potentially save fuel costs across the fleet, depending on the special diesel's price.
Enezol said it is "focused on ramping up full-scale production" of its Energy Diesel fuel for Canadian and cross-border distribution. The company's target is to be producing upwards of 500 million gal. a year of the fuel within three years—or if key things like financing and production can be secured and optimized, maybe sooner.