What you should know about the best enclosed car transporter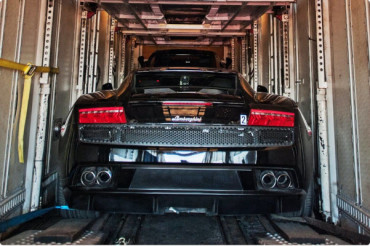 When you own a luxury car or an antique vehicle, which means much to you, you want it to be handled with special care and attention. The issue of your automobile's safety is especially important when you need to move it interstates or overseas.
There are two options for vehicle transportation - open-air carriers and enclosed car transport. Undoubtedly, the first option is more cost-efficient, but it won't totally protect your vehicle from road elements and extreme weather conditions, as your car is exposed to the surroundings.
Enclosed car transporter covers your vehicle from all the sides and ensures its complete safety during the loading/unloading and the delivery itself.
Keep on reading to learn more about this method of shipping and its main advantages.
What is car enclosed transport?
Enclosed transport car is the method of vehicle transportation which guarantees the highest level of protection to the vehicle shipped. This is the best option to choose when you need to move a luxury car or a rare vehicle. This method of shipping is also very popular among the owners of classic and antique cars.
In comparison with open-air carriers, car transporters enclosed can accommodate fewer vehicles at a time, thus minimizing the risk of their damage. As a rule, car transport enclosed can carry no more than seven vehicles.
The main downside of this shipping method is its pricey character. An enclosed car transport cost is about 40-60% higher than that of open transport. That is why enclosed car transporters are considered to be mostly for VIP clients. However, if you don't own a precious car but still want to have it shipped on an enclosed car transporter, you are welcome.
When is car enclosed transport necessary?
As it has already been mentioned, an enclosed transport car is the recommended method of shipping for high-value vehicles. However, you can use it for any type of automobile just for your peace of mind.
Most shipping companies offer this type of transportation for vehicles with low clearance or massive tires, such as sports and exotic cars.
The same is when you want to move your antique or classic automobile to or from a show. These vehicles require special attention as they represent history.
Car transport enclosed provides the best insurance options for expensive cars, so if you are in search of total coverage, this is the best choice.
Car transporters enclosed become especially demanded in winter, when the weather is bad and car owners are afraid of extreme weather conditions that may damage their precious cars.
What are the main pluses of enclosed car transporters?
Let's go a bit into details and see what makes enclosed car transport so special. Find the main advantages of this shipping method below:
Safe loading and unloading. Car enclosed transport is perfect for vehicles with low ground clearance, since in most cases the carriers are equipped with hydraulic gates and special ramps.

More comprehensive insurance coverage. As enclosed shipping is almost always associated with luxury vehicles and extra-protection, it provides wider insurance plans than open-air transportation.

Opportunity to choose single car enclosed transport. Generally, open carriers are supposed to accommodate multiple vehicles, while enclosed transport car gives you the opportunity to choose between shipping several cars or single car enclosed transport.

Perfectly clean car upon the delivery. Thanks to the fact that your vehicle is sheltered from outside elements, road debris, and poor weather conditions, you will receive it exactly the way it was handed in to the transporter.
How does enclosed car transport work?
In order to book an enclosed car transporter, you should request quotes. We recommend you to request multiple quotes from several shipping companies working in the sphere of enclosed transportation. This will help you get a better idea of the market rates and services included in the cost of shipping.
As it has already been mentioned, enclosed car transport cost is a bit higher than that of open shipping, so don't be surprised to receive increased quotes, if previously you have worked with open carriers.
Study the quotes and choose the one which best suits your needs and requirements. Don't try to find the cheapest offer, since what is cheap isn't always good. Try to find the best balance between the price and quality.
As soon as you have made up your mind about the shipping company, make a reservation and wait until you are appointed a carrier.
Clear up all the details about the shipping process in advance. Don't forget to ask about the insurance plan and about what you need to do to prepare for the transportation.
Ask whether the company has a tracking possibility, if they don't - get the drivers contacts to be in touch when necessary.
Be present during the loading process, so that you will be able to see that the vehicle is secured properly and that it's condition is as described. Take photos of any existing damage.
Wait until the car is delivered and check its condition upon the delivery. Take photos of new damage if any. If everything is okay, sign the acceptance certificate.
How much does enclosed car transport cost?
Prices for enclosed shipping may vary from company to company. As a rule, they are subject to the same fluctuations as in case of open shipping. It's only necessary to mention that single car enclosed transport will have higher quotes than multiple car enclosed transport.
On average, if you need to transport an automobile of a standard size for a distance less than 500 miles, you will pay about $700-800. If the distance grows to 1,000-1,500 miles, the cost will be about $900-1,000. For long-distance routes exceeding 1,500 miles the price will be about $1,200.
To sum up, we would like to say that car transport enclosed is undoubtedly worth its money, since it is the top-notch option for your precious vehicle shipping.