Car transporter trailer for rent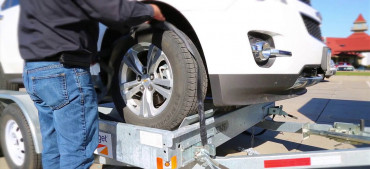 The easiest way to transport your vehicle from point A to point B is obviously ordering a professional carrier's service. But considering that in most cases the necessity of moving a car itself is connected with relocation or purchasing a new car from another state we can see that the budget for the transportation can be quite limited. Of course, you still can find a pretty adequate and fair price, especially for terminal-to-terminal open transportation but there are some other, cheaper options.
Also, you can drive your vehicle on your own, but here, beside fuel consumption, meals on the way and other according expenses you always have a risk of some unexpected breaking which will lead to significantly higher expenses for the repairing. Additionally, the mileage of your car can arise significantly, which is also not a very positive consequence.
Car transport rental trailers is the great opportunity to keep the expenses at minimum while performing a very efficient and safe moving of the car. Today it's not a problem to find an appropriate company which will provide you a rental car transport trailer.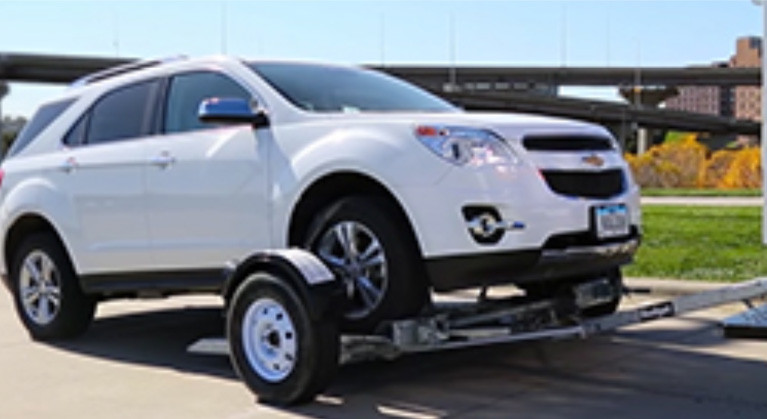 The process of working
In comparison with a familiar to many of the car's owners towing a car, renting car transport trailer allows you to connect the rear part of your car with the trailer for a four-wheel drive (in cases of longer vehicle for all-wheel drive).
Traditionally, there is some capacity of such a car transporter trailer for rent you need to take into consideration. Maximum width can vary from model to model but normally it's 6'7'' while the most important weight capacity is 4,055 lbs. What concerns the length and the minimum dimension, it should be 12' and 3'6'' accordingly.
When you rent a car transporter trailer, obviously you will need to get it back. Considering the distance, you might need to transport your car, it can take many hours and even days to deliver the trailer back to the original place you rented it. In this regard many of the service's providers allow the clients to return the truck in different locations that it was rented. Of course, you cannot leave the trailer wherever you wish to, but at least there are some convenient options for your consideration.
If you are looking for car transport trailers to rent, you can easily get an approximate quote using online-calculator on the website of appropriate companies. You will just be required to enter the original and final destinations (zip code or the name of the cities in case the returning spot will differ), the date of the pick up and the desirable time. One interesting and attractive feature for many car's owners is the ability to choose flexible dates. It will allow you to get the best possible price depending on the demand on the market.
Normally, you will be provided with some choice in regards to the particular trailer you are willing to rent so you don't even need to check various companies' websites. On the other hand, it's always better to check offers from at least a couple of the companies as they can have slightly different conditions and the policy.
For example, some additional benefits can be very useful, especially in case you have never dealt with car's moving on your own. Thus, using ratchet straps additionally to more typical tie points and winch will help you to make sure your car is firmly fixed to the trailer. You can also discuss with the trailer's provider if there are some extra options for your particular case, sometimes they can even be provided on a complimentary basis.
You need to remember that to drive such car transport trailers you as a driver may need a special level of driving license which you will need to check out. These requirements vary from country to country and sometimes even from state to state. In case you are doubting, you can also check it with the rental company.
Variety of trailers
Depending on the particular size of the vehicle as well as its type, sometimes you need to consider slightly different options.
Thus, if you need to transport a motorcycle or bike, you might be interested in more specific van trailers. They look like a big box attached to the main part of the truck or a massive vehicle and you can feel it not only with small vehicles but also with some furniture and personal belongings which is an especially attractive option in case of relocation.
In regards to motorcycles, you can find even a very unique option for their transportation which looks like a small adjustment to the car and can place up to three motorcycles in the safest way.
Sometimes general purpose trailers are also applicable, especially if we are talking about the bike's transportation.
Renting a trailer for the car's delivery will allow you to be much more flexible in time and to arrange the process in the most convenient way for you. The expenses are pretty low, especially if to compare with more traditional options. All you need is your time for the car's moving.