Movies with trucks

If you are thinking about starting the career of the truck driver, there is no better and easier way to get to know about this job than a truck movie. Luckily, today you can find a great variety of them.
What is interesting, the best epoch of the movies about trucking is definitely the 70th. That was a time when people became inspired by the cool heroes and moved to this industry just to become as great and rich as some of them. It's hard even to say if it's truck drivers caused the popularity of this kind of cinema or, vice versa, the famous actors and interesting plots made driving a desirable activity.
Top 3
Some movies are better, some - worse, and some are genius. And there is no doubt that the following ones have an especial place in every truck driver's heart.
Smokey and the Bandit. Burt Reynolds was one of the main reasons why a great majority of the strong and independent men left their boring jobs and moved to a new for them sphere. This trucking movie was created in 1977 and is telling us about some interesting, sometimes dangerous and sometimes funny adventures of two truck drivers. Beside the fact that Smokey and the Bandit made the truck driving job more popular and demanded, it also helped to promote CB radios.
Convoy. This classic movie about the trucks was released a year after the Smokey and the Bandit and in comparison with the last had much lower gross at the box office. The reason was not in a bad storyline or not so perfect actor play but in the less popularity of the CB radio. The movie about the trucks has a pretty interesting and unusual history as it was inspired by the eponymous song of C.W.McCall, and this song was rewritten by Bill Fries to make it more appropriate for the whole movie concept. Notably, both names are mentioned in the titles.
Every Which Way but Loose. Clint Eastwood – mentioning of this iconic name is making the whole movie about trucks iconic as well. If you add to it a cute orangutan (named as Clyde in the movie), you will get a very original and worth to see combination. In comparison with the overwhelming majority of other truckers' movies, this one will be interesting for every kind of the audience, including families with kids. And for those, who have fallen in love with Every Which Way but Loose, there is a sequel released a couple of years later, named Any Which Way You Can (but unfortunately without the orangutan anymore).
If you have seen all of them and wish to know more about the way of life of the real truck drivers, there are some more interesting options you can check out. And, of course, you can find much more.
Other points of interest
White Line Fever. If you want to see the truck in the movie for almost all the time, here you are. To help you better understand the idea we should disclose the title's meaning as it's a pretty specific kind of the truckers' jargon. White Line Fever it's a type of the mental detachment the truck drivers experience after a very long and monotonous hours at the wheel. The movie itself is not boring at all and will show you a great story about the bravery and strong characters.
They Drive by Night. It's definitely the first truckers' movie ever as it was created in 1940. But despite this, it's indeed worth watching. At least because it's one of the first steps in the career of the famous Humphrey Bogart. The story line is full of action and you will even see a huge truck in fire which was definitely not so easy to shoot at that time.
Hoffa. It's not a documentary but this movie with Jack Nicholson is pretty close in details when telling the story of one of the most famous persons in the history of the transportation industry – Jimmy Hoffa. Therefore, first of all this film will be a must-see for those who are interested in the history. The director of the movie is Danny DeVito so you can expect that you will be fully involved in the action. Regardless of very bad reviews of the critics which actually makes it even more worth checking.
Christmas Comes to Willow Creek. Considering the title, you can (and should) expect a nice Christmas story line. The whole nice atmosphere of the film distinguishes it from all the others in the list and can be truly recommended even for the kids. Still, here you will see the difficulties that good and fair truck drivers face and how they cope with them. Additionally, you can enjoy the nice views of Alaska in winter time.
The Great Smokey Roadblock. It's also an example of the classic transport movies and telling a pretty unusual story of the truck driver. You will also see a great variety of the familiar faces (casting includes Henry Fonda, Susan Sarandon, Robert Englund and others). It's always good to fig into the atmosphere of a good movie with young but already talented actors around.
Over the Top. It's not surprising that this particular film is acknowledged as one of the epic trucking movies. Sylvester Stallone and a great number of the arm-wrestling scenes with his participation created a huge audience for Over the Top. And still you can enjoy the nice story about a not very lucky and happy in his life truck driver who decided to change it and to win a prize. A story about hope is always of high interest and demand.
Black Dog. Great actors help to make a really good movie, and here we can talk about Patrick Swayze's contribution. Additionally, you will find here such iconic names as Meat Loaf and Randy Travis. The plot here is pretty common for thrillers of the late 90th and narrates about the fight for justice and life. It will be interesting for every genre lover.
Rolling Vengeance. Revenge is a great basis of a cool story. Here we have a truck driver whose whole family was killed. Such a cruel beginning makes it worth watching and helps to create a strong character of the main hero. And Don Michael Paul dealt with this role in the best possible way. You will also be impressed with a huge and massive truck on the main scene which was created to execute the revenge. This monster of the road is a really scary and efficient tool to handle with all the enemies on the way.
Coast to Coast. Sometimes bad awards create a better image, and this is one of the most influential examples. The main actor, Robert Blake, received a Worst Actor nomination for his character, but it doesn't decline the value of the movie itself. Here you will find a nice love story with a background of mental problems, bad guys and the necessity of the choice. Additionally, you will enjoy a nice picture of the American landscapes from New York to California.
Maximum Overdrive. We decided to close the list with a great work of the iconic Stephen King who acted as a director in this case. Here you will see such famous trucks as a Western Star 4800, a M274 Mule and some others while enjoying the AC/DC's tracks during the whole movie. With this amazing combination you can be sure to have a lovely time.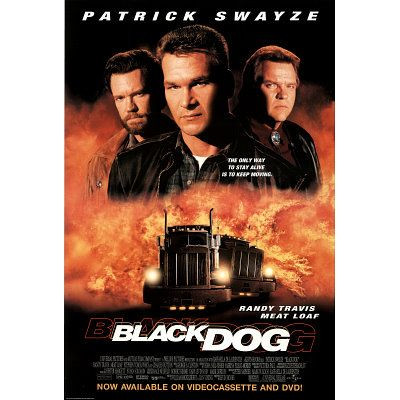 Of course, there is a great number of modern movies which also include truck drivers' stories. But there is nothing better than great classic ones, with iconic actors and a unique and irreplaceable atmosphere. If you want to feel what it means to be a truck driver and spend days dealing with some unexpected and sometimes very difficult issues, you can spend the evening watching one of the movies above.