Driver morale rising, but pay questions persist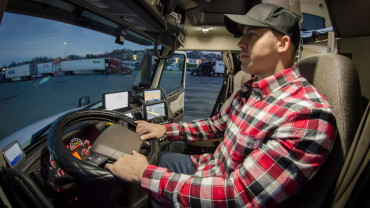 More drivers are talking about pay concerns and overall morale as they navigate the COVID-19 pandemic, according to new data published by Workhound.
The results, published on Friday, found that 26% of truck driver comments to the anonymous communication platform focused on pay, which was up 6% from the previous survey in the series. Morale also saw a boost, up 9% from the previous survey to 21% of comments.
Overall, 29% of all comments submitted related to COVID-19. Other topics frequently discussed by drivers included sanitation, risk, planning, work environment, availability of necessities and benefits.
Workhound offers employees the opportunity to provide anonymous feedback on everything from working conditions, to life away from the job. That feedback is provided to employers that can use the information to make necessary changes in working conditions. The latest survey, compiled from comments submitted to the platform form April 1 to 15, is the third in a series that began once the coronavirus started impacting the industry.
"As comments around morale increased in the first half of April, the two themes that were most prevalent in March – planning and sanitation – decreased substantially," the Workhound report stated. "Drivers' initial questions about how the company would respond to the pandemic, as well as drivers' requests for PPE and sanitation supplies, have largely been addressed, which is reflected in this data."
"Many shared that they feel 'all alone' out on the road without support," the report said. "It is key for leadership to take a proactive approach to clearly communicate support channels and changes in policy to avoid potential misunderstandings. It is important to convey a sense of unity and empathy for those that remain on the frontlines."
Overall, though, fleets appear to be performing well when it comes to supporting drivers. Optimistic comments represented 78% of those submitted when it came to morale.
"A substantial portion of drivers acknowledge COVID-19 and the challenges it represents, and then just get right back to work," the report said. "These drivers feel a sense of duty to keep their trucks moving and the significance that has for the country. They also express gratitude to the people working to support them and keep them rolling throughout the pandemic."
When it came to pay, drivers were more focused on what fleets could do, with many suggesting additional pay should be included to compensate for the work and danger they are facing on a daily basis.
"I wish our bosses would see these dark days and not only say 'good work,' but put at least more cents per mile in such days… 'Good job' is not enough when things in stores are now expensive," one driver said. "I wish you [would] look into that… It's a very hard decision to make to be on the road and nowhere to buy food, always eating McDonald's sandwiches, driving tired and weak because the body needs good food and the food is so expensive to buy… That's a lot of money to spend when we have families home which are starving."
Other drivers asked for lease payments to be put on hold. Some, though, expressed support for efforts their fleet has undertaken, including boosting pay, bonuses and reimbursement for cleaning supplies.
"Just listened to the announcement on the pay change through the pandemic and once again I am so grateful… Thank you for once again taking care of me and my family," one wrote.
In the previous survey, sanitation was a hot topic, and it remained so in this survey, but the number of mentions dropped 8% to just 19%. A common complaint was lack of proper safety equipment, but drivers also wanted to be reassured that their companies cared about their wellbeing.
"Even the most basic precautions like frequently washing one's hands become impossible if soap is not available in terminal bathrooms," the report said. "Drivers expect their companies to be able to provide basic necessities. Without them, drivers not only feel unsafe, but also disrespected."
Risk and planning were also popular topics, with 17% of conversations focused on risks that drivers felt and 16% mentioning planning in some way.
"Many commenters just want to know that there are plans in place to address this pandemic," the report said. "These drivers express frustrations that their company has not been forthcoming with information or isn't taking effective measures to prevent the spread of the virus."
Additionally, drivers had questions on how to handle customers that are closed and what to do if they became sick on the road. Many drivers are interested in getting tested themselves before they head home and bring the virus back to loved ones.
Fear of missing paychecks or losing their job was common among those drivers mentioning work environment in their comments. About 12% of comments focused on work. Necessities (3%) and benefits (2%) were also mentioned.
Finally, Workhound noted that in the previous report, 4% of drivers believed COVID-19 concerns were blown out of proportion or even untrue, but by mid-April, the communication platform did not record a single instance of this type of comment.