Final Rollout of ELD Rule Means It's Decision-Making Time for Truck Fleets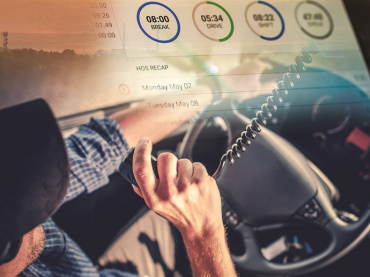 The ELD conversation is larger than just an hours-of-service determination. ELDs are also part of a broader discussion about telematics and on-board computers, and the use of telematics to optimize data.
Image: File
The two-year grace period allowing automatic onboard recording devices in place of devices compliant with the electronic logging device mandate will expire on December 16, 2019. This means that transportation fleets that have not yet upgraded to ELD-compliant devices, but have been operating under the AOBRD extension, are getting into a tight window of researching and making a commitment to an ELD provider and service.
This also means that fleets that have been operating on the AOBRD extension for the last two years are now faced with the same decisions that fleets had to make when the ELD mandate was initially put into place: Who do I select as my provider?
While time is getting short, it is important that these companies not make a hasty decision that can set them back with regards to data and technology.
The ELD conversation is larger than just an hours-of-service determination. ELDs are also part of a broader discussion about telematics and on-board computers, and the use of telematics to optimize data that comes from the truck – as well as the use of that data for fleet analytics and operations.
An ELD can be a different technology than an AOBRD. ELDs are not required to capture all the operating data that your AOBRD may have been capturing. ELD data requirements are focused and governed based on the HOS rules. What this means is that the fleets that are now staring down the deadline this year need to be careful in their selection to ensure they do not focus only on ELD compliance.
Fleets executives need to also determine what data they need to continue to manage their fleet efficiently. For example, they may select a compliant ELD, but may lose important operational data including maintenance and fuel data, used to monitor TCO (total cost of ownership).
AOBRDs have been around for several years and can capture an extensive amount of data. Many telematics providers have upgraded their technology to maintain the data collection and monitoring and enhance them with ELD-compliant functionality. These devices will continue to record the same data as the AOBRD. However, newer ELD devices and services may not be collecting the same rich data set.
Market of opportunity
The ELD mandate opened a vast market of opportunity that attracted several new providers claiming to be ELD-compliant. Many of these providers are focused on ELD compliancy and not the valuable fuel, diagnostic, and fault code data.
A key question that fleet managers need to get answered is: Are they giving up access to critical data they use now; and are they possibly giving up the ability to gain access to data in the future? This depends on the viability of the technology platform offered by the provider. If fleet managers are not careful, they may lose out on critical truck data they can use, or have been using, for operational optimization via data analytics.
Do fleet managers view the telematics mandate as a "necessary evil" and spend the least amount to meet compliance, or do they go "all-in" and realize the value of the data that the entire ecosystem provides to the operational bottom line?
Amid the overload of applications, hardware and services available in the ever-changing telematics world, deciding on the range of system functionality and associated costs can be overwhelming.
Pricing for hardware can range from free to several thousand dollars per truck, while functionality can range from basic GPS tracking to a fully integrated mobile asset management system. With options on vendors, applications, features, and costs, where do fleets begin?
Fleet managers must think beyond ELD compliance and think strategically about the data they need to manage their fleet's performance, their driver's behaviors, and vehicle lifecycles that will ultimately pay off in improved fuel economy, enhanced preventive maintenance, lower operating costs, and improved driver retention.
Hardware is just one decision
The hardware is just the first decision. Fleets must also choose a provider/partner that is there for the long haul to support the organization and fleet well into the future. A short-sighted decision to simply meet the ELD mandate without understanding the "actionable data potential" for greatly reducing operating costs is ill advised. The incremental costs to acquire systems and services that provide additional data and applications to modernize the fleet is minimal and its return on investment is substantial.
By attempting to minimize this step and focusing strictly on ELD compliance, fleets will find they have lost substantial operational savings and actually increased costs by not having access to actionable, decision-making data that can assist in optimizing the fleet's performance .
Choosing the right business intelligence partner can help fleets interpret the abundance of data that's collected by the AOBRD and ELD. Beyond this critical interpretation, the right partner offers its own technology resources that can help fleets make sense of data from many different platforms and sources – a difficult action when fleets try to make sense of data on their own.
With the right partner selection, fleets can be compliant and obtain business intelligence and analytics allowing fleets to maximize the value of the data they extract from each truck to create both operational and bottom-line financial efficiencies that provide significant return on the investment into the technology itself, as well as their partnership with the data purveyor.
How to select a good partner-vendor
How long have they been providing telematics? Fleets need a provider that has a legacy of providing solid telematic technology and services. Telematics and transportation technology is a lifetime of lessons learned. It is going beyond the technology, and it is also understanding how the technology impacts the operation of the fleet. No two fleets are the same.
What does their technology roadmap look like? What is the strategy for the advancement of technology in the future, and how will this impact the collection and interpretation of data? Remember, this is a long-term investment and it is unwise for fleets to jump between providers frequently. The operational disruptions/costs alone will deplete any realized savings. Fleets also don't want to lose any competitive edge due to their competitors' actionable data strategies.
How good are they at deployment and support services? It is important to find a partner that understands all complexities involved from planning to execution and is there to work with fleet management teams to overcome any unforeseen challenges.