FMCSA considers more flexible sleeper berth splits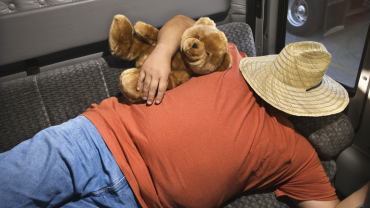 The potential pilot program would look at allowing commercial drivers to split off-duty time into four- to six-hour periods that would satisfy sleeper berth requirements.
The Federal Motor Carrier Safety Administrator (FMCSA) wants to evaluate two additional options for commercial drivers to split sleeper berth periods in a new pilot program that would look at 6/4 and 5/5 splits.
"FMCSA continues to explore ways to provide flexibility for drivers while maintaining safety on our roadways, FMCSA Deputy Administrator Wiley Deck, the acting head of the agency, said on Jan. 14. "This proposed pilot program will provide needed data and feedback for the agency to use now and in the future. Gathering more data on split-sleeper flexibility will benefit all CMV stakeholders. We encourage everyone to review this proposal and provide their public comments."
The FMCSA plans to publish the pilot program proposal in an upcoming Federal Register notice, at which point there will be a 60-day public comment period.
This past fall, new HOS rules allowed drivers to split their sleeper berth time into two parts so long as at least one of the times was at least seven hours and the other was at least two hours, which created an option for an 8/2 or 7/3 split. These times do not count against a driver's 14-hour driving window.
In the proposed pilot program, participating drivers would have the option to split their 10 hours of sleeper berth time closer down the middle — so long as the two periods combine for at least 10 hours. When operating under the pilot program exemption, drivers would be expected to split their sleeper berth time into two periods of at least four hours. Drivers would be free to choose whether or not to operate under the exemption based on their schedules. Carriers and drivers desiring to participate would apply to FMCSA for acceptance in the proposed pilot program.
The pilot program would seek commercial drivers from small, medium and large fleets who regularly use current sleeper berth provisions. FMCSA estimates a sample size of 200 to 400 drivers. The study would last between six and 12 months and begin with a 90-day period of drivers operating under the current rules. After that start, participating drivers would receive temporary exemption from current rules to allow them to split their off-duty time into a 6/4 or 5/5 split.
The pilot program would collect driver identification details and data on sleep, safety-critical events (SCEs), subjective sleepiness ratings, and behavioral alertness throughout driver participation in the study.
As part of its rulemaking process on hours of service reform, FMCSA asked for public input for additional data regarding potential split periods of 6/4 or 5/5. During the comment period, the agency did not receive any additional data or studies regarding these options, so this new pilot program would gather it.
FMCSA has been working with motor carrier stakeholders on the sleeper berth periods issue. Both motor carriers and organized labor have supported efforts to explore additional options, including the International Brotherhood of Teamsters, who stated that "the majority of Teamster team drivers…indicated they preferred having more flexibility in the time that they can obtain restorative rest periods."
In recent years, the agency has worked to balance more flexibility for commercial drivers with road safety. Along with changing sleeper berth rules this past fall, the FMCSA institutesd 3 other major changes to HOS that created a more flexible break rule, extended driving hours during adverse road conditions, and expanded the short-haul exception.
FMCSA did not say when the latest sleeper berth proposal would be published in the Federal Register, but it did post a draft of the proposal on its website.