Looking for reliable car auto transporter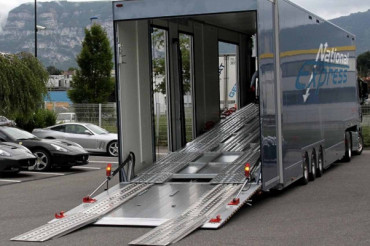 When you need to move your car there is nothing more important than finding the right company to trust your precious vehicle. You want to be sure that your car in the transporter is safe and that no damage will be caused to it. However, choosing the most reliable and trustworthy transport company can be a hard task, especially if you have never encountered this issue before.
We have prepared a small guideline to make this process less painful for you. Read on to learn how to turn the entire shipping process into an enjoyable experience. We also can help you move your office furniture quickly and inexpensively.
What to pay attention to when selecting the car auto transport
When you want to transport a car in the transporter safely, you can just type in the search engine your request. But you will get an endless list of companies, and you may be confused not knowing which one to choose. Check the list below which includes the main points you need to pay attention to when selecting the company to work with.
Work only with registered and licensed companies. Never let your car in a transporter until you are 100% sure that the shipper has all the necessary permissions for vehicle transportation. Visit the Federal Motor Carrier Safety Administration's official website and check the MC number. If you don't find it in the register, watch out for this shipper.

Never trust your vehicle to uninsured companies. If you want to get your car from a transporter in exactly the same condition as you left it, work only with insured companies. It is not enough just to check whether the company has insurance or not, you need to find out what its terms are and what exactly it covers. As a rule, reliable transport companies are ready to offer additional insurance in case you really need it.

Before making a deal with a company, analyze their pricing policy to see whether it fits your budget. You should not chase a cheap shipping quote, otherwise, you risk losing quality. Find a company that transports cars in the transporter according to all the necessary standards and offers an affordable price for its services.

NB! Never make any deposit payments until you've been assigned a broker, and you know who your driver will be.

Give preference to large companies with extensive experience in the shipping industry. The more cars from the transporter arrive timely and safely to their final destination the better. Look for large companies that have been in the market for decades. They are likely to have a more flexible operational approach and a wider network of reliable carriers. Never work with a company that has no track record at all.

Look through customer reviews. If you find numerous testimonials by people who received their cars from the transporter without any damage and in time, this shipper is worth your attention. You can check the company's ratings on such resources as Google Reviews, Better Business Bureau, Transport Reviews, etc. Don't even try to find car auto transport which has no negative reviews. A lack of negative feedback should lead you to the thought that the company is deliberately getting rid of bad reviews in order to mislead potential customers.
What you should know about pricing
Getting the right shipping quote from the company for their services is one of the most important questions. If you expect to receive your car from the transporter in the same condition as you handed it in, be ready to pay accordingly. Shipping a vehicle isn't a deal you should save money on.
In order to ensure the safety of cars in transport the company needs to apply a lot of effort and resources. Thus, you cannot expect reliable service to be cheap. If the pricing quote you get is considerably lower than that of the competitors, this is a good reason for suspicion.
What can be hidden behind a suspiciously low quote? Improper service, insufficient coverage, numerous limitations, and tons of additional fees. So in order to have peace of mind when placing your car in the transporter, don't be afraid to spend $50-100 more. Nevertheless, bear in mind that the difference in price between several companies should be no more than $150.
If you want to have a better idea about the average cost of shipping cars in the transporter, request multiple quotes from several companies. We recommend getting at least 3-5 quotes. You can do that easily on the company's website by requesting a free instant quote. Some companies even have online quote calculators. However, you should remember that the quote you get is not the final price you will pay for shipping the car to the transporter. This is only an estimated price, kind of a starting point.
In conclusion, we would like to tell you that the best way to know whether the shipper is worth your time is to get in touch with the managers directly. Make a call to the company's office and discuss all the issues that bother you. Ask questions about vehicle transportation, and clear out what you need to know for peace of mind. Only when you are totally informed about all the shipping details can you be sure that the car from the transporter will arrive right in the same condition as you have left it?
LoJack Services
The LoJack System is your ultimate theft recovery solution. This state-of-the-art GPS-based security system ensures your vehicle's safety. In the unfortunate event of theft, LoJack activates, assisting law enforcement in swift recovery. With a proven track record, it's the go-to choice for car, motorcycle, and asset protection. Its discreet design makes it tamper-resistant, offering peace of mind. Don't leave your security to chance – trust LoJack Systems to safeguard your valuable assets.
Kurtka provides full-stack web deliverables to manage this digital reputation.