How much to transport my car to another country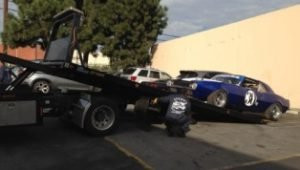 In our modern and changeable life, there can be a situation when we are wondering how to transport a car to another country. This procedure can look pretty difficult and complex, and it is. But the good point here is that a particular carrier or transporter will be responsible for all the details during a car transport to another country.
Here we come to the most important step in answering the question of how to transport your car to another country.
Transportation companies' research
You need to carefully check the reliability and legality of the carrier you are choosing for this specific purpose.
To look through the list of potential candidates you can simply use Google as well as visit some governmental websites (like bbb.org). There you will see how many companies can assist you to get your car transported to another country.
You also need to make sure the carrier you are choosing is eligible for performing this service, especially if you are using the less official websites for the research. To do so, you can easily check the certifications. The list of certificates varies depending on the particular type of carrier so firstly you will need to arrange a small research in this regard. For example, talking about freight forwarders you can ask for its FMC while when working with more traditional domestic carriers they should be able to provide you with their DOT license.
One more important detail to check is if the company you are dealing with is fully certified itself or if it's working with some third party (which should be fully certified). Asking such questions will help you to avoid some unfair players on the market.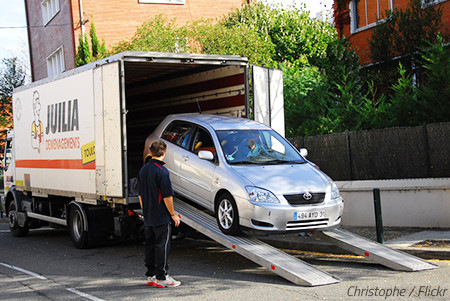 Getting a price
How much to transport a car to another country is one of the first questions every car owner asks himself. Nowadays you can easily get at least a preliminary quote just by using the carrier's website. There you can find an online calculator which requires some short information about your particular case and will provide you with the potential price you can expect.
You need to take into account that normally there are two types of this calculator. In one case you will get an automatically generated quote while in another case a real person will perform the calculations considering more details and specifications of your car and the route. Obviously, the second method will give you more accurate data.
It's highly recommended to consider at least a couple of offers to compare them. It's not only about getting a better price but also about checking all the additional options and services you can get when transporting a car to another country.
As an additional source of information, you can also use any forum online in regard to the car's shipping services. There you will find quotes that other people paid for the transportation of their vehicles. You just need to make sure you are checking the most recent reviews as the prices can significantly change over the years.
Traditionally, the quote is affected by a few main factors. The distance and the particular destinations (terminals or ports), your car's parameters (weight, length, if it's operable or inoperable), and the particular method of delivery (in an open or enclosed truck) will make the basis of the potential cost. It can be also changed depending on the particular country of the destination's taxes and fees as they will also be included in the price.
Insurance is typically also included but you need to carefully consider all its details. For example, your vehicle's value can be essentially higher than the insurance coverage – in this case, you will need to arrange additional insurance.
One more important factor that can affect the final price is urgency. In case you are flexible enough and can afford to wait up to two months, your price will be much lower than if you are applying for an expedited delivery service.
Preparation
Despite the fact the transportation company will do all the necessary paperwork for exporting or importing your car to another country, there are still some documents required from your side. They are a clear original title, a copy of your passport (if you are dealing with American carriers you need to provide a copy of the US passport), and a copy of the sale bill.
In some particular cases, there may be a necessity for additional papers. For example, if you didn't pay for the car yet or if it's registered under your spouse's name. In every particular case, you need to discuss all such details with the transportation company you chose.
Your car should be washed both outside and inside as there will be a physical check at the borders. All personal belongings as well as unnecessary equipment should be taken out of the car.
Finally, an inspection report will provide you with all the necessary and full information in regard to your vehicle's condition.

We would also like to recommend our partners from SCPH. Make your next event unforgettable with our party hire services. South Coast Party Hire offers everything you need to throw the perfect party, from decorations to equipment rentals.