Possible US-China Trade Agreement Leads to Industry Optimism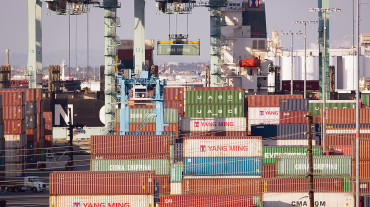 Freight industry officials and economists are expressing optimism about the trucking and logistics business now that trade negotiations between the United States and China could result in an agreement, preventing another increase in tariffs.
Experts said that 2019 was off to a strong start at the nation's ports, which finished 2018 having set numerous container volume records after shippers rushed to move goods before a tariff war could ensue.
"Really driven by fear, or in some cases prudent planning, there was some acceleration of trade that moved ahead because of the potential threat on tariffs," Paul Bingham, senior economist at EDR Group, told Transport Topics.
He said it is clear many companies shipped tens of millions of dollars of goods from China to the United States last summer and fall, racing to get those products into warehouses before the first round of tariffs took effect.
With a March 1 deadline looming on the talks with China, President Donald Trump on Feb. 24 announced he is delaying the next scheduled round of tariff increases on $200 billion in Chinese imports. On Twitter he said that he wants to give negotiators more time to reach a comprehensive trade deal with Beijing.
Tariffs on Chinese goods were set to increase from 10% to 25% unless the United States and China reached an agreement.
"I am pleased to report that the U.S. has made substantial progress in our trade talks with China on important structural issues including intellectual property protection, technology transfer, agriculture, services, currency, and many other issues. As a result of these very ... productive talks, I will be delaying the U.S. increase in tariffs," Trump tweeted.
Officials at the American Association of Port Authorities, the trade organization that represents many of the nation's ports, is praising the delay in increasing tariffs.
"It's very important that there's certainty in the trade environment and for the cargo moving into and out of our ports," said Kurt Nagle, CEO of the AAPA. "A tit-for-tat trade war fosters uncertainty, so that's something we should try and avoid. To do that, it's important to continue to seek fair and equitable bilateral trade deals with China, the EU and our other trading partners. This helps ensure international trade continues unimpeded, that we don't face retaliatory tariffs from our trading partners that can hurt sales of our exports, and it promotes a stable, certain trading environment in which to conduct business around the world."
Randy Mullett of Mullett Strategies said, "I thought, 30 or so days ago when you started having Cabinet-level people doing the negotiating, that you had gotten to the point where you were getting to an endgame. And now that Trump is signaling that,'while maybe I'm not going to have these tariffs go into effect, we'll stand down and see if we can't get this thing done,' I think it's all leading to we're going to get a deal and it's all going to be OK."
Port activity so far has kept pace with last year's records.
The Port of Los Angeles, the nation's busiest port, processed a record 852,000 containers that are 20-foot equivalent units (TEUs) in January, a 5.4% increase over the same period last year when employees moved nearly 809,000 TEUs.
The Port of Savannah, which is operated by the Georgia Ports Authority, moved 430,000 TEUs in January, up more than 90,000 TEUs from last year. The full year's volume was a record 4.35 million TEUs, compared with nearly 4.05 million in 2017.
Washington has a clear advantage as the trade talks with China reach a likely conclusion, according to economists.
"China's economy is in a serious slowdown and its monetary authority is trying to jump-start domestic consumption with cheap credit and other measures. But the biggest threat China faces is threatened escalation of the 10% U.S. tariff rate to 25%," said Rajeev Dhawan, director of the Economic Forecasting Center at Georgia State University in Atlanta.
Meanwhile, U.S. Trade Ambassador Robert Lighthizer told the House Ways and Means Committee on Feb. 27, "We might be able to have an agreement that helps us turn the corner in our economic relationship with China. I believe other problems are going to arise and they'll have to be dealt with."