Best classic car transport company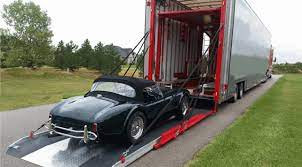 Transportation of the car across the United States should be carefully arranged and considered in all the details. Especially if you are planning to apply for classic car transports. This type of car has very specific needs and therefore not every transportation company is ready to fulfill all your requirements during the delivery service.
To help you better understand the particular important feature the best classic car transport company should have, we considered five of the most popular in this regard transporters.
Montway Auto Transport
This company provides a reliable classic car transport for quite an adequate price. Of course, in case of very expensive vehicles the cost of their delivery normally is not the main issue, but if you can get a great service for cheaper price why not use this opportunity.
One of the most significant attractions of this classic car auto transport is good insurance coverage. While most transporters have only up to 100,000 USD coverage, Montway provides 250,000 dollars no-deductible insurance for the customers. This is a great option and will help you have less stress while you are waiting for your car.
The routes of this company are covering the whole 50 states, including such hard-to-reach regions as Alaska and Hawaii. Of course, there are still some restrictions in this regard you need to consider, but at least you will get a chance to auto transport classic cars throughout the whole country. It's not surprising, that Montway has one of the highest turnovers of the cars in the industry – five times more than on average.
The only weak point you can find out is surprisingly low rating in comparison with competitors. In most cases it means not so great customer service but in this particular case the advantages outweigh this disadvantage.
Easy Auto Ship
Almost every classic car transport review you will check in regards to this company will mention the extremely fast delivery process (in some cases even four times faster than average in the industry). This feature is significantly important as in case with auto transport for classic cars more often it's about the delivery from one exhibition to another, and time here plays a really big role.
Beside the traditional insurance, Easy Auto Ship can also provide you with an extra 100,000 dollars coverage which you help to make sure your valuable car is fully protected from any possible damages and their effects.
Despite the fact that among various classic car auto transporters this company is pretty new, it's already considered as the reliable and trustworthy company with a great service and 24/7 customer support. You just can be slightly annoyed with the official website interface as it's still not very convenient but this can be fixed in the future.
Bargain Auto Transport
This is a famous broker but also can arrange some special services in case of the classic car interstate transport.
Thus, when we are talking about the most valuable cars it has sense to deliver them with the enclosed method. You will find the best offers for this covered classic car transport exactly with Bargain. Cargo insurance policy here is also pretty attractive and will provide your car with 100,000 dollars coverage.
To get the price in this case it will be not enough just to visit the company's website as there are no online quotes like in many other cases. Here you will need to discuss your particular case and to get a specific quote for you only. On the other hand, the process will not take too long and just in a few minutes you will get your price.
Intercity Lines
Intercity classic car transport service will be performed perfectly with this carrier. It also provides with the specific enclosed delivery. While the prices (especially in comparison with mentioned above Bargain Auto Transport company) are slightly higher than average, the quality of the transportation here is impressive.
Your car will be treated like a diamond, and you will not need to worry about anything – all the details will be greatly performed by the company and in the most appropriate way. Personalized service is one of the most attractive features of this transporter.
Ship a Car Direct
As in other cases, this company is popular among various car's owners, but a classic car interstate transport can become even more attractive.
There is a very unique feature this transport broker provides to its clients. It's a so-called damage-free guarantee. Of course, it doesn't mean that this company promises you that your valuable vehicle will not be damaged on the way while other companies don't. Accidents on the road cannot be predicted in 100 percent cases, so the only thing that a transporter can do is to arrange a special coverage for this case.
Damage-free guarantee here means that Ship a Car Direct will take on itself any damages' coverage for up to 500 dollars which the original carrier refuses to pay. Of course, it's not a very big amount of money, but it's much better than nothing as no other transportation broker is able to provide this option.

Points to check
You can choose any other company for transporting your classic cars, even if it's not specialized exactly on this type of vehicle. But there are some points you need to carefully consider before making a deal for the car's delivery:
Clean track records. This means that the company you are going to choose has a good reputation and positive reviews. This information can be easily found just in Google or by looking through the more official resources. In the USA the most transparent and trustworthy website is of the Federal Motor Carrier Safety Administration. In some cases, it's not very fast updated, but at least you will have a basic understanding about the company's activity;
Try to use the enclosed delivery. Of course, open transportation can attract you with extremely low quotes, but even if there is good insurance included, it's always highly recommended to give preference to the covered method. It's not only about the bad influence of weather conditions and the dust on the way, but also about the security reason. When your car is inside the trailer, nobody can see it and make any damage with purpose.
It's a good idea to create a long-term relationship with the carrier you are satisfied with, especially if you consider to apply for the service on a regular basis. That is how you can also get some additional discounts as well as will have priority for the carrier in the future trips. Personalized attitude in this case is a very good bonus for the classic car's owners.