Safer Trailers Reduce Costs and Improve Productivity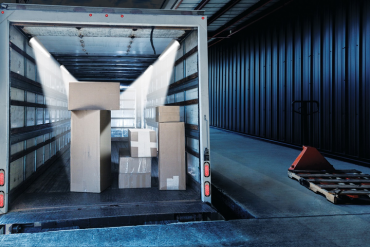 It's become a cliché to say that the cab of a truck is a driver's office. But if the cab is the driver's front office, the trailer or truck body behind that cab is his or her back office. While the past decade has seen a whole host of safety enhancements targeting truck cabs, trailers and truck bodies are starting to get their safety due, too.
A move by fleets to safer trailers and bodies is really a combination of good citizenship combined with care for their employees — all while improving the bottom line, says Paul Jarossy, director of business development for Morgan Truck Body. Drivers and truck users often embrace product features and options, that, for example, allow the driver easier access into and out of the truck body, he says. "We are now complementing our standard safety features, such as grab handles and steps at every access point, full-width rear bumpers, and prominent warning labels…with new, robust, pull-out rear and side steps that serve to better facilitate the user's egress and ingress from our bodies.
"No one wants people to get hurt on the job," Jarossy says. "And mitigating or eliminating lost-time accidents, and the subsequent short- or long-term disability claims, improves employees' and their family's quality of life, and is just good business sense."
The driver shortage is also a factor, says Gary Remley, Northeast regional manager for Mickey Truck Bodies. "Our fleet customers are always looking for ergonomic solutions to enhance driver safety and boost productivity," he notes. "Since good, qualified, truck drivers are always in short supply, fleet owners want to provide as safe a work environment as possible for their drivers. Additionally, these features can make a driver's job easier. Better access for unloading product, for example, can be an easy way to enhance driver retention and productivity."
"Safer and easier delivery methods can definitely help fleets attract drivers, especially in the foodservice market, where the job is physically demanding," agrees Eurell Eubanks, director of national accounts for Great Dane Trailers. "Making the job safer and easier is absolutely critical to retaining drivers. And the fleet benefits, because providing drivers with safer equipment can help prevent accidents, which means fewer workers compensation claims and fewer drivers out of commission."
Camera systems are becoming increasingly common for medium-duty urban fleets.
Photo: Mickey Truck Bodies
See and be seen
Trailer and body safety begins with visibility, says Brett Johnson, president and CEO of vehicle lighting supplier Optronics.
"I'm old enough to remember when you'd step into a truck body or trailer and there was literally no lighting whatsoever," he says with a laugh. "If you were lucky, maybe you had an old dome light on the ceiling. But it usually didn't work. And often, the only light you had to work in was whatever filtered in from outside the vehicle."
Johnson believes lighting is soon going to be even more critical for efficient fleet operations. "If you look at where this industry is headed in terms of more online-generated orders, as well as explosive growth in the in-home grocery delivery market segments, there is no doubt that working after dark and into the night is going to become the norm for many urban delivery fleets," he says. "And that means that good, reliable lighting systems — both on the interior and exterior of a truck — are going to be critical for safety and efficiency."
Truck-Lite, for instance, offers perimeter lighting, adding up to 5 feet of light for visibility in areas where dome or back-up lighting will not reach. The company says it's ideal for use with liftgate trailers and body vehicles.
Inside trailers and bodies, Johnson says a new emphasis on reliable lighting has led to new, corner-mounted LED lamps that can illuminate an entire van interior while being immune from damage from forklifts and shifting cargo. And, he believes that as time progresses, the use of sensor-activated lighting will become the norm, so when workers are present, lights are on.
"There is no doubt that working after dark and into the night is going to become the norm for many urban delivery fleets."

– Brett Johnson, Optronics
"Good interior and exterior visibility helps everyone," Johnson says. "Your employees will be more aware of your surroundings. And your vehicles will be more conspicuous to other vehicles and pedestrians around them."
Going hand-in-hand with better lighting is the increased use of camera systems, both inside and outside trailers and bodies, says Steve Mason, Midwest regional manager for Mickey Truck Bodies. "Back-up cameras, even on small units, are becoming much more common. The majority of the bodies and trailers Mickey Truck Bodies sells will be doing delivery in city streets and parking lots — venues with a great deal of auto and foot traffic. A back-up camera can be your only defense when trying to navigate backing up in a parking lot."
Great Dane, which makes both trailers and bodies, is also introducing electronic technology to boost collision avoidance and pedestrian safety. The ReverseAlert 4-in-1 backup alarm system combines all stop, tail, turn and back-up functions into one single, industry-standard size lamp, Eubanks explains. "It activates — sounding a horn and activating lights — when the trailer wheels turn backward, providing greater safety for both drivers and pedestrians. We have also partnered with ASA Electronics to design the industry's smallest wireless rear-mounted camera system, which gives drivers increased awareness of the action behind their rigs on the road, in parking lots and during docking maneuvers. These cameras can help avoid accidents and increase driver and pedestrian safety."
More features are coming soon, adds Chris Lee, director of engineering for Great Dane. He says the company is developing its FleetPulse telematics system, which uses sensors strategically placed throughout the trailer to help monitor things such as tire inflation, lights out, open and closed doors, cargo weight and more. "These sensors collect data that can help users maximize the utilization of their assets and better manage the maintenance and repair of their equipment," Lee says. "But they also provide real-time alert notifications to inform drivers and fleet owners of issues while on the road to help enhance safety, improve equipment uptime, and prevent potential CSA violations and fines."
Other trailer telematics systems are available that offer similar capabilities, such as Truck-Lite's Road Ready, Grote Guardian, and TrailerNet from Phillips Connect Technologies.
In short, there's a new way of thinking about safety in the truck body and trailer, which has clear benefits for heavy- and medium-duty fleets, cutting costs and keeping drivers healthier and happier.