September trailer orders go bonkers at 52,000 units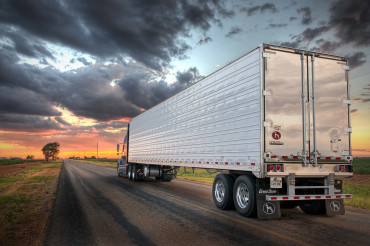 Preliminary orders for new trailers hit 52,000 units in September, the third-highest month in history as fleet bookings looked like the last market overheating in late 2018. The pandemic and consumer goods demand to support life and work at home continues unabated.
The highest monthly orders for trailers came in October 2014 followed by December 2017.
FTR Transportation Intelligence reported Monday that September's orders were 23,500 units above August and 33,400 more than September 2019. The great majority of the September orders were for dry vans, with robust orders for refrigerated vans and sluggish flatbed demand.
Backlogs are expected to return to December 2019 levels, meaning longer wait times for new equipment builds.
The first congressional stimulus package infused a tremendous amount of funds into the economy, FTR said. Most of the money is being spent on consumer goods, such as groceries, rather than services like restaurants and travel.
"Fleets, especially in the dry van space, continue to order trailers after a weak spring order season," Great Dane Executive Vice President of Sales Chris Hammond told FreightWaves. "We also see more confidence from our distribution groups as they look to increase stock trailer orders for 2021 builds."
Dry van freight is commanding near-record per-mile rates as tender rejections remain high. The bulk of September orders were for dry vans.
"There is expansion demand, replacement demand, dealer demand — just an enormous amount of demand for dry vans to keep consumer goods on the move," Don Ake, FTR vice president of commercial vehicles, said in a press release. "Fleets are expecting the hot freight market to continue into 2021 and want to be prepared with adequate capacity."