Trucker rally for fair rates gets White House attention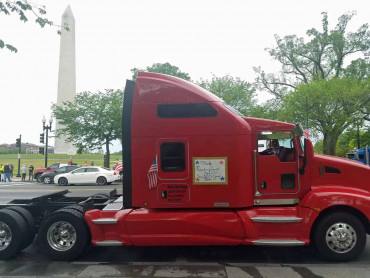 A weekend "May Day" rally in Washington by small-business truckers claiming they are being mistreated in the freight market during the coronavirus pandemic ended with a positive message from President Donald Trump.
Trump, who spent the weekend at the president's retreat in Camp David, Maryland, acknowledged the demonstrators parked in their trucks directly south of the White House along Constitution Avenue.
"Thanks for the meeting at the White House with my representatives from the Administration," Trump tweeted late Sunday. "It is all going to work out well!"
Demonstration organizers are hoping that an initial meeting with administration representatives over the weekend will lead to a face-to-face meeting with the president.
"Having a White House liaison come out and meet is more progress than being on the 5 o'clock news doing a slow roll," Rick Santiago, one of the demonstration's organizers, told FreightWaves. "I don't expect solutions tomorrow, but we cannot haul one more week with rates the way they are
Santiago and others at the rally laid much of the blame for what they consider inequitable rates at the feet of truck brokers that pressure rates downward by canceling agreed-upon loads after finding another carrier willing to haul it cheaper — or by outright lying to truckers.
"I'm hoping that what we've done so far — asking the [Department of Justice] to step in and investigate some of these broker scams — is going to have a butterfly effect" that results in brokers having to increase their rates through tighter regulations, Santiago said.
While the Trump administration has attempted to provide relief to small-business owners through billions of dollars distributed through the Paycheck Protection Program (PPP), Santiago said he knew of no truckers at the rally who had received stimulus money.
"We're not looking for a bailout. Give us a hand up and let us get back to work. If our operating cost is $2 a mile, I can't haul for 90 cents."
Muller (second from left) and Santiago (right) discussing broker issues at the demonstration on May 3.
Credit: John Gallagher/FreightWaves
Darrell Muller, an owner-operator who recently moved a forklift from Las Vegas to Kansas on his flatbed truck for a less than breakeven rate of $900, found out after the delivery that the shipper had been charged $2,000. "Not all brokers lie, but this is why none of us trust them," Muller told FreightWaves.
Records compiled quarterly by the Transportation Intermediaries Association (TIA), which represents brokers, indicate that third-party logistics companies keep 16% gross margin for their service while passing on 84% to the carrier.
Responding to charges of price gouging, "No one's making money on this pandemic but the beer and drug industry," TIA President and CEO Robert Voltmann told FreightWaves.
"The smaller companies can't collude to affect the marketplace. The problem is, the market is so competitive and so transparent that when somebody is desperate and takes a load for 50 cents, everyone else knows that. There are motor carriers that should be parking their trucks and applying for PPP loans, and we can help them with that. But there's just not that much freight out there, and it's going to get worse before it gets better."
Voltmann added that his members can't exist without independent truckers and they can't exist without his members. "It's definitely a love-hate relationship. No American family and no American business should go bankrupt because of a virus beyond our control, but unfortunately, that's what's happening."
Santiago acknowledged that brokers are an important piece of the freight equation.
"I'm all for brokers. I need them every day. But right now we're at the lowest we've ever been with this pandemic. If we, the brokers and carriers, can work together for fair rates, we can all, literally, make America great again."