Trump: Tariffs on $200B Chinese imports will rise to 25% Friday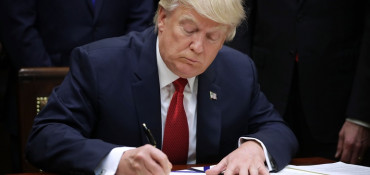 UPDATE: May 6, 2019: As of 10 a.m. Monday, USTR had not sent an official notice of tariffs increasing.
Dive Brief:
Tariffs on $200 billion worth of imported goods from China will increase from 10% to 25% Friday, May 10, President Donald Trump tweeted Sunday afternoon. The Office of the U.S. Trade Representative (USTR) had not sent an official notice of the tariff increase as of Sunday evening.
"The Tariffs paid to the USA have had little impact on product cost, mostly borne by China. The Trade Deal with China continues, but too slowly, as they attempt to renegotiate. No!" Trump tweeted.
This week, a large contingent of Chinese officials will meet with U.S. negotiators in Washington, D.C. in what seemed like final end-stage talks before this afternoon. Treasury Secretary Steven Mnuchin and Trade Representative Robert Lighthizer met with negotiators in Beijing last week, when Mnuchin described the talk as "productive." On Friday Trump told reporters in the Oval Office, "We're getting close to a very historic, monumental deal and if it doesn't happen, we'll be fine too, maybe even better," according to CNN.

Dive Insight:

After the president delayed the previously planned March tariff raiseindefinitely, many businesses settled into the outlook that negotiations between the U.S. and China were going well. Speculations turned to whether the existing 10% tariffs would remain or be dropped when an agreement was reached. Today's tweets turned those expectations on their heads.

After the president's tweets, National Retail Federation Senior Vice President for Government Relations David French said, "Tariffs are taxes paid by American businesses and consumers, not by China. A sudden tariff increase with less than a week's notice would severely disrupt U.S. businesses, especially small companies that have limited resources to mitigate the impact" in a statement emailed to Supply Chain Dive.

It's unclear what Trump refers to with $325 billion "of additional goods sent to us by China remain untaxed." The first and second tranche put tariffs on $50 billion worth of imports. The third round placed 10% duties on $200 billion worth of goods from China. Last year, the U.S. imported a total of $539.5 billion in goods from China, according to USTR, indicating only $289.5 billion worth of goods remained untaxed.