Vax mandate catches truck drivers in jurisdiction crossfire between OSHA and DOT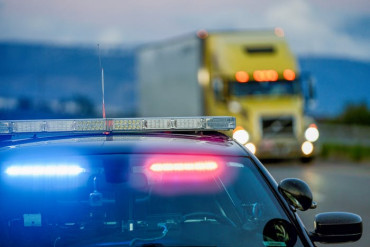 Companies with 100 or more employees will be required to comply with President J. Biden COVID vaccine mandate by no later than Jan. 4, 2022, according to the Emergency Temporary Standard that the Occupational Safety and Health Administration (OSHA) is expected to publish in the Federal Register Friday,, Nov 5.
Multiple trucking industry agencies had sought an exemption, claiming mandatory vaccine enforcement would place additional pressure on a supply chain that is already under duress, but those calls and warnings went unheeded.
American Trucking Associations (ATA) President and CEO Chris Spear pointed out that while the rule didn't offer a specific exemption for trucking, it did exempt "employees who exclusively work outdoors or remotely and have minimal contact with others indoors, and all indications thus far from the Department of Labor suggest this exemption does apply to the commercial truck driver population," he said via statement Friday. "While we complete our due diligence to confirm that fact through official channels, we see quotes from Labor Secretary Walsh as an enormous victory for our association and industry."
According to attorneys at Fisher Phillips – a firm that specializes in workplace safety – truckers that are out on the road driving are subject to Department of Transportation regulations, not OSHA standards, so the vaccine mandate does not apply while they're out on the road.
"If you're not in the office very often, you'd only have to have a negative [COVID] test within the seven days before you come into the workplace. They've carved out those employees that are not there very much," said Travis Vance, a Fisher Phillips partner and co-host of his law firm's media webinar that explored the vaccine mandate.
Secretary of Labor Marty Walsh last week said, "If you're a truck driver and you're outside, you're in a cab driving by yourself, this doesn't impact you. If you're a worker outside working in the area, this doesn't impact you."
However, Vance said once drivers report back to a company where 100 or more employees work they must either show proof of vaccination or a negative COVID test within the past seven days. It gets a little trickier for truckers when they make deliveries.
"When a driver delivers to the warehouse, they are still under DOT and not OSHA at that point," Vance said. Fisher Phillips partner Todd Logsdon agreed, so long as the driver remains inside the truck.
"If he [the driver] gets out of the truck and goes to the loading dock, then I think he could be covered by OSHA," Logsdon said.
Vance added, "It just depends if it's his own workplace or somebody else's. There's a lot of different variables there."
Angelo Filippi, leading business attorney at the Kelley Kronenberg law firm, which specializes in trucking and transportation law, said deliveries are a complex area.
"Generally, while traveling on public highways, DOT has jurisdiction," Filippi said. "However, while loading and unloading trucks, OSHA regulations govern the safety and health of the workers and the responsibilities of employers to ensure their safety at the warehouse, at the dock, at the rig, at the construction site, at the airport terminal and in all places truckers go to deliver and pick up loads.
"The vaccine mandate issued today creates an exception for workers who work outside," Filippi continued. "In my opinion, this will exempt truckers while in transport anyway. When loading or unloading, they are not at their employer's workplace either, so the mandates will not apply. They will have to comply only with rules established by the customer/vendor. In short I think that for the vast majority of truckers, the mandate's effect will be negligible. Remember also that OSHA rules do not apply to independent contractors."
Companies can pass along the cost of COVID tests to employees unless union agreements or state laws preclude it. California and Kentucky, for instance, will not allow companies to require their employees to pay for their own COVID tests, Logsdon said, and other states may take the same approach.
"[It's] going to vary state-to-state," Logsdon continued. "I think I would expect to see it as an issue of bargaining in most unionized environments. And I think if you're in a tight labor market and you're not mandating the vaccine because you're worried about losing employees, you're probably going to have to think about paying for that test so you don't lose employees."