Best options for bike car transport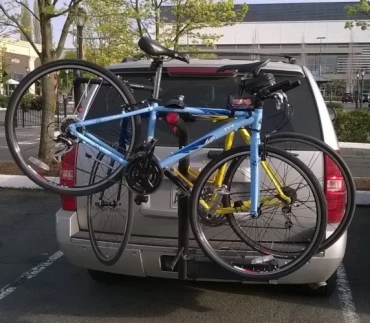 The active lifestyle is gaining more and more popularity, which is great. Many people, who are leaving for another city or village, choose transporting bike in car with them in order to spend time with the benefit of their health. For some, a bicycle is the best way to get around. Whenever you plan transporting a bike in a car, it is important to do it safely and in accordance with established regulations. We hope that this article will help you avoid mistakes when moving your bike.
Ways to carry a bike
Bike car transport isn't as easy as it may seem at first sight. If you do not approach this matter with all caution and responsibility, you risk causing harm to your property and even those around you. There are several ways of bike transport car: inside the vehicle, on the roof, or attached to the rear of the vehicle. Let's get closer to each method.
Transporting bike in car
Best cars to transport bikes have enough space for safe transportation. These are vehicles large enough to accommodate a bike at least partially dismantled.
If you think that this method requires no careful preparation, you are deeply mistaken. You should know how to transport a bike in a car properly, without causing damage either to the bike or to the car. The bicycle should be securely stowed and restrained inside the car. Especially if you are transporting it not in the trunk, but directly in the car. If you do not want your bike to be thrown from side to side throughout the interior of the car while driving, make sure that it is immobilized as much as possible.
One of the main advantages of transporting bike in car is that you don't need any racks or hitches. Thus, it's much cheaper, and sometimes you can save up to $500. Another advantage is that your bike won't get dirty as it's sheltered from the outside. So when transporting a bike in a car, you will deliver it to the final destination just as clean as you loaded it into the vehicle.
Transporting bikes on cars
Another option to move your bike with the help of your vehicle is to transport bike on car. In order to do that you will need special racks. They are mounted on the roof of the car, just attached to the roof rails. There are both small racks for carrying one bike, and larger racks for transporting several bikes at a time, sometimes even up to 5-6 items. You can transport your bike upright or upside down depending on the type of the rack, and you don't need to look for the best car for bike transport, as this option is available for almost any car. When you transport bike on car, the rear of your vehicle isn't blocked by the cargo, so you can have easy access to your boot.
However, mounting a bike on the roof can be a hard task, especially if you have to do it for the first time in your life.
The main disadvantage of transporting bikes on cars is that you should be aware of strong wind and sharp turns on the roads. And one more thing - you may have difficulties entering some parking lots with low roofs and when passing areas with hanging tree branches.
It should be mentioned that this is one of the most expensive options, since you will need to buy two racks - a roof rack, whose cost can sometimes reach $400-450, and a bike rack with the cost of about $200. If you want to have a lock system, you will have to pay an extra of $50-100.
Bike transport car on the rear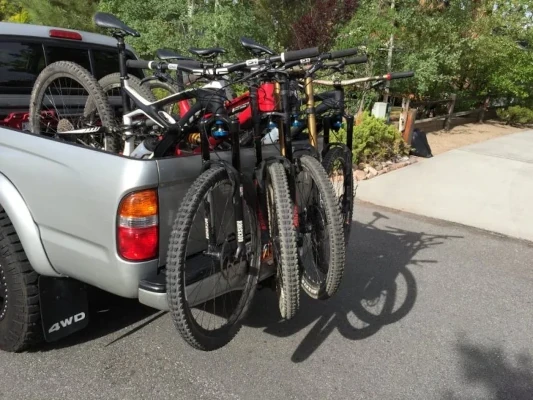 If you cannot transport bike in car and have no options for moving it on the roof, you can choose a rear mount. This option also requires a rack, but it is not the same as in the case with the roof. This rack is attached either to the towball or to the boot.
The most important thing to remember when choosing rear bike car transport is that the bike must not cover the car's license plate and rear headlights. Otherwise, you risk being fined.
It is also worth paying attention to the fact that when attaching to the towball, the maximum permissible load on the towball is not exceeded.
Now let's get down to the prices. If you don't have a rear rack, you'll need to buy it. Some rare racks are mobile enough to provide you access to the boot or the inside of the car. As a rule they are more expensive. Others are immobile, so they don't swivel sideways, and they block access until you take them off. These racks cost about $100-200 on average.
You can save money, if you purchase a rack that is mounted onto the trunk of the car. Their cost is about $40-50. They are easily installed, but at the same time they are less secure, as the bike can be easily stolen.
One of the additional expenses when transporting a bike attached to the rear is a hitch. If you cannot solve this issue on your own, you may need the help of a professional. The average cost of hitch installation is from $250 to $600 depending on the type of the hitch you would like to have and the scale of work required.
Pay attention that as well as in the case with transporting bikes on cars, you may have certain parking issues when moving your bike on the rear - you will need a longer parking space.
Whether you decide to transport bike in car or choose roof/rear racks, bear in mind that a poorly restrained bike is a source of danger on the road. So make sure that you have secured it safely.
Checklist for safe bike transport car
Even if you find the best car for bike transport it will be nothing without certain rules you need to observe when transporting a bike in a car or on the roof/rear. Check the list below and make sure that you haven't missed anything.
Сheck the condition of the bike and mountings while driving. Don't think that you know everything about how to transport bike in car, so you can just secure it where you need and forget about the cargo until you reach the final destination. Make stops along the way and check if everything is alright.

Be aware of stealing. If you are going on a long trip and have decided to transport bike on car or on the rear of the vehicle, beware of theft. Especially if you need to stay overnight on the road, and if you are using trunk-mount racks. In any case, it's a good idea to use locks.

Study how to transport a bike in a car or on the roof/rear in the states you plan to visit. Check what are the requirements for bikes sticking out. Every state has its own laws, so if you don't want to find yourself in an unpleasant situation, check the legislation before mounting your bike.